The undisputed party haven in the Balearic Islands, Ibiza has become a favourite venue for luxurious and extravagant parties. Looking for things to do in Ibiza? Let Le Collectionist take you around the best clubs and the best beaches of Ibiza.
We have put together a selection of the best places to party while enjoying our villas in Ibiza. Browse our collection of luxury holiday homes and find the a setting for your aperitifs and lazy mornings sleeping in during your bohemian Ibiza holidays.
For all you need to know about the White Island, discover Le Collectionist's guide to Ibiza.
When is party season in ibiza?
The island's electric atmosphere is most pronounced starting in the month of May, leading into the Summer of Love month of June, all the way through to the end of October.
The Opening Parties are as exciting as they are extravagant, setting the tone for the season to come. The world's best DJs flock the White Island's most mythical clubs, some even extending their hours for celebrations that last from dusk to dawn.


The Closing Parties, hosted towards the end of the Indian Summer in mid October, are in no way tamer than their predecessors. In fact, as the last parties of the summer season, they tend to be even wilder. Perhaps it's to make us want to come back and party in Ibiza next year?

In any case, to prepare your luxury holidays, dive into the inimitable style of Ibiza.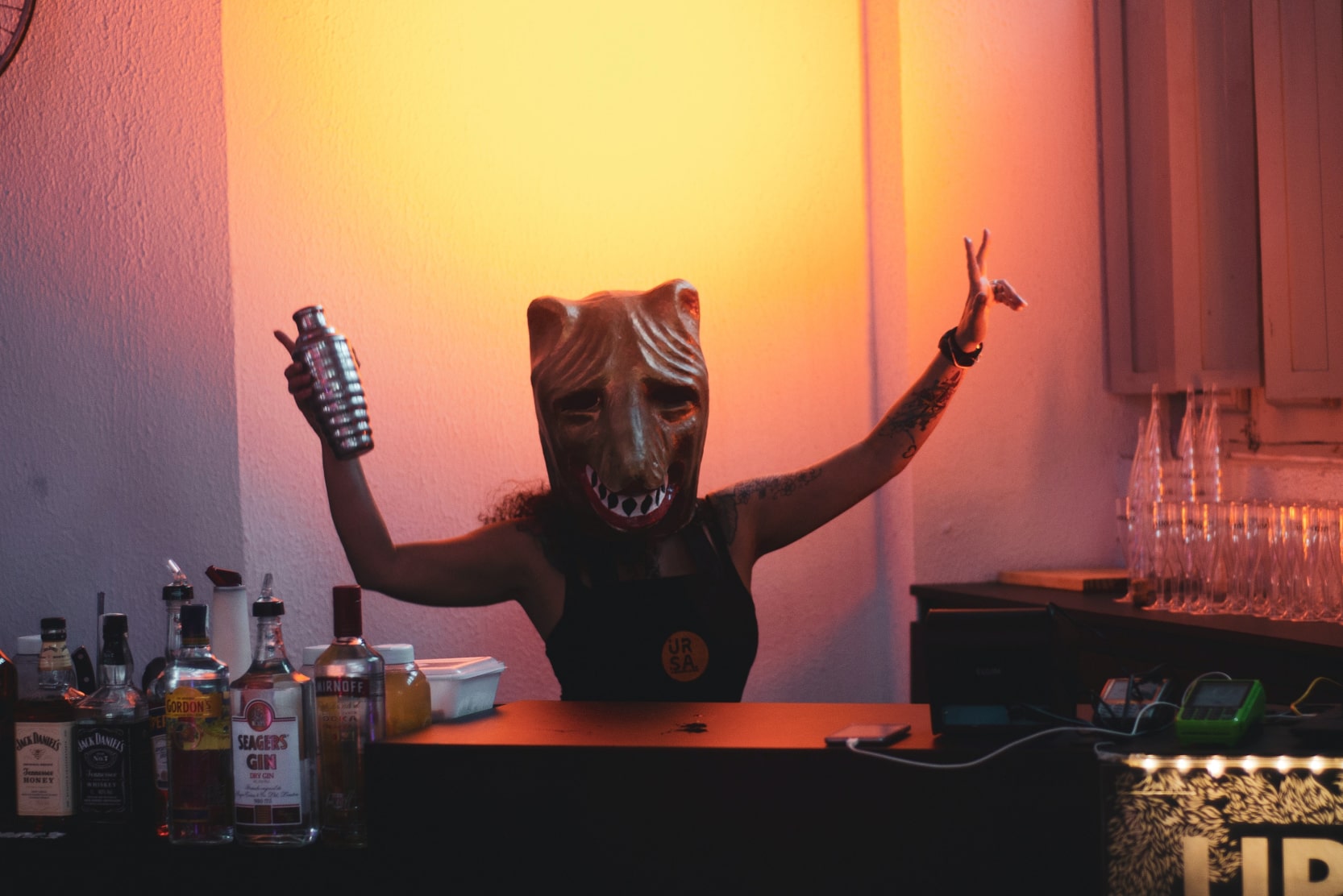 don't miss when you PARTY IN IBIZA
Flower power
Every Monday of the season, visit Pacha for sixties vibes until sunrise.
Must do: put on your best tortoiseshell sunglasses, colourful dresses, bell bottoms and flowers crowns for good vibes.
Pacha Ibiza, Avenida 8 de Agosto, 07800 Eivissa
Las Dalias nocturnal market
Discover the authentic ambiance of the best hippy markets in Ibiza every Monday, Tuesday, and Sunday night from 7 p.m. to 12:30 a.m. from June to September.
Must do: sniff out a beautiful pompom bag, string of pearls, sparkling fabrics, and vinyls from the seventies for a colourful, bohemian summer.
Carretera San Carlos, Km 12, 07850 Sant Carles de Peralta
The Moonlit party
Each summer weekend, head to Beachouse to enjoy live music and some patatas bravas under the stars while the ocean laps at your feet.
Must do: dance the night away on the floor until the sunrise paints the sky with marvellous orange hues while live music pulses on.
Beachhouse, Carrer 34 de la Platja d'en Bossa, 07817 Sant Jordi de ses Salines
Live an authentic experience in Ibiza at Cala Benirr

ás

Under the intoxicating rhythm of the drums, Northern Ibiza's bohemian atmosphere, seaside setting, and local market will plunge you into the very essence of '70s era hippy chic Ibiza.

Must do: every Sunday evening in the summer, go sip a delicious Coco Bongo cocktail with refreshing coconut flavours.

Carrer Benirras, 07810 Sant Joan de Labritja
Outdoor cinema nights at Amante
As soon as the sun comes back after the winter months through to the end of the Indian summer, Amante becomes the perfect backdrop for watching great films in the open air.
Must do: enjoy a classic film out in the open with unlimited popcorn and a fresh glass of cava while comfortably settled into your armchair.
Amante, Cala Sol Den Serra (Cala Llonga), 07849 Santa Eulalia des Riu
Are you after a taste of wilderness between your cocktails? Go green in the magnetic nature of Ojo de Ibiza.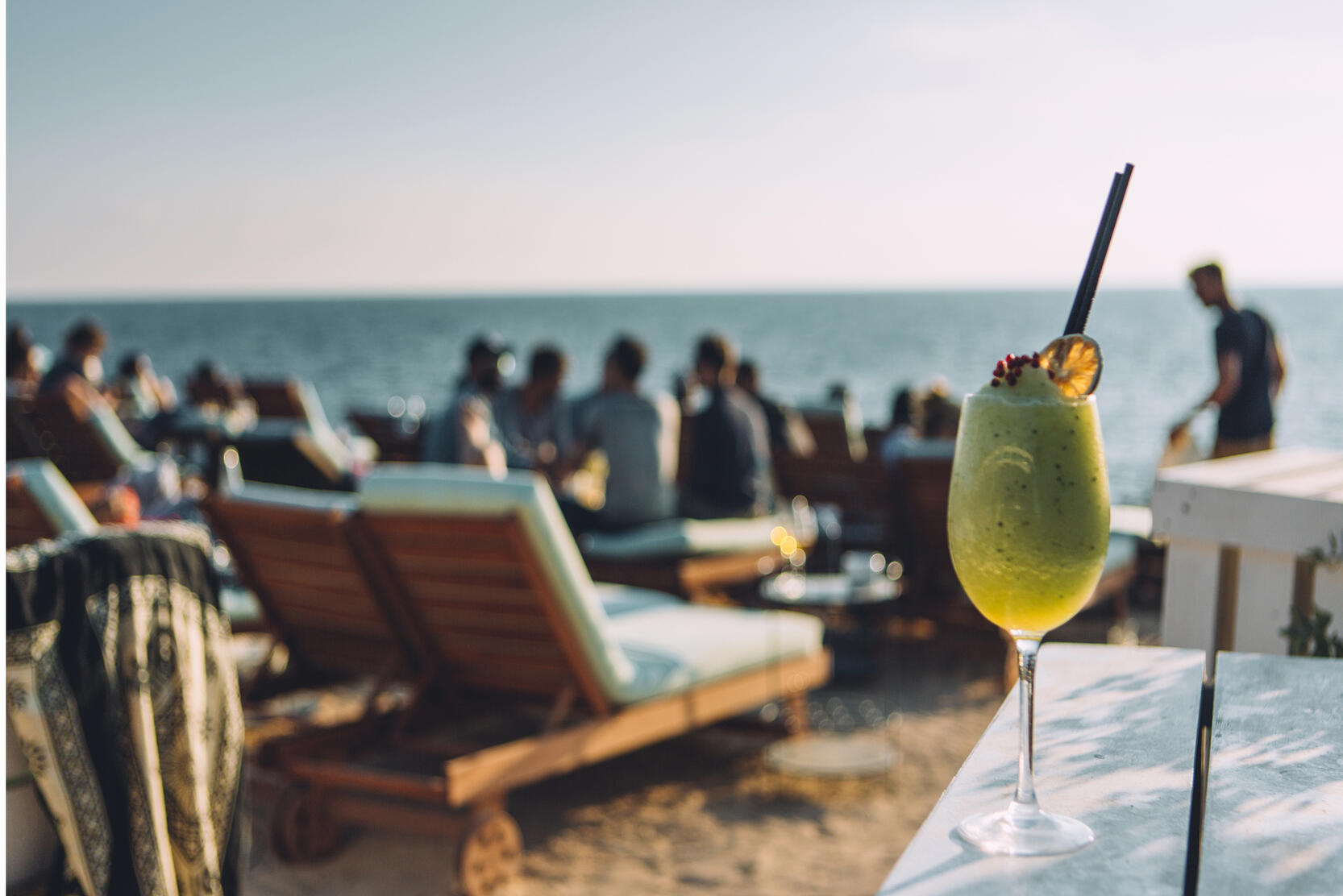 our tips FOR PARTYING IN IBIZA
Enjoy a hippy-chic atmosphere at Namasté
On Wednesday nights at the Las Dalias hippy market, enjoy live music and artistic performances by Namasté to immerse yourself in the festive and bohemian atmosphere of '70s Ibiza.
Must do: flood your senses with music, dance, and laughter when you finish your night at Akasha, the innovative night club at Las Dalias.
Las Dalias, Carretera San Carlos, Km. 12, 07850 Sant Carles de Peralta
Pikes, Ibiza's most private club
Pikes, one of Ibiza's most emblematic institutions, is part of rock 'n' roll history. Founded in the '70s, this club invited such famous guests as Grace Jones and George Michael. Here, on gentle summer nights, the era's free and bohemian spirit inhabits the club once more.
Must do: follow in Freddie Mercury's footsteps and order a Teen Spirit cocktail, for a tingling taste of pineapple.
Pikes, Camí de Sa Vorera, S/N, 07820 Sant Antoni de Portmany
Need to refuel before your night out? See our guide of the best restaurants ibiza borrows from film to start your festivities on the right foot.
Party places in ibiza: THE BEST clubs
Our favourite restaurants and beach clubs in Ibiza
In Ibiza, every hour is happy hour. As early as sunrise, the best Ibiza beach clubs wake beachgoers up with a musical atmosphere while they take their first steps from the fine white sands into the turquoise water.
Our favourite beaches invite you party in a wild and bohemian setting. Here is a selection of the very best Ibiza beach scene:
Experimental Beach, Playa des Codolar Salinas
Sa Trixa, Las Salinas
Jockey Club Salinas, Las Salinas
El Chiringuito, Es Cavallet beach
Café Mambo, Sant Antoni de Portmany
Cova Santa - Ctra. San José
Lio - Eivissa
Beso beach: the place to be
If we could make only one recommendation, it would be to visit the idyllic fine sand and crystalline waters of Beso Beach, on the famous Las Salinas beach.
Must do: marvel at the breathtaking sunset from your comfortable sunbed with an iced coconut in hand, lulled by the dance floor's soft vibrations.
Beso Beach, Las Salinas beach, s/n, 07817 Sant Jordi
The trendy Nassau Beach Club & Beach by Ushuaia
On the White Island's southern extremity, Playa d'en Bossa is one of the most renowned beaches in Ibiza. This endless stretch of white sand and turquoise sea is dotted with many beach bars, each one more lively than the next.
Must do: settle into one of our favourite beach clubs to sip on a cocktail and dance in the sea.
Nassau Beach Club, Carretera de Playa d'En Bossa, 07817 Playa d'en Bossa, Ibiza
Need a break? Discover our guide to the best quiet beaches in Ibiza.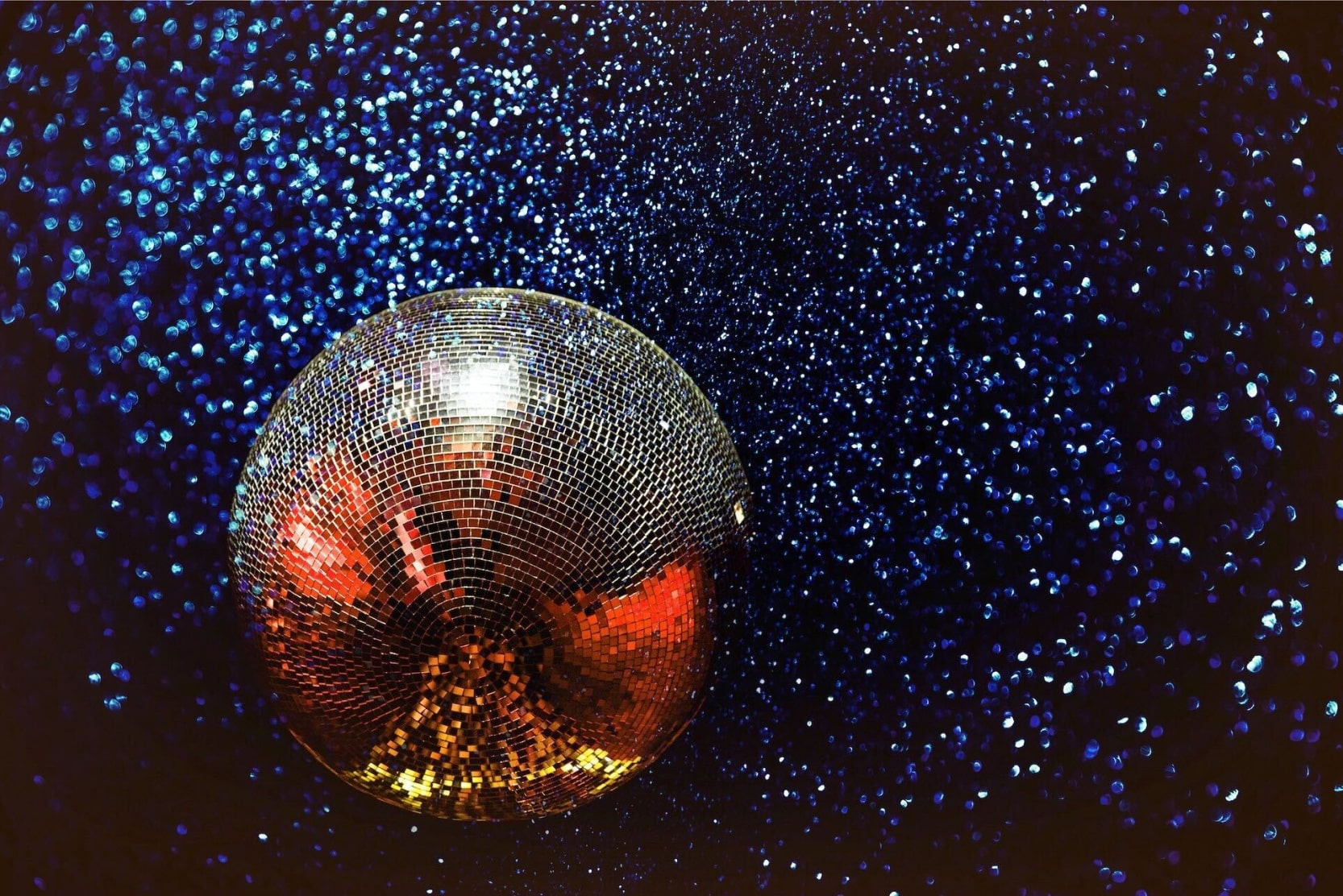 The best DJs to party in Ibiza
When the sun begins to set in the Balearic sky, it's time to choose your destination. Will you meet us at a beach club, or rather Eivissa, one of Ibiza's most beautiful villages and the hub of its party scene?
Ibiza hosts parties each more wild than the next. Here are the best addresses as selected by our tailors:
L'Amnésia - San Rafael
Ushuaia - Playa d'en Bossa
Pacha - Avenida 8 de Agosto
Privilège - San Rafael
Heart Ibiza - Eivissa
DC-10: Take off to the end of the night
This former airport hangar is the best place to party in Ibiza for electronic music. International DJs have made these parties famous across the globe.
Must do: on Monday nights, CircoLoco will plunge you into an underground atmosphere and provide the perfect opportunity to discover new artists emerging onto the scene.
Circoloco, Carretera las salinas, km 1, 07818 Sant Josep de sa Talaia
Hï Ibiza: a must to party in Ibiza
Nights at Hï Ibiza pulse to the rhythm of the world's best DJs, from David Guetta to Calvin Harris.
Must do: reserve a VIP table to spend an exceptional evening. You'll have plenty of private room to dance until the sunrise while your favourite artists play live.
Hï ibiza, Playa d'en Bossa, 07817 Ibiza
If the weather isn't on your side during your perfect luxury holidays, rest assured that our guide to the best thing to do in Ibiza when it rains has plenty of surprises in store.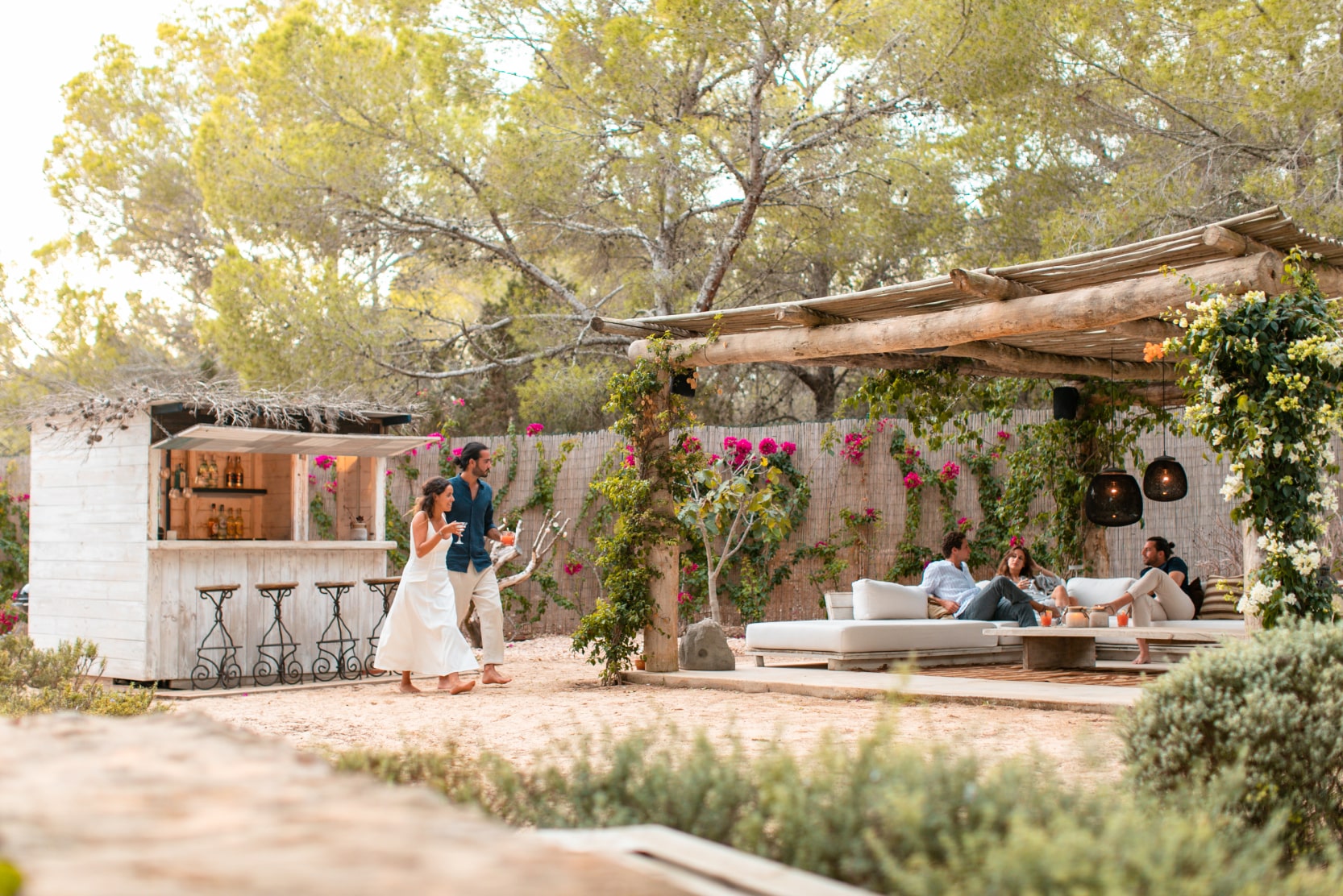 Best places to stay in ibiza to party
The best areas to stay in Ibiza to fully enjoy the island's nightlife
Sant Miguel
Santa Eularia
Cala Gracioneta


Es Cubells: Ibiza's most exclusive haven
Es Cubells is the perfect place to rest and recover before your next night out. It's one of Ibiza's last hidden gems, dotted with fishing creeks.
Santa Gertrudis and San Rafael: a verdant paradise in the heart of the Balearic
Between Santa Gertrudis and Sant Rafael, find the headquarters for nature lovers and wide open spaces. Only frequented by those in the know, it's the perfect spot to disconnect and enjoy a dinner with friends between whitewashed streets.
Our favourite villas to party in Ibiza
Villa Encanto: a very private refuge
At the heart of the island, a southern forest conceals Villa Encanto, carefully hidden between the palm, olive, and fruit trees. A true haven of peace, it's the perfect rest spot to catch your breath between festive evenings.
Villa Lamp: a wild flower
The grandiose terrace of Villa Lamp, overtaken by blossoming flowers, opens on a staggering view of the sea and the island of Formentera. In this verdant landscape, you can plan every dinner with friends and family laughing under the light of the stars.
Villa Kristel: a fresh oasis
Villa Kristel's purified and contemporary interior design is punctuated with colourful accents and subtle fantasy, perfect for vibrant and sparking evenings.
Organize your own party in Ibiza
Le Collectionist can show you a new side to partying in Ibiza. Ask our luxury concierge service to organize tailor-made events in your villa's expansive garden: we create festive experiences just for you, adapted to your wants and needs.
Enjoy live music concerts for a unique moment
Bring in delicious catering to treat all your guests
Have an expert mixologist create fabulous and intoxicating cocktails
Immortalise precious and unforgettable moments with a private photographer

Birthdays and family reunions
Bring us your wildest ideas: we love to take on new challenges to surprise your friends and family!
We'll help you blow your guests away and see to a perfect evening. From the food, to the music, to the decor, you can rest easy knowing your private party in Ibiza is all in our hands.
Whether you want an open air reception in a finca or a view over the white sand and the sea, we'll create a magical, personally tailored celebration.
Take your team away for an unforgettable experience, sure to build strong bonds, exercise your creativity, and focus on brand new projects!