Long viewed solely as a festive and hedonistic destination, Ibiza's reputation is now adapting to reflect its varied offerings. This Balearic Island's beautiful terrain — wild in parts, tranquil and plush in others — and union of rural and urban spaces caters to all tastes. With a restaurant, beach, or holiday experience for everyone, Ibiza is truly the perfect destination for family holidays.
At Le Collectionist, we've prepared a guide to family friendly holidays in Ibiza to help you navigate the so-called White Island. For all you need to know about the White Island, discover Le Collectionist's guide to Ibiza.
Ibiza: a family destination?
Ibiza is a perfectly sound destination for family holidays, if not to say delightfully refreshing. Between quiet beaches, bohemian markets, and family friendly addresses, there is nothing new about this Balearic beauty's laid-back offerings.
While Ibiza's reputation has primarily been one of endless parties and festivals, it has gradually held out an earthy hand and a shimmering smile to those looking for slower and more peaceful holidays. People have begun to realise that the island's serenity and youthful vibrance can coexist, and even complement one another.
Read on for our roundup of the best activities for families in Ibiza.
Family holidays in Ibiza: our child-friendly villa rentals
Traveling with children implies a different set of criteria and concerns when planning a holiday. Below, discover three of our more child-friendly homes, so you can drop your bags worry free at the best place to stay in Ibiza.
Villa Antonella, Santa Eulalia
Right next to Santa Eulalia, nestled amongst the flourishing foliage and framed by views of the Mediterranean that transition seamlessly into clear skies, Villa Antonella is a great place for your stay in Ibiza.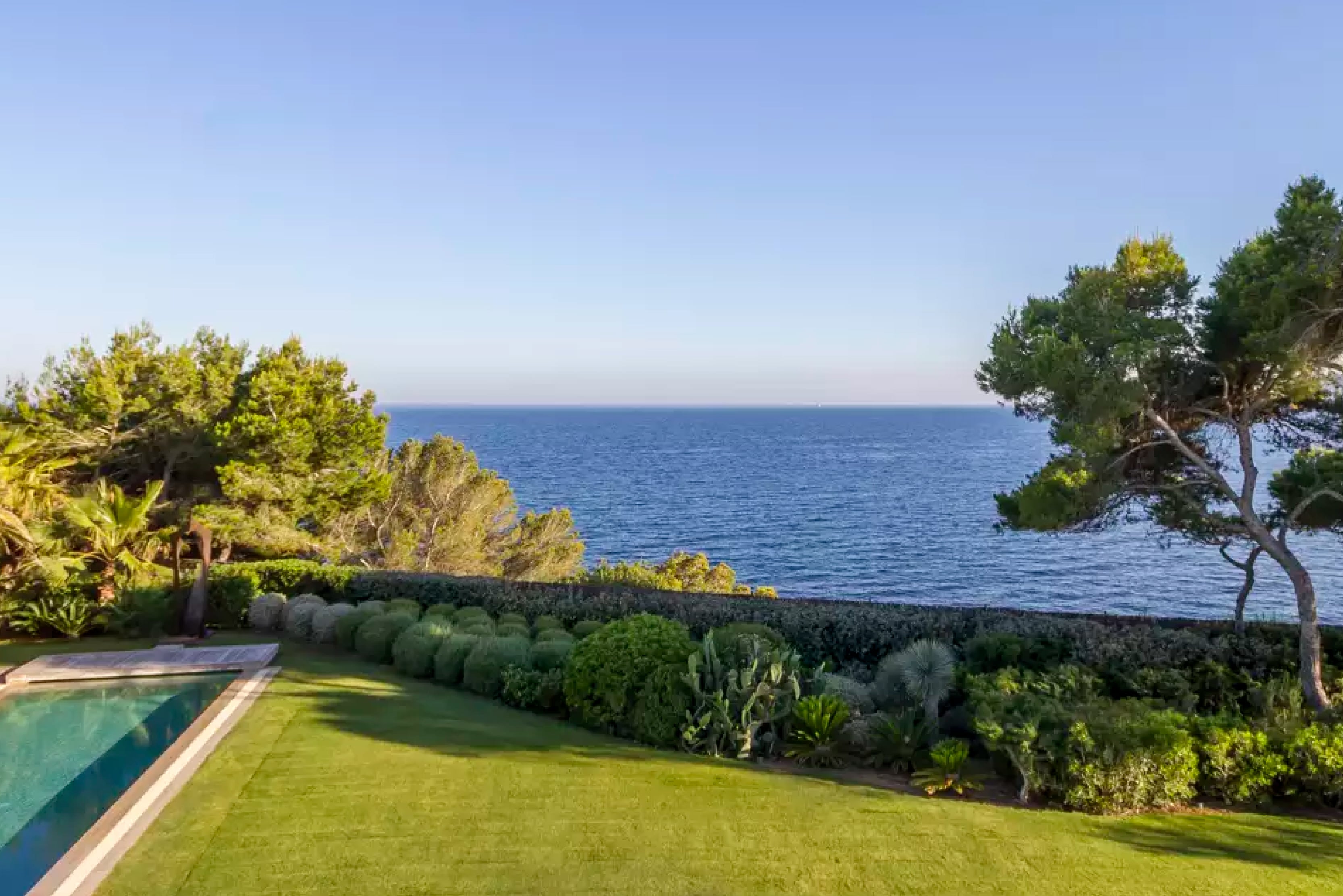 Villa Antonella in Ibiza
The spacious garden and large pool are perfect for boundless games of football and aimless rounds of Marco Polo. The beach is within walking distance, and everything — including shops, a golf course, and restaurants — is only a short drive away. This villa is located next to Santa Eulalia, arguably the best part of Ibiza for families.
Villa Tawe, San Antonio
This four-guest villa is the ideal size for a small family holiday. In almost Venetian mimicry, the pool enwraps this sleek villa. Its waterways and outdoor jacuzzi were made for spending your Ibiza holidays cooling off in the rippling water.
The villa is sheltered from the outside by a cocoon of palms, whose fronds form a wall that dances in the breeze. Villa Tawe is located on the west coast in the outskirts of the fun and spirited town of San Antonio.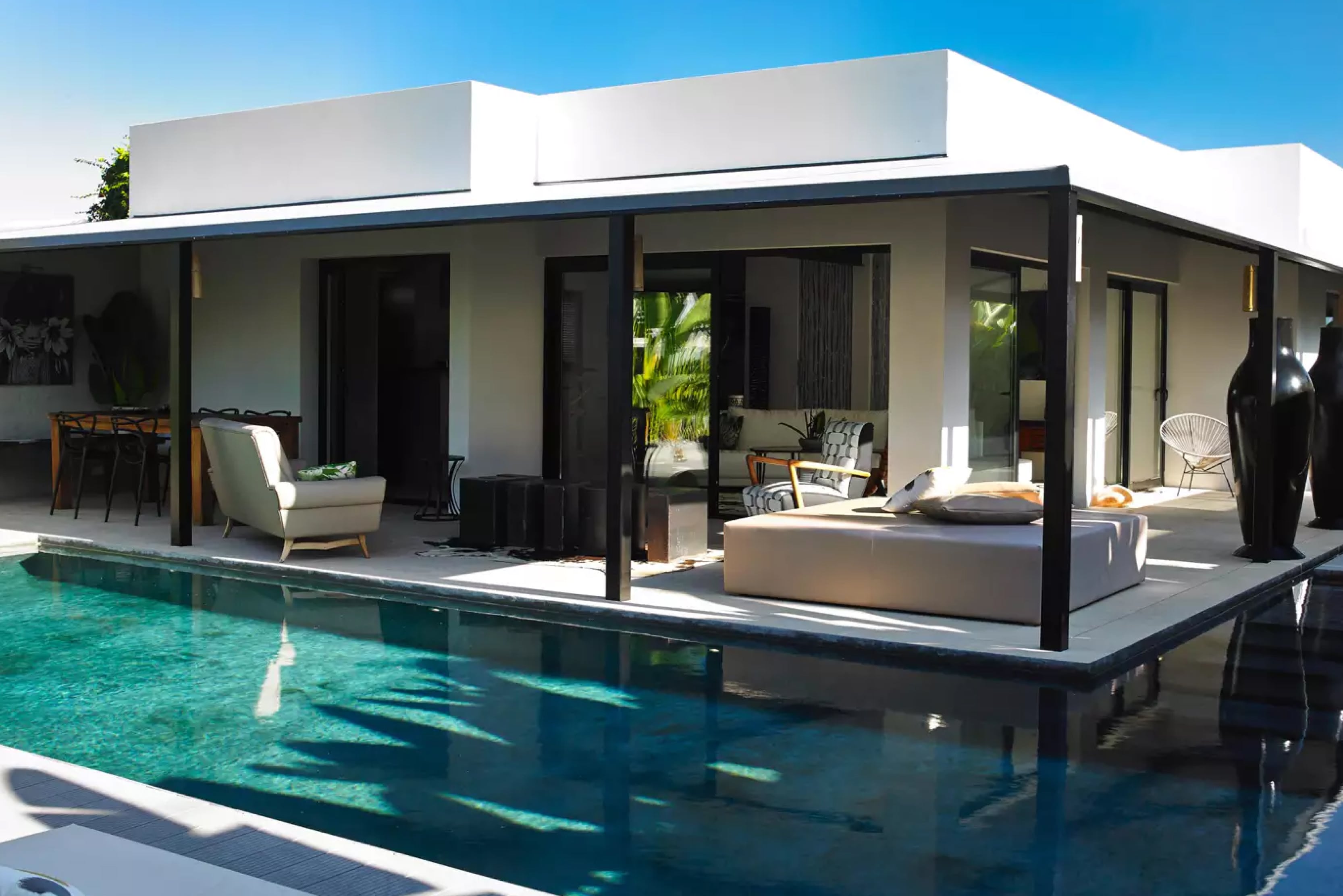 Villa Tawe in Ibiza
Villa Jara, Sant Antoni de Portmany
Villa Jara is a great option to host your family — pets included! Located in the delightful western town of Sant Antoni de Portmany, the nearby beaches with calm and shallow waters are perfect for children.
Surrounded by fields, Villa Jara lends itself to quiet family holidays where you can retire from a busy day out on the island. With ping pong and foosball tables, your days here are sure to be filled with animated tournaments where everyone is a winner. Cool off in the beautiful turquoise pool before watching the sunset over the hills.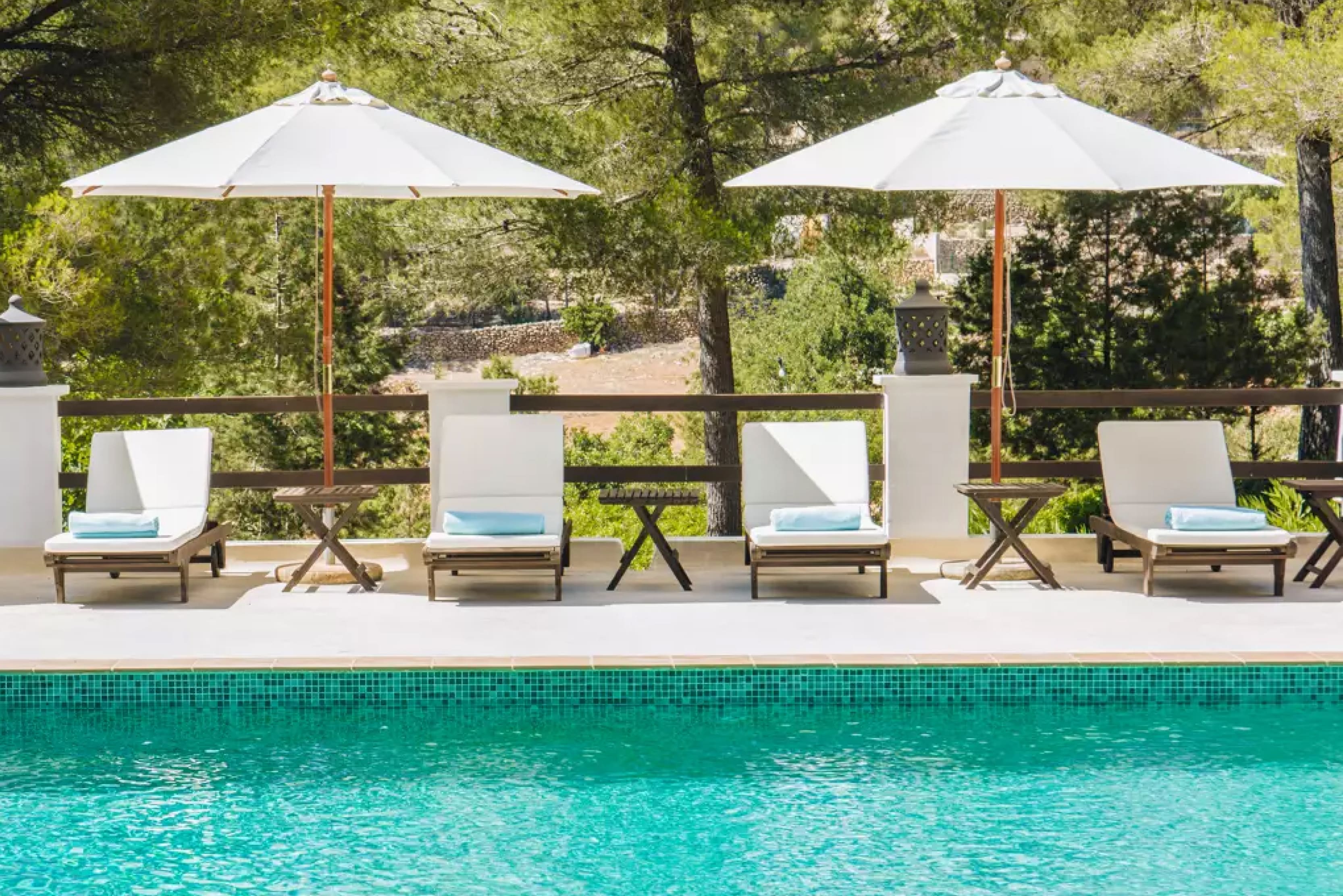 Villa Jara in Ibiza
Visit ibiza with family: the best activities for families
The best kid friendly beaches in Ibiza
Ibiza is home to many stunning white sand beaches where you'll want to lounge the day away while your children splash around in the sea and make sandcastles under the shade of your parasol. Below are some of the best Ibiza family beaches.
With enticing shallow waters, this beach is perfect for families. Your children will want to explore and clamber on the protruding rocks while you pay a visit to one of our favourite establishments on the island: Cotton Beach Club.
Another favourite for family holidays in Ibiza, this is the longest stretch of silky white sand on the island. With banana boats, pedalos, waterskis and kayaks available, it's one of the best beaches for water sports in Ibiza.
Don't-miss child friendly events
Feeling unsure of what to do in Ibiza with family? The island is bursting with activities and events that will delight young and old!
Though Ibiza's festive reputation often evokes images of wild debauchery, there are also a number of family oriented parties and music events that you can take advantage of. Dance with your children in the best Ibiza beach clubs, of which the relaxing and family friendly Babylon Beach.
The island's laid-back atmosphere and bohemian spirit has led to quirky markets popping up across the island, perfect for an excursion as a family. One such market is Las Dalias, one of the best hippy markets in Ibiza, where colourful clothing and crafts are sold with a smile.
Exclusive Le Collectionist experiences
Your Le Collectionist tailor team would be happy to organize an event at your villa. From outdoor film screenings under the light of the stars, to arts and crafts days with a professional team, not a dull moment will go by on your family holidays in Ibiza.
Family oriented addresses
Between restaurants and kids clubs, there are plenty of spots on the White Island that cater to families. Here is our roundup of addresses in Ibiza for family holidays:
One of Ibiza's most famous beach clubs, the soft and loving environment is perfect for the whole family. Enjoy delicious meals with authentic flavours. Its appended Little Chiringuito is our favourite kids club, where your little ones can draw, paint, and make bracelets. Check out our tour of El Chiringuito to see why this is one of the best places to go for family holidays in Ibiza.
El Chiringuito Ibiza, Camí des Cavallet, S/N In the Beach of Cavallet, 07817, Sant Josep de Sa Talaia, Ibiza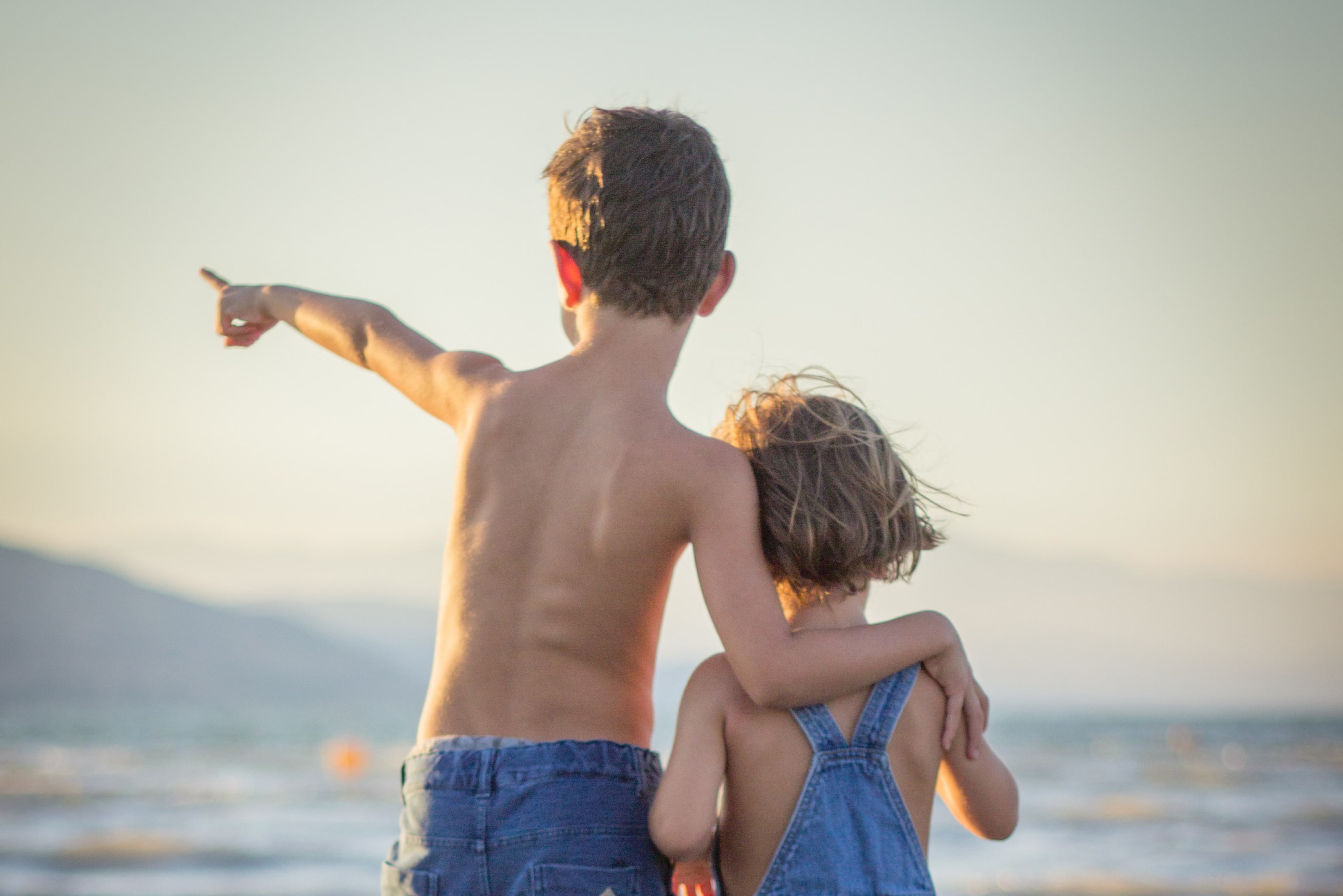 On the south of the island, Beachouse is the perfect place to spend the day as a family. Children have their own play space, so you can rest easy knowing that they're safely frolicking in the sand while you sip on a seaside cocktail.
Beachouse Ibiza, Carrer 34 de la Platja d'en Bossa, 07817 Sant Jordi de ses Salines, Ibiza
Get up close and personal with farm animals at this ecological farm in Ibiza. Your children will love the chance to take an active role in agricultural life, with a delicious organic smoothie made from the farm's fruit waiting for them at the end of the day.

Can Musón Ibiza, Es Coloms, 98, 07840 Santa Eulària des Riu, Ibiza
This restaurant with a creative twist welcomes grown ups and little ones alike in a warm family atmosphere. With homemade cuisine, an arts and craft workshop, and a children's play area, its the perfect place to spend a day that's as relaxing as it is engaging.
Atelier 74 Ibiza, Paseo de Santa Gertrudis, n° 12, 07814 Santa Gertrudis de Fruitera, Ibiza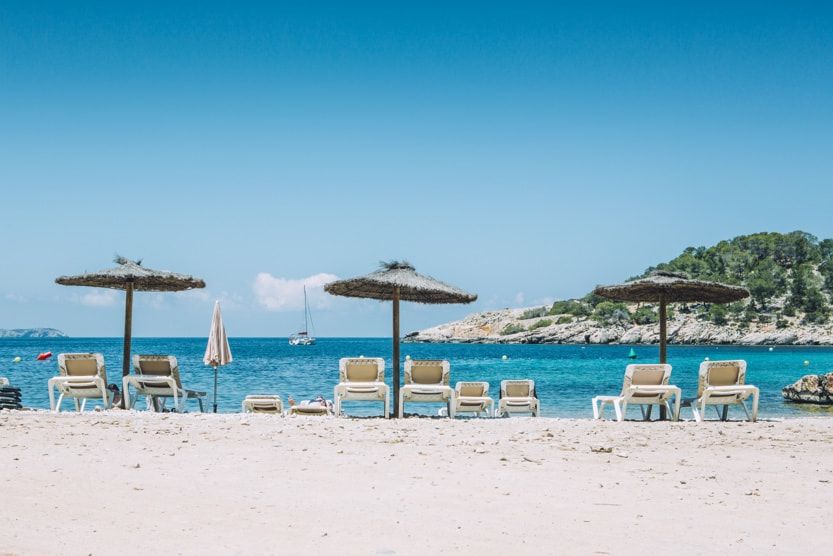 Santa Eulalia: the ideal place to travel with children
Located on Ibiza's east coast, Santa Eulalia is a peaceful resort town that has entirely avoided Ibiza's widespread reputation.
Here, you can cycle, go horse riding, or zip wire through the calm region. Spend your day on one of the many surrounding beaches, with kids splashing in the water, playing bat and ball, or shoulder deep in the moat of their new sandcastle. This is, perhaps, the most popular and best place to stay in Ibiza for families.
Family holidays in Ibiza: what YOU SHOULD know
Frequently asked questions (FAQ)
Inspired to plan your next family holidays in Ibiza? With Le Collectionist, planning your luxury holidays has never been easier.