There are many different kinds of exotic holidays: those spent lounging sea-side on white sandy beaches in the Caribbean, discovering new and vibrant cultures in warm destinations, hiking through tropical forests and atop volcanos... See our round up of the 15 best luxury exotic destinations in the world, with suggestions of how to spend your family holiday.
BEST LUXURY EXOTIC DESTINATIONS
Exotic island and Caribbean destinations
Saint Martin: untouched beauty and vibrant cultures
Set sail across the Caribbean Sea's dazzling blue waters, destination Saint Martin. When the shimmering turquoise meets white sand beaches, you'll know you've reached your tropical paradise. Less well known than Saint Barts, Saint Martin is perfect for quieter and more untamed holidays in a precious environment.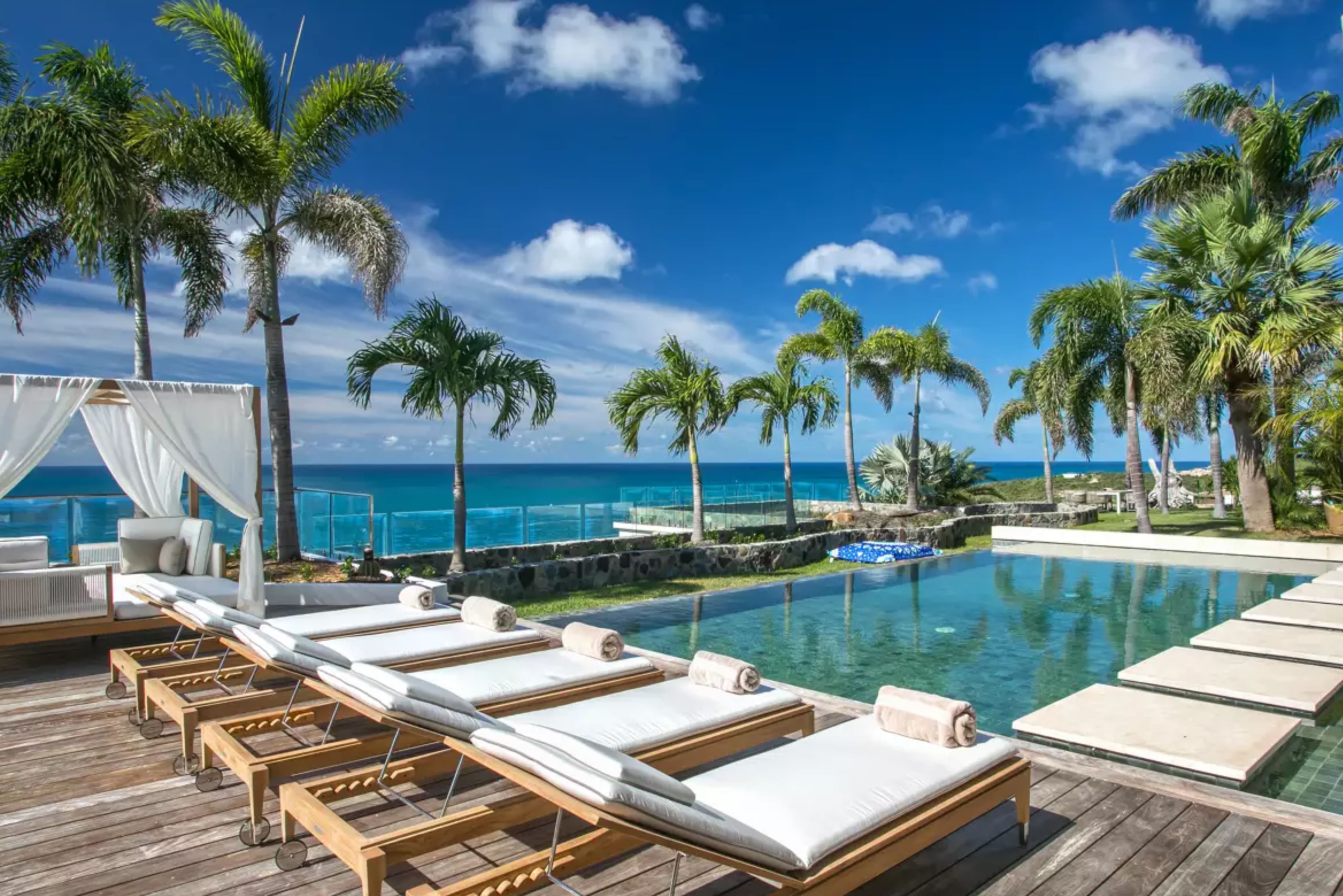 Villa Emerald in Saint Martin
This exotic holiday destination is a true cultural melting pot, blending French and Dutch influences in what stays a wholly authentic Creole island. On the French side of the island, explore traditional outdoor markets selling clothing and jewellery. Spend your morning perusing the colourful stalls with amiable locals, then settle down on glowing white sandy beaches to lounge away the afternoon.
On the Dutch territory, discover a festive nightlife complete with delicious rum based drinks from local distilleries. End your day with a traditional Creole supper of callaloo, the island's national soup dish comprising greens, meats, ample seasoning, and a kick of hot peppers.
A particular draw of Saint Martin is its preserved natural spaces. Whether along the coasts with a view of the crystalline sea or on the island's peaks among volcanic rock, hiking is a perfect family friendly activity for exploring the Caribbean and discovering the many lush landscapes across its islands.
Punta Cana: stunning beaches and exotic wildlife
On the eastern coast of the Dominican Republic, the crystal clear waters and fine white sand beaches of Punta Cana welcome you on your luxury travels. A perfect exotic destination for leisurely holidays sipping cocktails by the sea, let the sound of traditional Dominican music lull you into holiday bliss. Will you prefer dancing to the beat of bachata or merengue?
Your children will love the chance to see extraordinary wildlife in the island's tropical forests and beaches, like iguanas, sea turtles, flamingos, or pelicans. If you decide to make Punta cana your winter sun exotic destination, you'll want to plan a whale watching trip and catch sight of the impressive humpback whales who migrate to this tropical paradise for mating season.
For a closer look at Punta Cana's marine life, plan a scuba diving excursion. From under the scintillating blue water, a whole new world opens up to you: schools of colourful fish swim alongside sea turtles in the vivid coral reef.
Whether on land under the shade of the palm trees, in the tropical forest standing mesmerised before a waterfall, or submerged under water, you'll understand why this is one of our best luxury exotic destinations.
Turks and Caicos: active waterside holidays
Like others on our list, this Caribbean archipelago is characterised by white sandy beaches and inviting crystalline waters. Turks and Caicos stands apart from other exotic places to travel by the number of water activities it offers, allowing you to appreciate its islands from a different vantage point.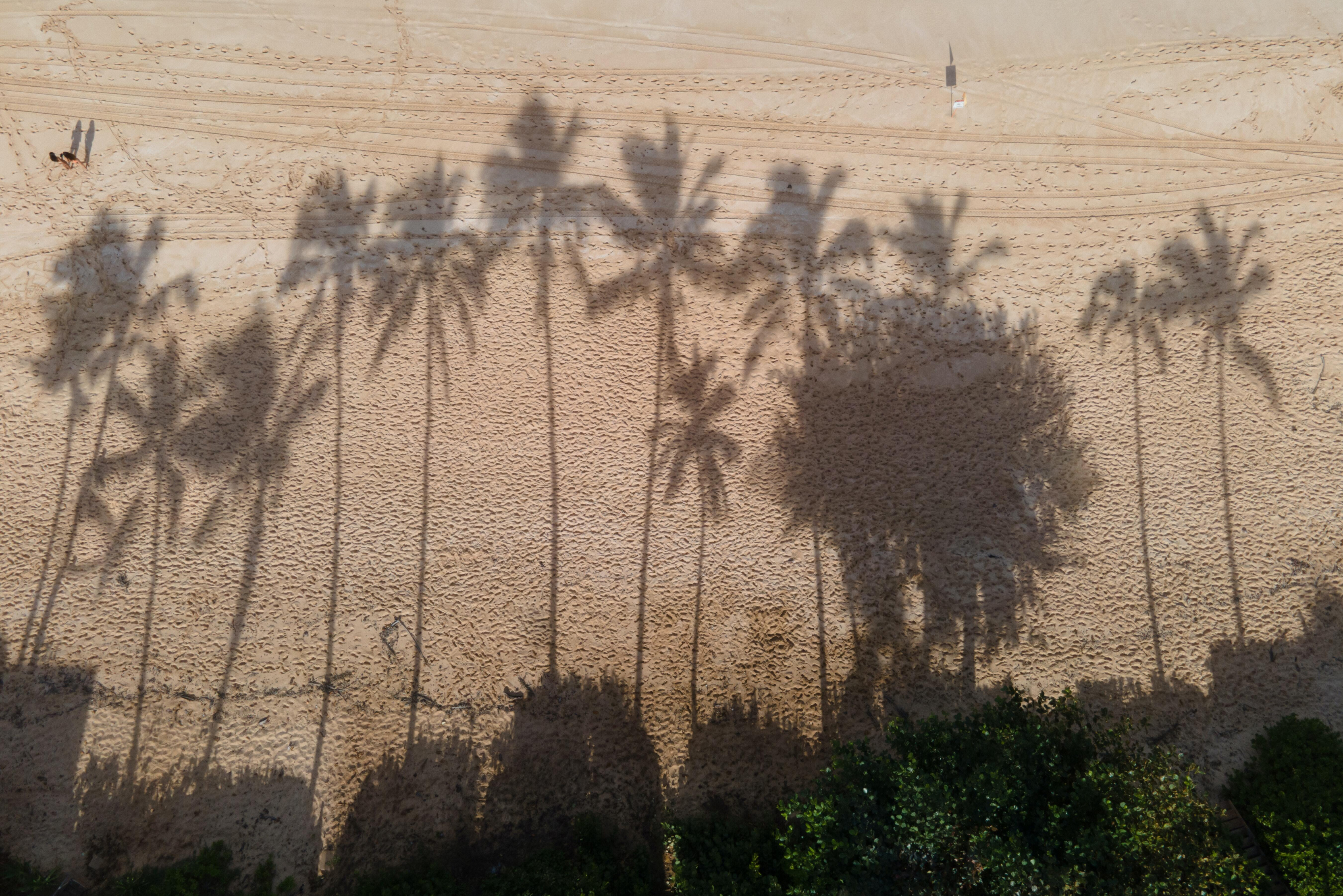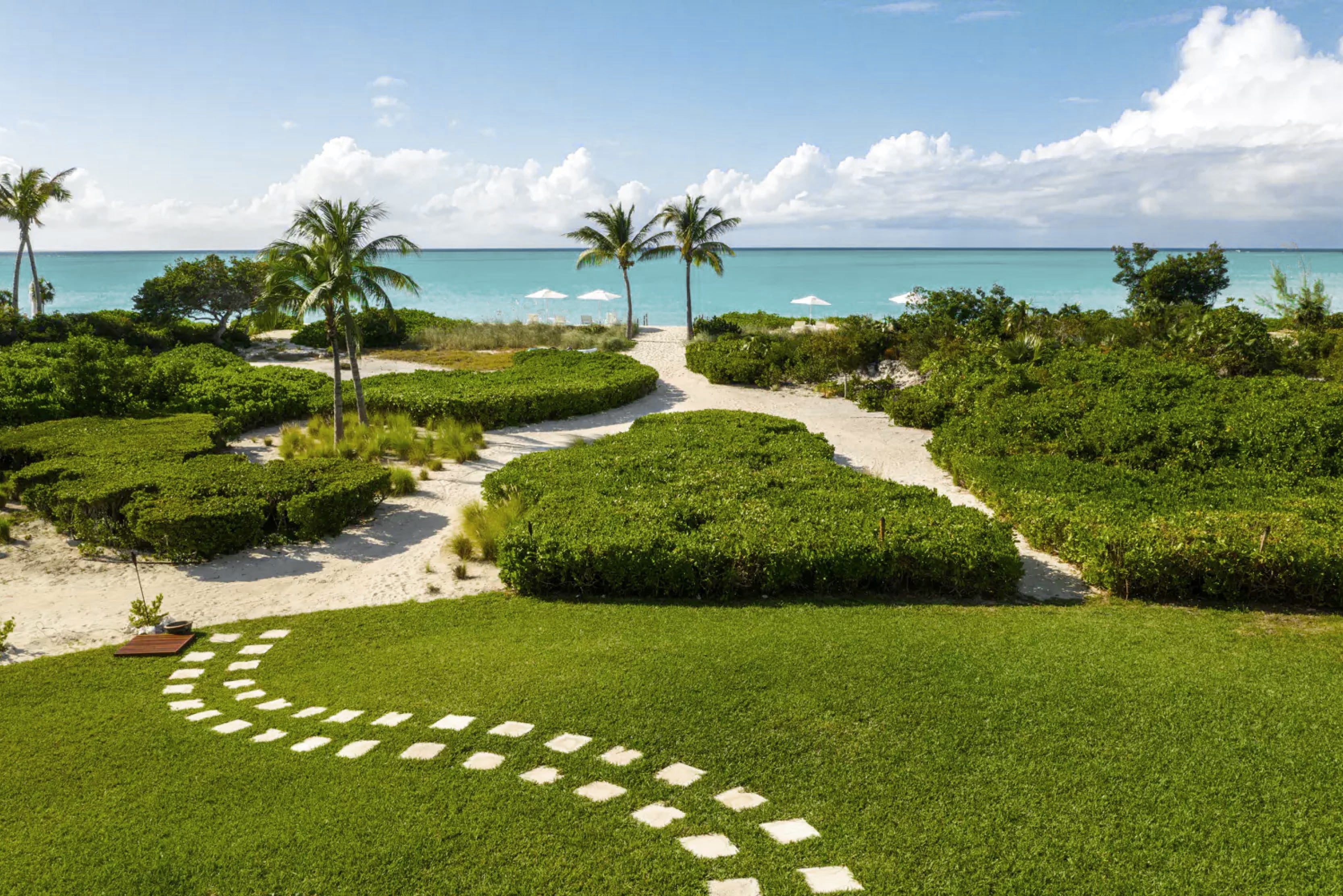 Villa Atlantide in Turks and Caicos
With miles of untouched barrier reef running through its blue water, Turks and Caicos is a prime location for scuba diving and snorkelling. Discover the hidden hues that lie beneath the surface in glistening fish scales and amorphous corals.
If you're more interested in the surface than the ocean floor, sign up for surfing lessons, or try your hand at wakeboarding, windsurfing, paddleboarding, or parasailing.
For a don't miss family friendly experience, take an eco-conscious kayak tour down the crystal clear waters of Mangrove Cay. Not only will you cross one of the most beautiful and lavish natural reserves in Turks and Caicos, you'll also come face to face with some of the archipelago's exclusive wildlife.
Costa Rica: preserved rugged landscapes
Costa Rica is known for its preciously preserved natural spaces and many exotic landscapes. With dense tropical rainforests, expansive golden beaches, and mighty volcanoes, this South American country is a must visit luxury exotic destination. There's something for everyone here, provided you don't mind trekking your way to find the staggering vistas.
Facing the Caribbean Sea, Costa Rica is the ideal exotic destination to hang ten off your surfboard and lounge in the sand while a vast expanse of turquoise water stretches out before your eyes.
If you choose to take on the challenge that is the Costa Rican wilderness, you'll be handsomely rewarded. We recommend a trip to Irazú Volcano National Park for a hike up the highest volcano in the country. With five craters and countless staggering views over verdant peaks, you'll get to experience the very best of Costa Rica's spectacular natural spaces. On clear days, you can see as far as the Pacific Ocean, and even peek at Lake Nicaragua!
Exotic holiday destinations in Africa
Mauritius: flora and fauna that will leave a mark
Off the coast of Africa, comfortably afloat in the Indian Ocean, Mauritius is a true tropical paradise. Blue water shifting between royal, azure, and turquoise tones, fine and immaculately white sand beaches, idyllic and undisturbed lagoons, and kaleidoscopic corals — what more could you need for a luxury exotic holiday?
When you aren't lazing at your beachfront villa, discover its native flora and fauna. Birdwatchers rejoice! Here, you'll meet species that are endemic to the island, like the pink pigeon, Mauritius kestrel, or the echo parakeet. What will you find most beautiful: the birds and their vibrant plumage or the tropical forests that house them?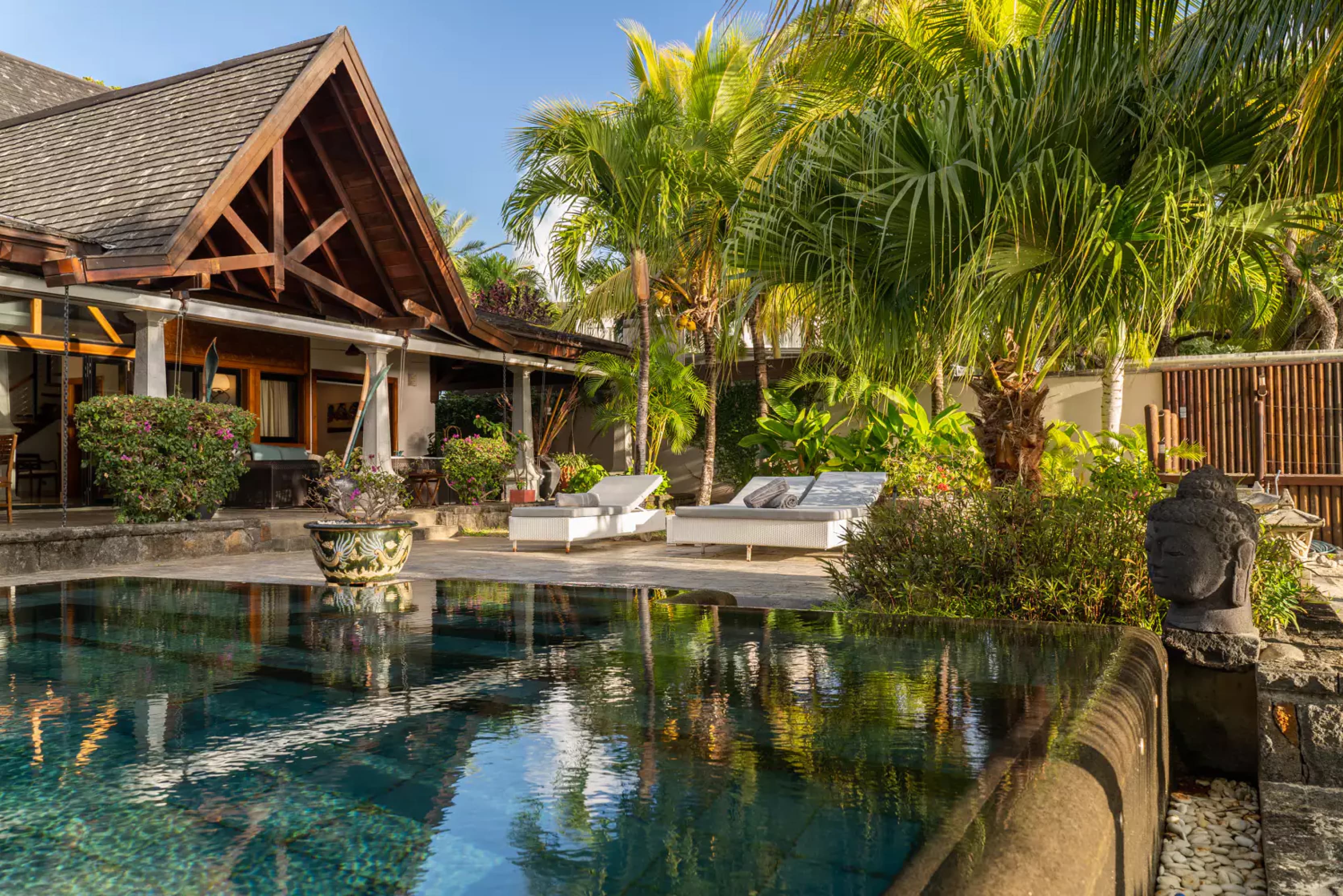 Villa Matahari in Mauritius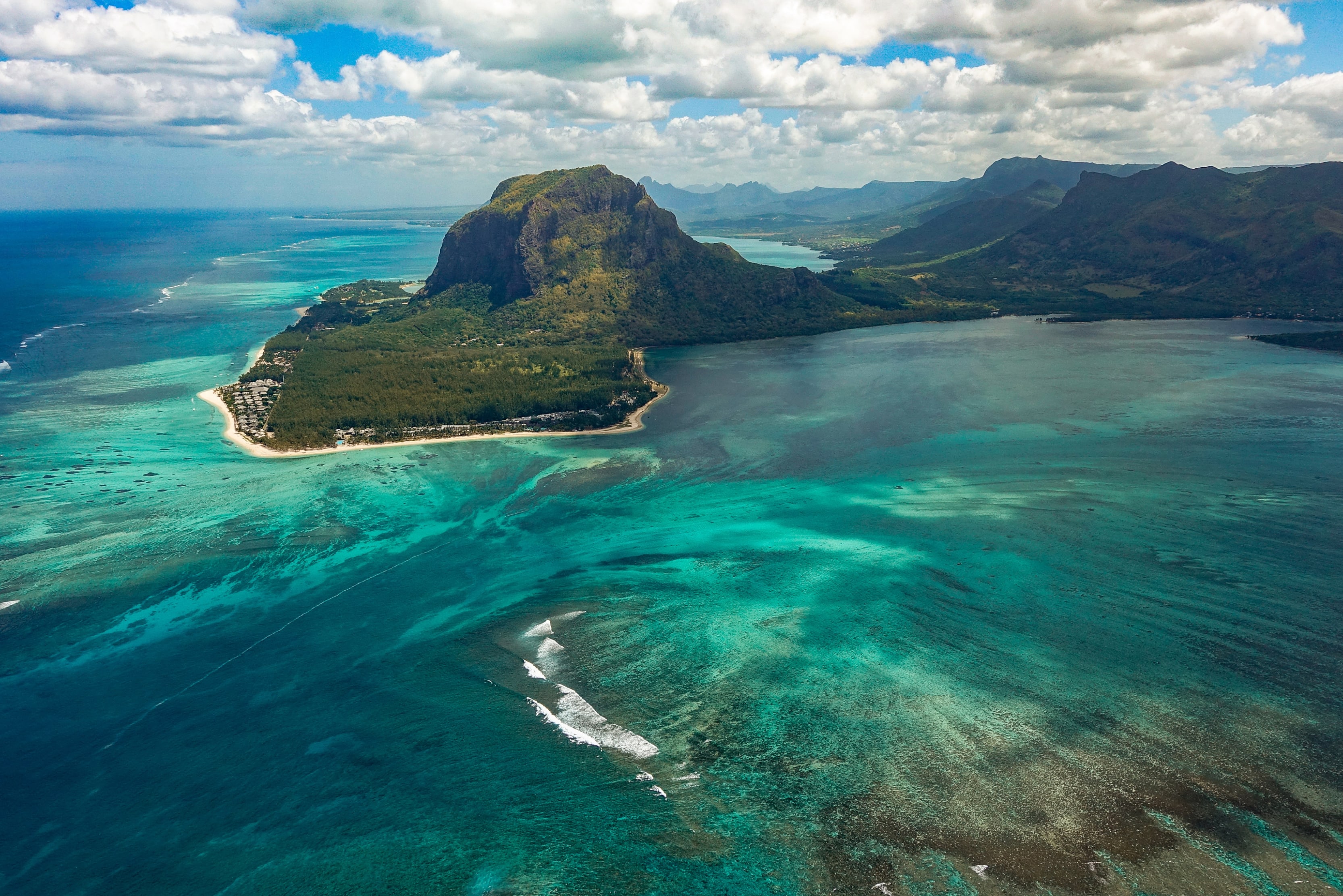 One thing you shouldn't leave off your itinerary when visiting Mauritius is the Morne Brabant Mountain. This UNESCO World Heritage Site is not only alluring for the lagoon that surrounds it, it's also near and dear to the islanders' hearts due to its cultural significance. Formerly a formidable sanctuary for escaped slaves, it now stands tall and proud as a symbol of freedom, its noble message amplified by the awe-inspiring location.
Marrakech: bargain with locals at a bustling market
Bustling hub of Morocco, Marrakech sets the tone for a different kind of exotic holiday, one where turquoise seas are traded for desert sands and days spent lounging by the water become lively excursions out into the city.
At the Souk Semmarine market, you'll see exactly why Morocco is one of the best exotic countries to visit. While the inviting aroma of fragrant spices fills your nose, beautiful hand crafted jewellery and vibrant patterned rugs will catch your eye. Be sure to leave room in your suitcase, because you won't be able to resist these authentic mementos!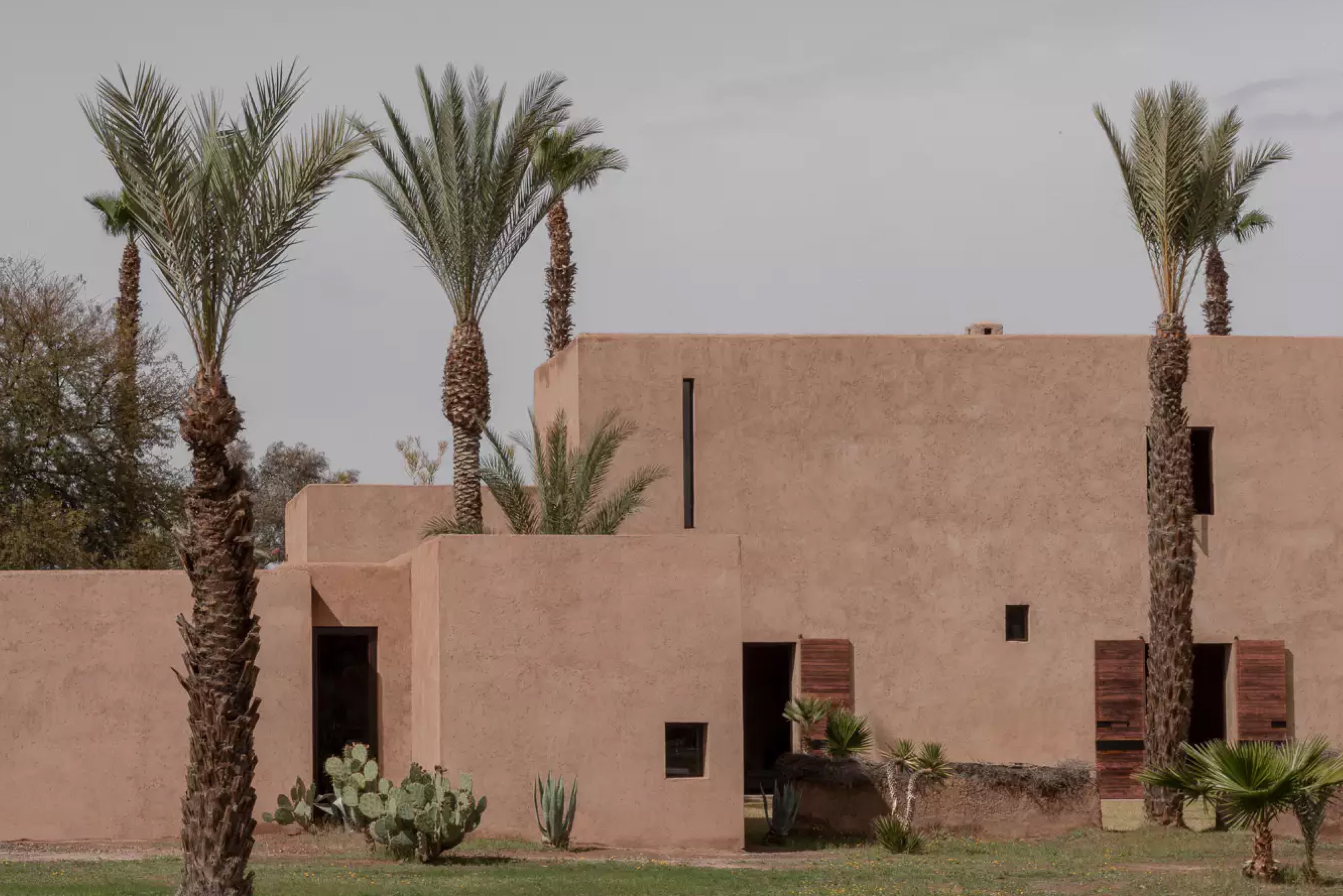 Villa A&N in Marrakech
If you venture outside of the city walls, you'll discover a whole other facet to this destination. Unexpected rugged landscapes take over, dominated by sand, palm trees, and bougainvillaeas. You'll absolutely want to catch a glance of the Atlas Mountains, whose snow-covered summits amid the desert create an astonishing but alluring view.
For a more exhaustive idea of things to do in this exotic destination, see our Marrakech travel guide.
Essaouira: a fortified coastal town
After your luxury family holiday in Marrakech, head to Morocco's coast for yet another face of this diverse and wonderful luxury exotic destination.
Discover the city of Essaouira from above by walking around its 18th century ramparts. On one side, the billowing winds attract many wind- and kite-surfers out to the waves. On the other, the gorgeous Iles Purpuraires natural reserve stretches on.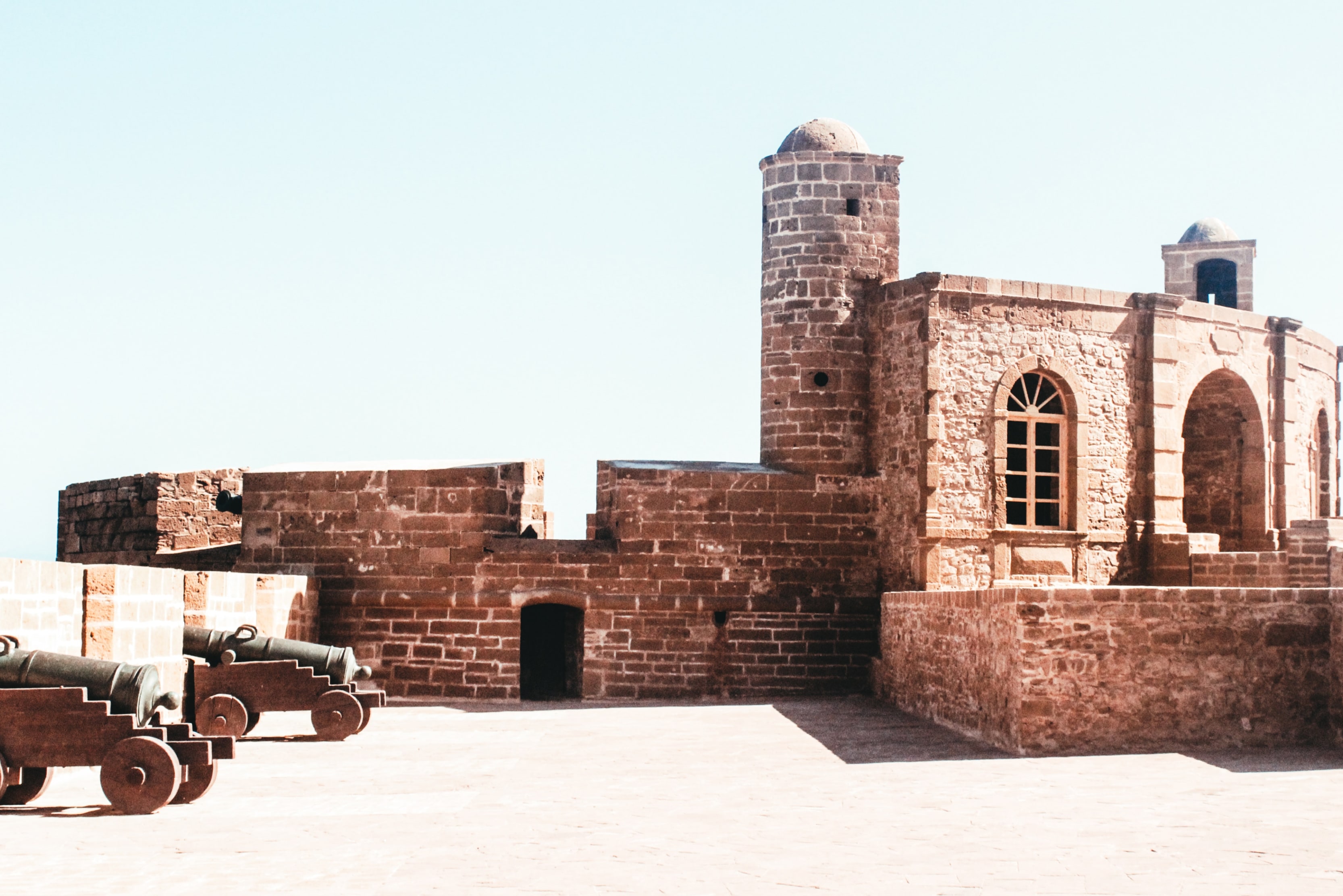 As you meander along the parapet, you might get a feeling of déjà vu. That's because scenes from the popular series Game of Thrones were filmed right where you stand. You'll now be able to claim that you've been to the fictional city of Astapor!
Once back on the ground, visit more of the city's attractions like the active fishing ports dotted with blue and white boats. Essaouira favours responsible tourism, and many of its beautiful beaches bear the Blue Flag label, recognizing sustainable practices.

If you're up for a bit of a challenge, head to one of the city's golf courses for an afternoon on the green. The characteristically strong winds will incentivise you to adapt your drive. Will you be able to make par?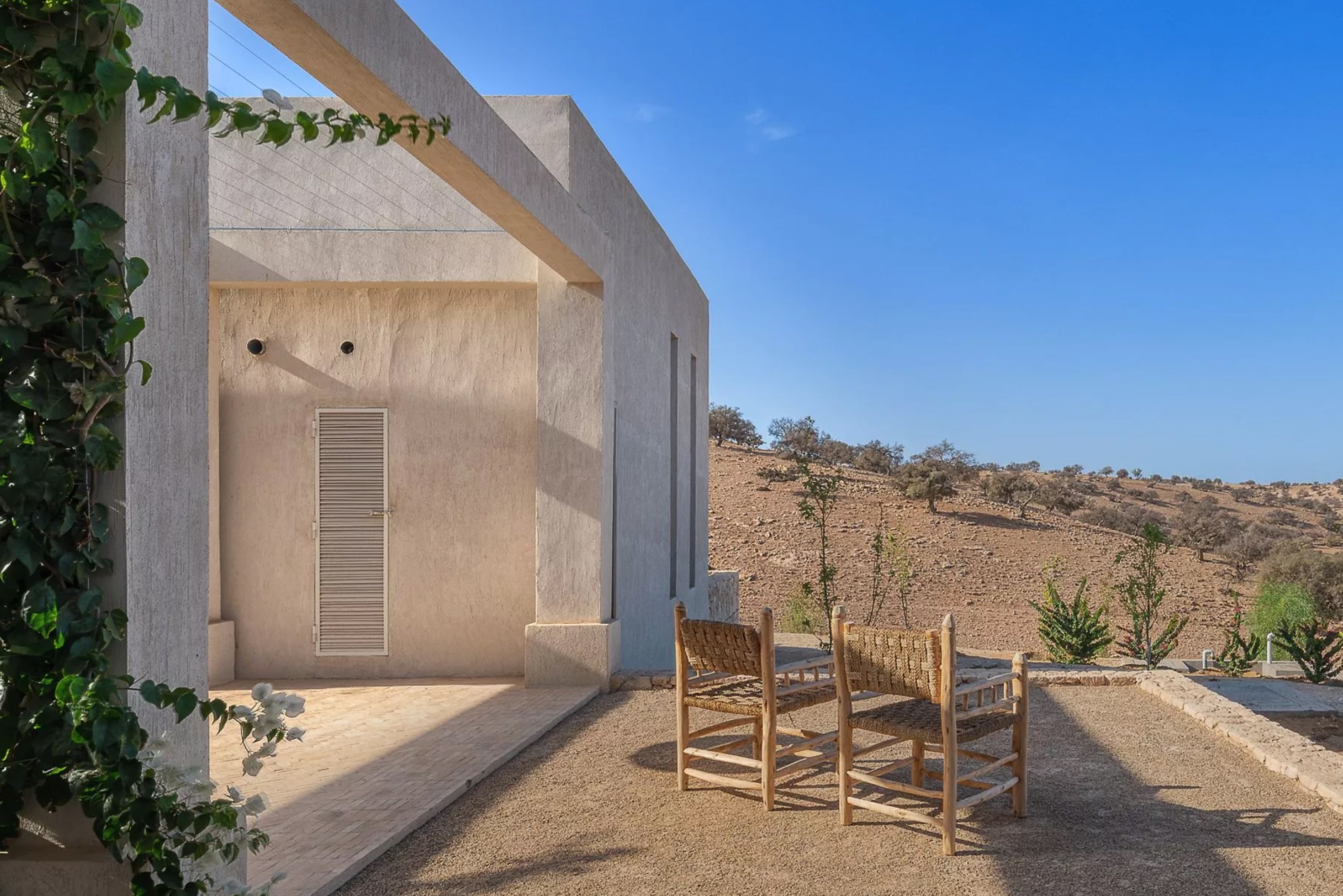 Dar Alnaïr in Essaouira
Cape Town: spot the Big Five in your safari Jeep
Leave Morocco and head down to South Africa, where Cape Town awaits. Our last luxury exotic destination in Africa is a family favourite which blends singularly beautiful landscapes with thrilling wildlife encounters.
Plan a safari in the Aquila Private Game Reserve. From the back of your all-terrain Jeep, you'll be able to spot the Big Five: lions, leopards, elephants, rhinos, and buffalos. You'll also get to appreciate the region's natural beauty, following your guide for a bush walk. The lush and exotic native plants are sure to delight!
If you're not in the mood for close personal contact with South Africa's wild inhabitants, a hike in Table Mountain National Park might be more to your taste. With trails suited to all different levels, you'll be able to revel in the splendour of South Africa's most prominent landmark no matter your experience. But don't worry if you're not much of a hiker; with a cableway leading to the top, even the least active of visitors can enjoy a panoramic view from the mountain's peak.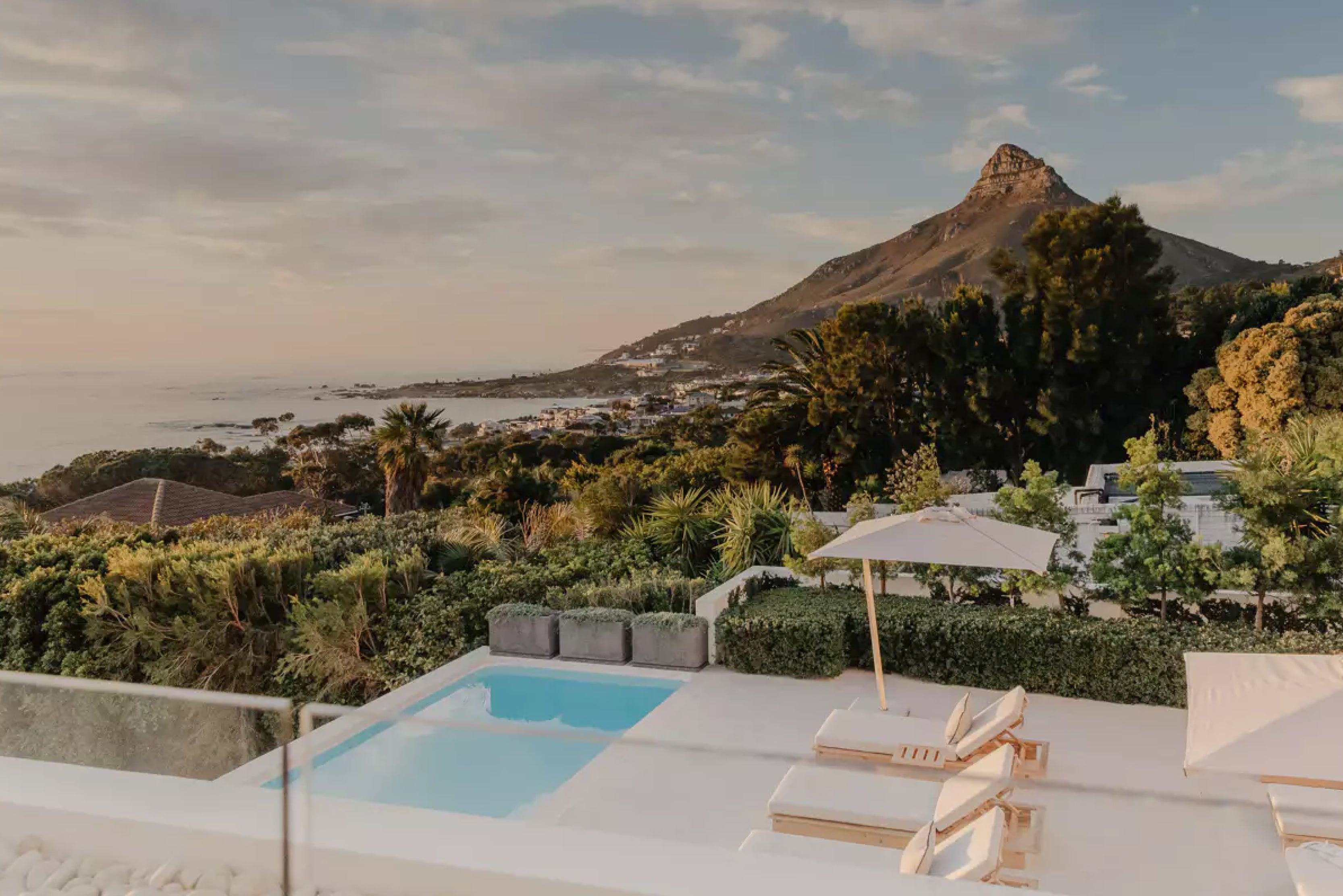 Villa Otto in Cape Town
Exotic destinations in Europe
Dubrovnik: walk through the Old Town's centuries of history
In Croatia, fronting the deep blue Adriatic Sea, Dubrovnik is one of the best exotic holiday destinations in Europe. Start your visit in this charming city by walking along its towering 16th century walls and ramparts. From this vantage point, you'll have a view over both the glittering Adriatic and the Old Town's emblematic orange roofs.
Catch sight of the preserved historic buildings taking you through the city's history. Will you prefer the baroque architecture of the 18th century St. Blaise Church, or the Renaissance splendour of Sponza Palace?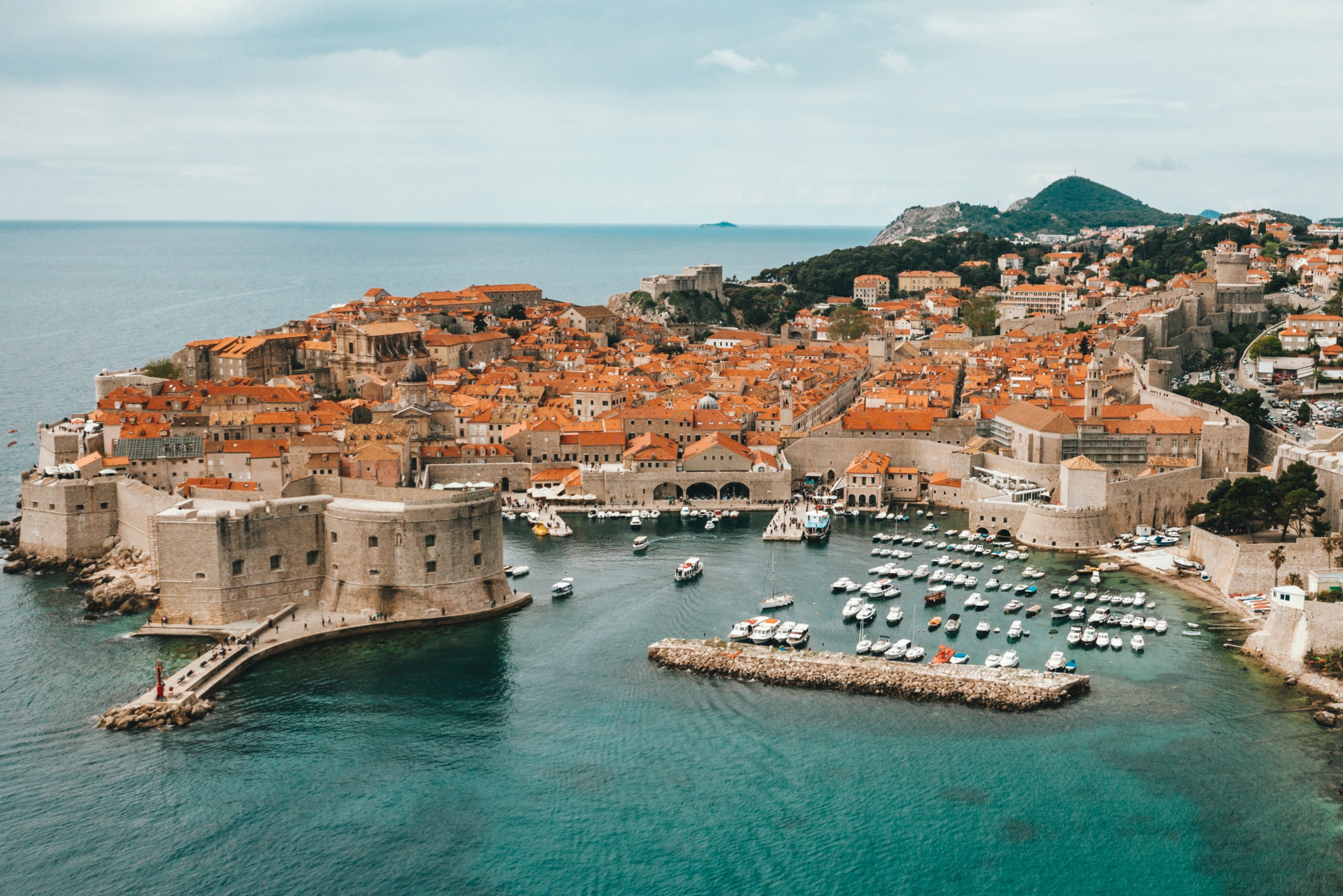 Paved with limestone bricks, take a walk down the pedestrian streets like Stradun, where you'll be able to peruse local shops and restaurants for an authentic feel of the town. Then, step into the middle ages at the Fransiscan Monastery and Museum, originally built in the 15th century, although very little of the original structure remains today.
Mykonos: lazy days and long festive nights
Whitewashed facades, blue shutters, and domed roofs, Mykonos is a perfect model of the iconic Cyclades style. Aegean Sea to one side, vibrant city life to the other, your exotic luxury holidays will be coloured by all the Greek charm you could ask for.
Mykonos is known for its festive summer nights, so you'll certainly want to hit up a beach club or two while visiting this island. Before that, spend your day lounging on the beautiful white sand beaches — we recommend the calm Psarou beach. Surrounded by hills, this quiet and refined stretch of sand will be the perfect place to gear up for the night to come.
If you're planning on dancing the night away, Kalo Livadi beach is a great option. Lay your towel in the fine sand in the morning, and watch as the beach turns from an idyllic and peaceful oasis to an increasingly peppy, musical scene as the day progresses.
Mykonos knows how to balance its jubilant spirit with solemn respect, notably in the beautifully preserved churches and monasteries that pepper the island. Byzantine churches in immaculate white coats blend into the horizon like clouds in the sky. It's also worth scouting the towns for the iconic windmills with thatched roofs, a staple on this elysian island.
Need more inspiration for your trip to this exotic island destination? See our essentials for spectacular Mykonos holidays.
Sardinia: sophisticated and secluded luxury
Floating in the Mediterranean Sea, the Italian island of Sardinia should be top of your bucket list. There are no better exotic destinations in Europe for breathtaking landscapes in a sophisticated and elegant hideaway.

Like many other stops on this list, Sardinia is home to beautiful beaches where you'll want to lay your towel down and soak in the delightful sun. Cala Brandinchi is a wonderful option: sometimes called "Little Tahiti," this white sand beach surrounded by billowing pine trees is the perfect private oasis to spend the day. Lounge seaside or spend the day at a private beach club.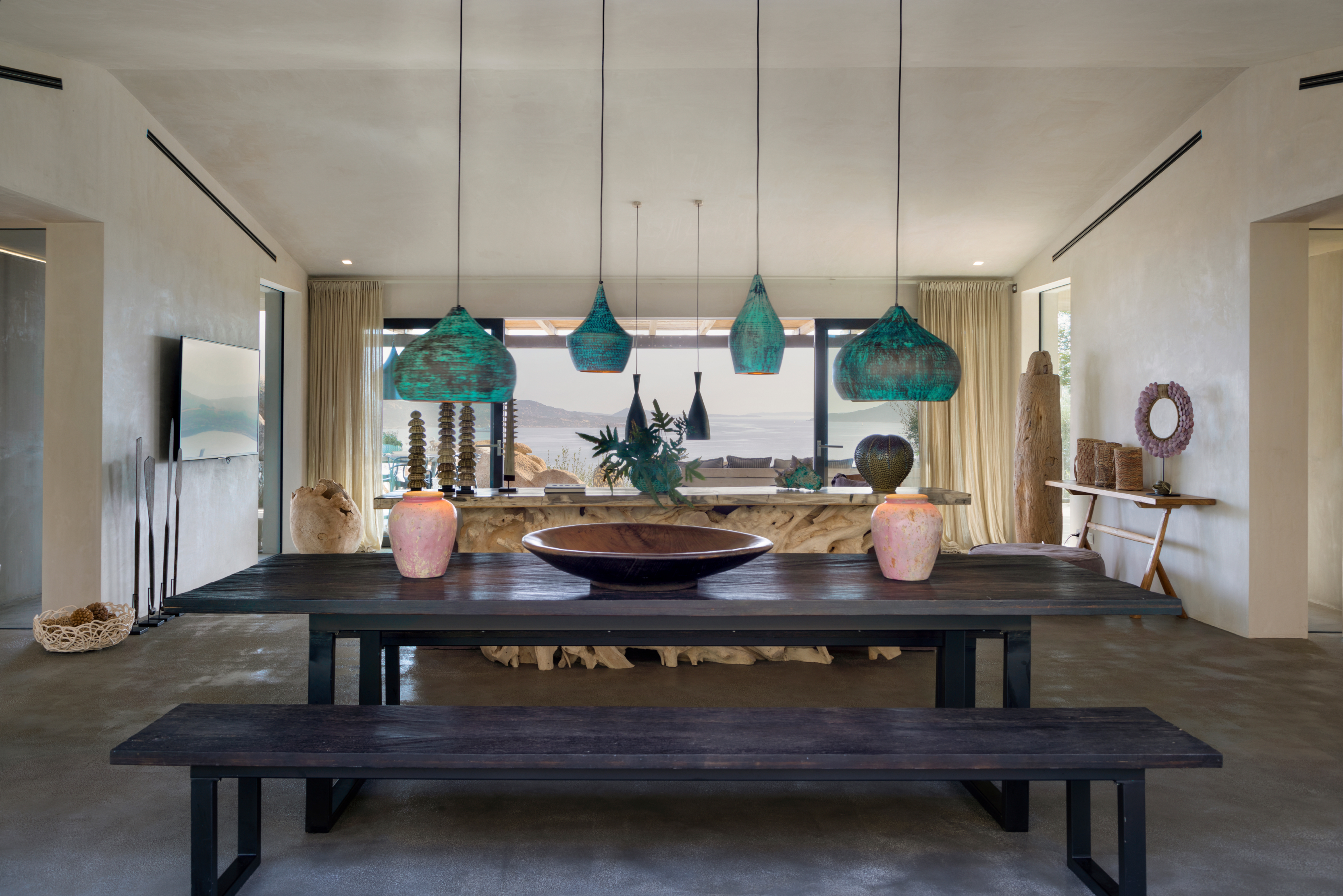 Villa Susanna in the cliffs of Sardinia
Another attractive beach is La Pelosa, where fine golden sand gives way to glistening turquoise water. To infuse your luxury holidays in Sardinia with some history, meander along the coast until you find the abandoned guard tower that used to be part of the island's defensive system. Dating as far back as the 16th century, the beautifully preserved grey and tan stones stand as a testimony to the island's lasting heritage.
For more ideas of what to do in this luxurious destination, see our guide to North Sardinia.
Sicily: temples and palaces nestled in the cliffs
As the largest island in the Mediterranean, Sicily is bursting with activities for unforgettable luxury exotic holidays, balancing unrivalled nature and rich history.
Sicily's sandy beaches and miles of uninterrupted coastline make for a perfect holiday topping off your tan while your children build sandcastles beside you. Bask in views of the island's stunning cliffs and shimmering water.
For other unique things to do in Sicily, set sail for the Aeolian Islands. Not only is this volcanic archipelago an environmental gem, you'll also get a different view of Sicily from the water.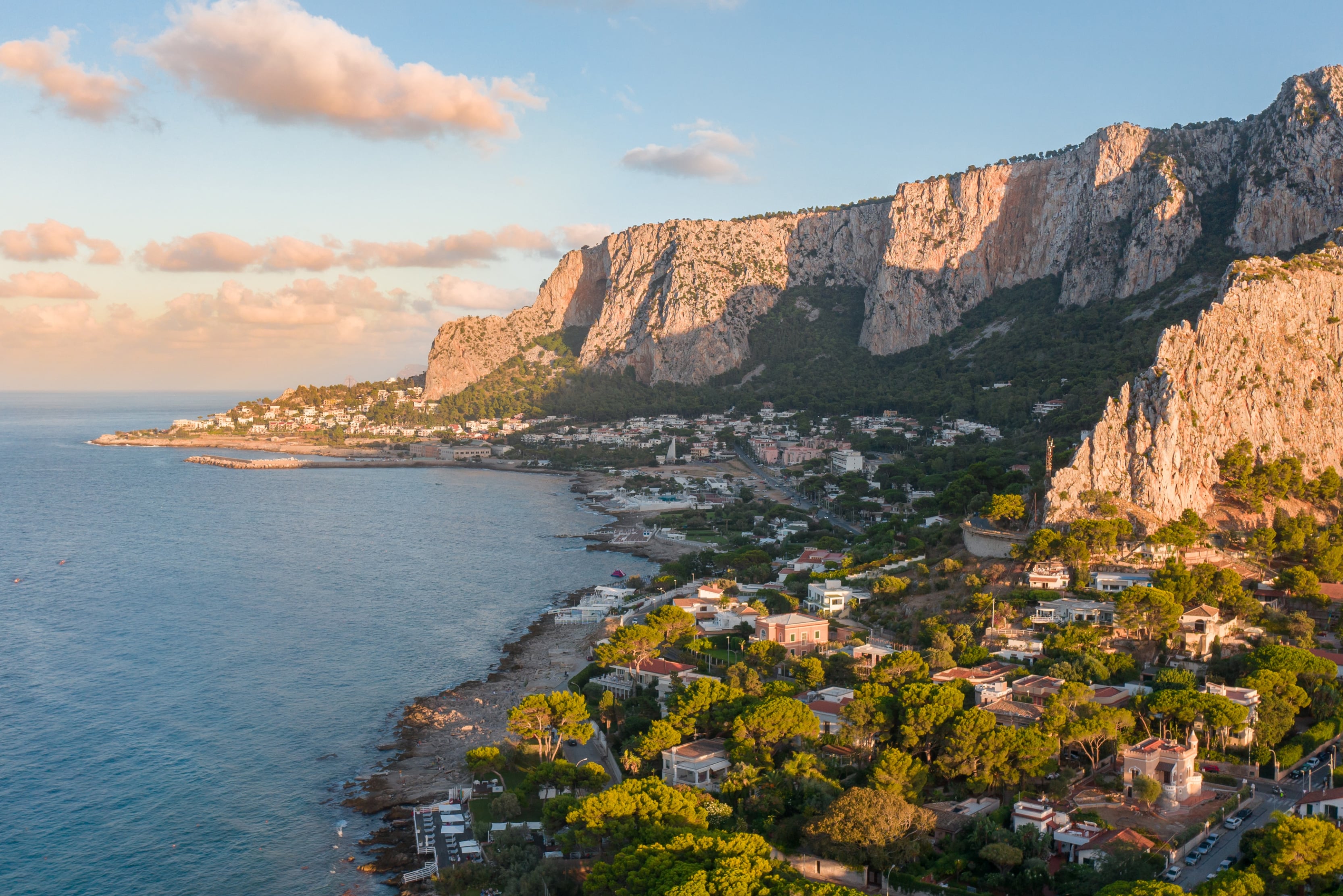 If you head deeper into the island, you'll discover that Sicily is a treasure trove of ancient Greek and Roman architecture and artefacts. Head to the Valley of Temples and gape at one of the best preserved archaeological sites in Italy.
In Palermo, discover the Palazzo dei Normanni, or Norman Palace, which has been the seat of Sicilian rulers since it was built in the late 11th century. You'll be able to find classical gems on every street corner of this historic city.
Ready to book a holiday in Sicily? See our Sicily travel guide to help you create a perfect itinerary.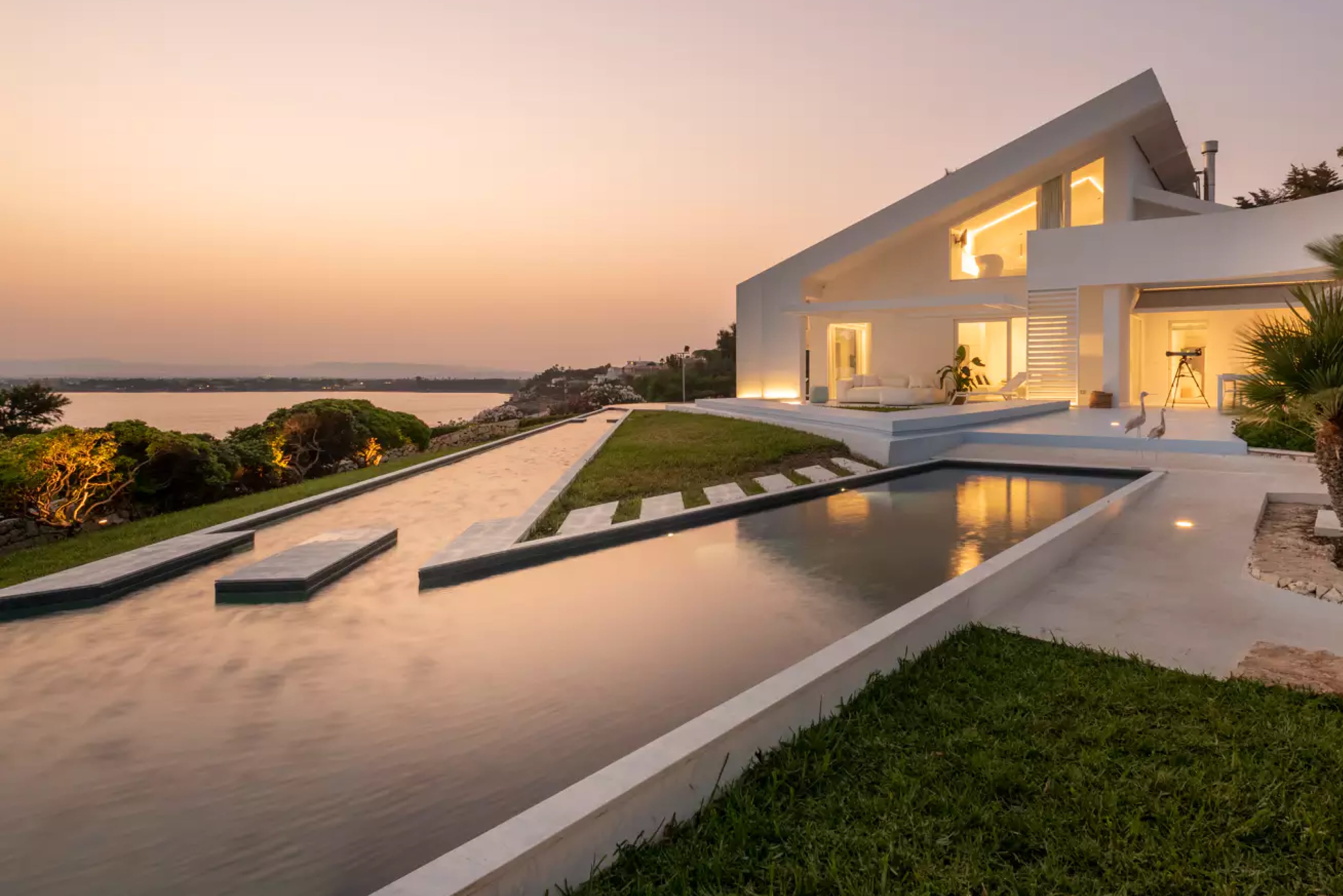 Villa Sirena in Sicily
Venice: bringing art and heritage to life
What could be more exotic than drifting down shimmering canals on traditional gondolas while bouncing from museum to museum in Venice?
Queen of the Adriatic, this city encloses stunning landmarks, world-famous artwork from every epoch, and whimsical winding streets. For a taste of Italian life, head to any of Venice's iconic cafes for an espresso or tiramisu, indulging in both a delicious treat and the dolce farniente.
As one of Italy's oldest and most popular cities, several festivals take place here every year. Plan your luxury Italy holidays in time to attend the famed and iconic Carnival in late February, or the commemorative and cherished Feast of Santa Maria della Salute in November.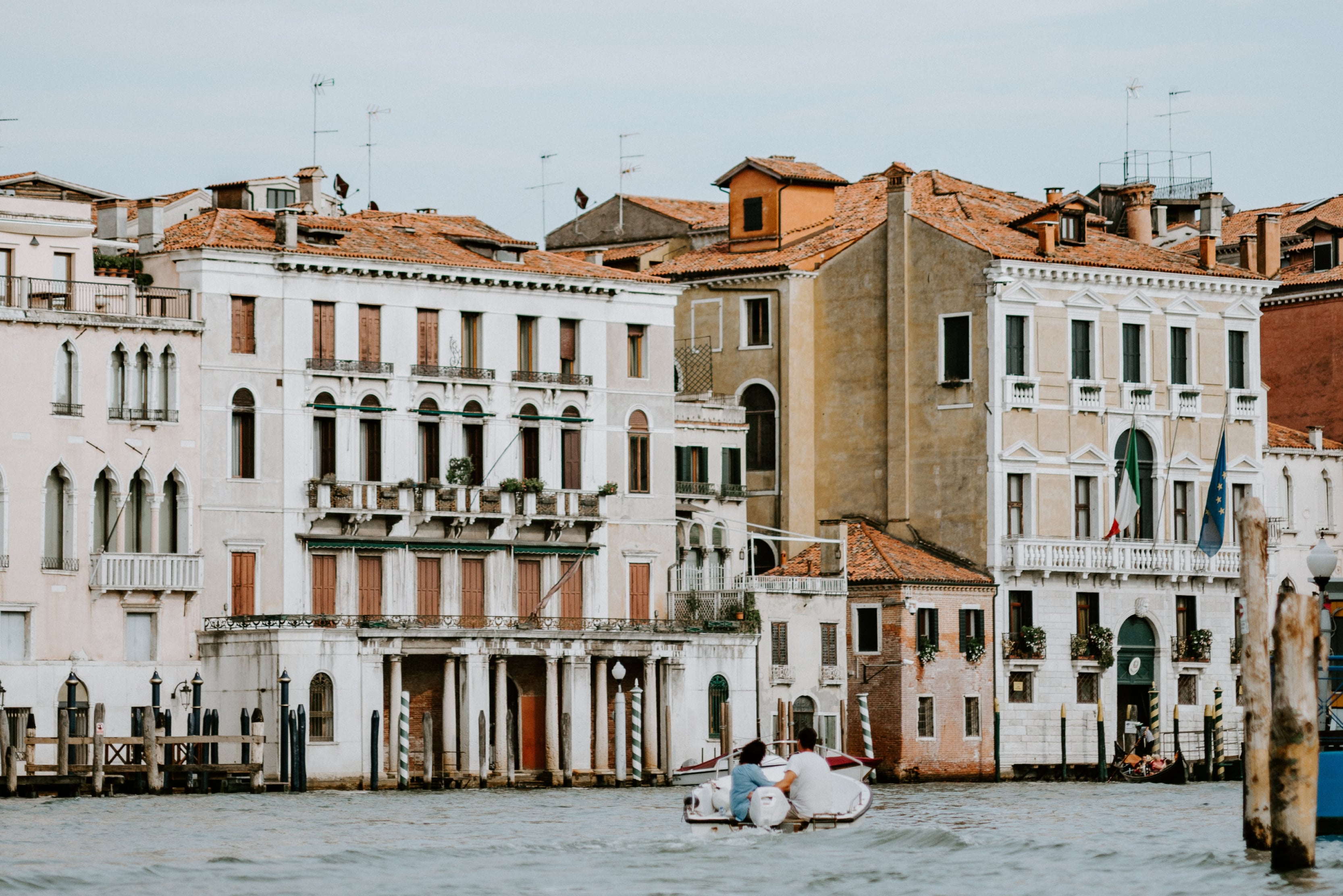 Melides: an understated and sweeping coastline
Long revered as one of Portugal's best kept secrets, the stretching Atlantic coastline in Melides is an idyllic backdrop for exotic luxury holidays. In recent years, Melides has become an increasingly popular slow travel destination where rolling landscapes are the main attraction.
Despite drawing more visitors, Melides has lost none of its rugged charm. The Lagoas de Santo André e da Sancha Nature Reserve is a perfect example: here, discover over 15 km of protected coastline. The dazzling lagoon waters and expansive sandy coasts, serving as a refuge for exotic birds, are the perfect place for a canoe ride, hiking excursion, or windsurfing class.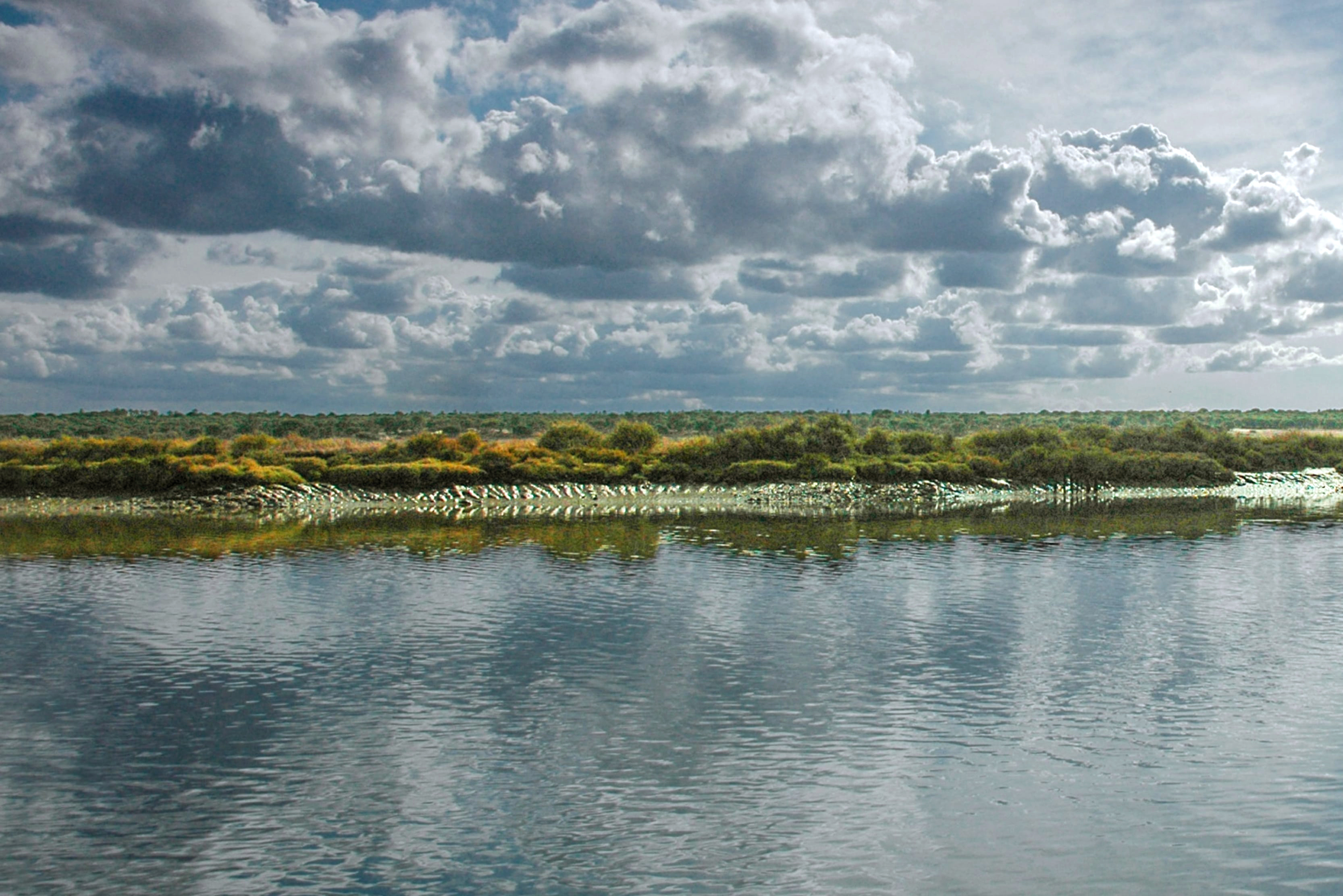 Further inland, you'll find a delicate whitewashed village where cobblestone streets, blue-toned homes, and local markets meet. Still relatively unknown to the general public, Melides exudes an authentic allure.
Come mingle with the locals at a quaint seafood restaurant, where the catch of the day is fresh and the people are welcoming. Otherwise, head to one of Portugal's Michelin starred restaurants for a more lavish dining experience.
Ibiza: quiet family beaches and vibrant nightlife
Often obscured by its hedonistic reputation, Ibiza is in fact a shining star in Spain's Balearic Islands. Far more than its rambunctious nightlife, it's the ideal destination for exotic holidays in Europe.
The so-called White Island has everything you could want out of an exotic holiday. With blue water and white sandy beaches, Ibiza feels like a true tropical paradise. Take your family to the calm Talamanca Beach. One of the biggest on the island, your little ones will have ample space to run and play.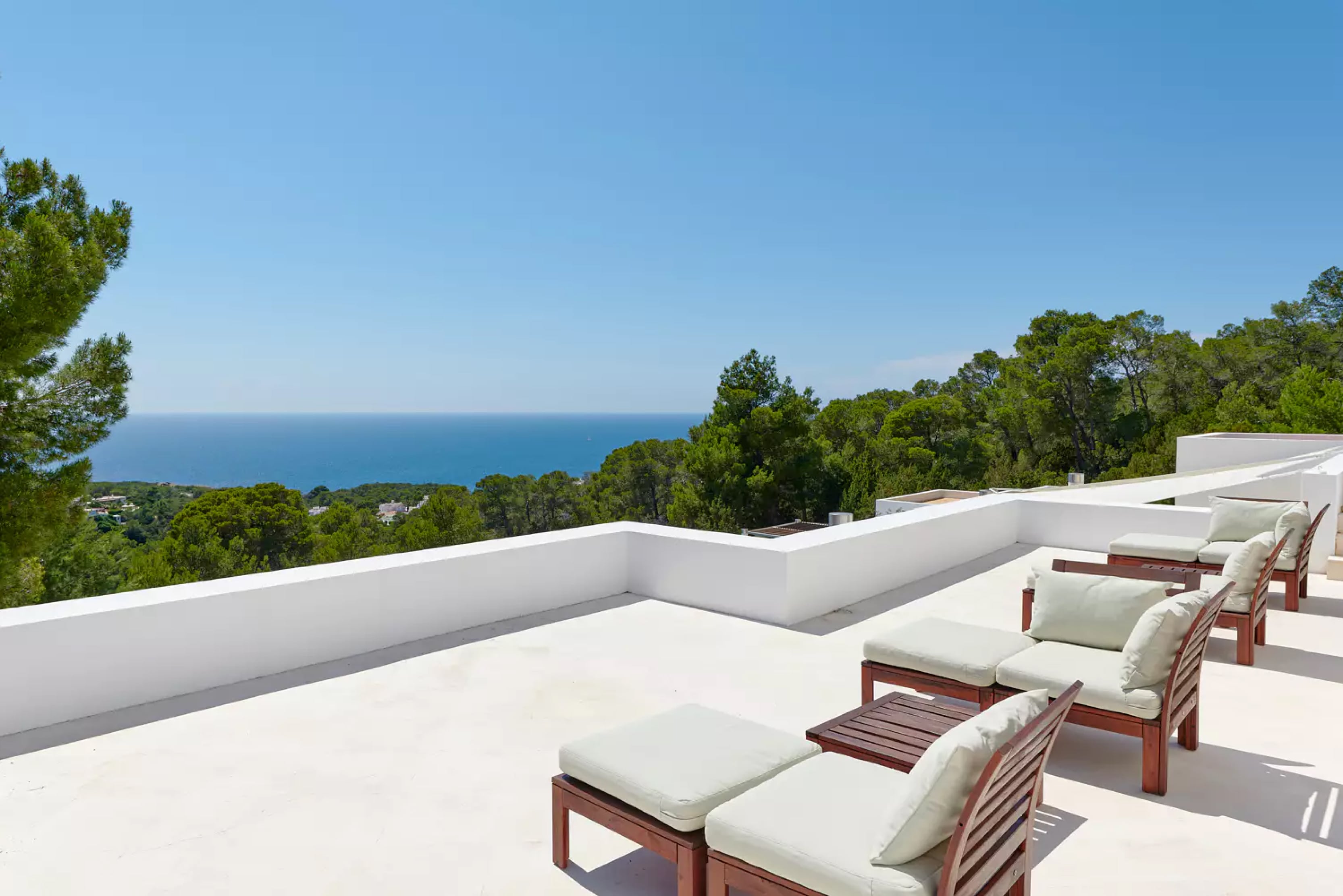 Villa Aleni in Ibiza
If you want to indulge in Ibiza's festive night life, head to Las Salinas, the island's ultimate beach. Boosters often cruise here during the day to promote their clubs, so you'll have your pick of spots to spend the evening.
When planning your trip, be sure to consult our guide of things to do in Ibiza for all our tips and addresses to visit on the White Island.
Tempted by any of these exotic holiday destinations? For a no-expense-spared luxury escape in total simplicity, look no further than Le Collectionist.