When we're thinking about a sunny summer escape, one of the first things that always comes to mind is a Portugal luxury beach holiday. The small country has a massive coastline with many beautiful spots.
A region that spans about a dozen villages and seven beaches, Comporta lies about 90 minutes' drive south of Lisbon, along the boundary between the Setúbal and Alentejo regions. The beaches—some 65 kilometers' worth—generally lie in preserved natural areas, meaning that the growing development in Comporta is still generally far away from the sand.
Many people, both international visitors and weekend or day-long beach-goers from Lisbon, become loyalists, choosing their favorite spot for their luxury holidays in Portugal and sticking with it. Others, like us, like to mix it up.
Here's what you need to know about the seven main beaches of Comporta and the wonderful things to do around them.
Feel the rush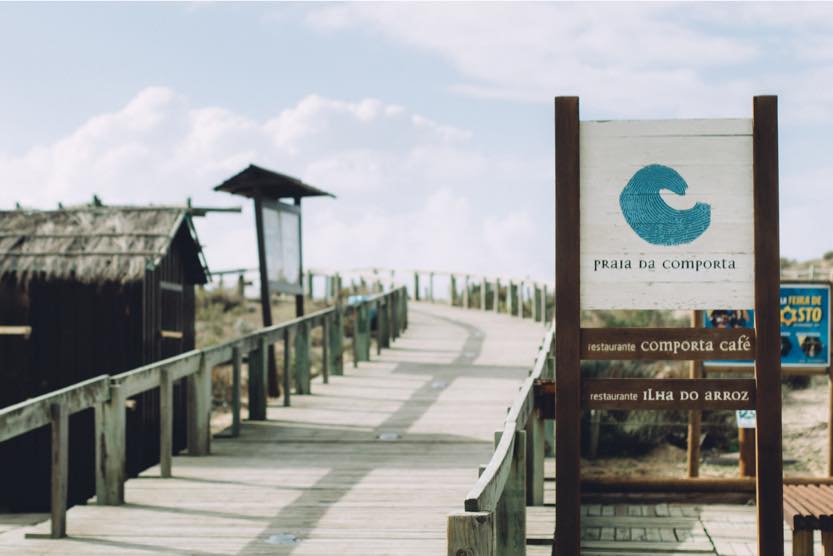 Praia do Comporta's ocean conditions make it an excellent place for kite surfing. The beach, close to Comporta village, is lively and a great setting for the thrilling water sport, whether you intend to try your hand at kite surfing, or simply to watch boarders glide through the air and the sea.
The region's namesake beach is also one of its most popular. The beach is a long stretch of white sand, and it's often dotted with colourful umbrellas. It has easy access and plenty of parking, making it attractive to a lot of beachgoers.
Still, Portugal's land protection laws mean that it's well preserved, with its original due vegetation and an adjoining pine forest. The It is a Blue Flag beach with lifeguards, showers, and beach loungers and umbrellas available for rent. Restaurants include the Comporta Café Beach Club and Ilha do Arroz, both of which easily slide onto our list of the best Comporta beach bar.
Surf the swell
South of Praia do Comporta, Praia do Carvahal is accessed via a scenic road through pine forests and rice paddies. It is an excellent place to take to the waters with a board tucked under one arm.
Perch atop your board on the swelling surface of the water, awaiting the perfect wave. When the time comes, hurtle down the face of the wave, stand up, and take in the beautiful view from your surf board as it carries you back towards the shore.
Good car parking and infrastructure are making it an increasingly popular beach. It is also a wonderful place to spend the afternoon for swimming and basking in the golden sun.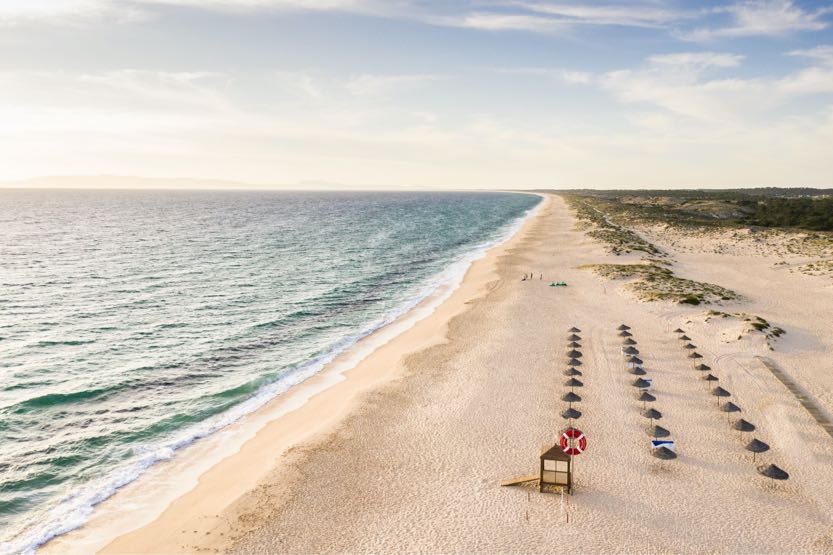 It's a Blue Flag beach with lifeguards, showers, and beach loungers and umbrellas for rent. It's also a great beach for the lunch portion of a beach day.
In summer 2020, the longtime, no-frills seafood joint O Dinis got a glamorous new neighbour in the form of the Sublime Comporta Beach Club, an endeavour from the effortlessly chic hotel that helped place the region of Comporta on the international map.
Sublime's effortlessly trendy beach club serves incredible plates of grilled fish in a fisherman-chic atmosphere. It is a great place to spend the afternoons, lulled by long lunches and a lavish environment.
Plenty o' fish in the sea
Continuing further south from Praia do Carvalhal, you come across Praia do Pego. This wide, white sandy Comporta beach is known for its calm, gentle waters and generally tranquil vibe. You can reach it via the same road that is used to access Carvalhal, but it has its own infrastructure and services.
The conditions make it good for sport fishing, or just to while away your summer days in Comporta on a sun lounger. There are often fishing competitions and championships, too, which can make for a fun and unusual day of spectating.
It's another Blue Flag Beach with the usual services, and on the food front, a good choice for lunch is Sal, an understated-chic spot born out of the owners' love the place, where diners can tuck into fresh fish and seafood with their feet in the sand.
Peace on the beach, Portugal
While the word has gotten out about Comporta and some of the other beaches can get busy, especially in high season, Praia dos Brejos da Carregueira is about as close to a private beach as you can get. It lies between Torre and Carvalhal, and access is limited.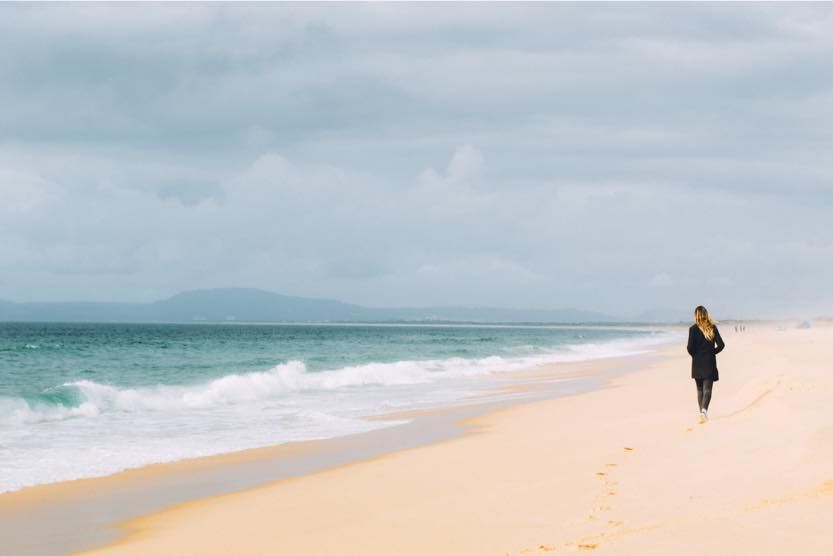 Although it's possible to access it by foot from those other beaches, few people ever bother to do so. Instead, people come by car, and that's possible only with a pass that gives you access to the road, which passes through rice fields and pine forest. All of the homeowners in Brejos have these passes, so if you're renting one of their homes, you should be covered.
Don't come to Brejos expecting any services. There are no restaurants, bars, bathrooms, or other facilities. It's best to bring your own picnic.
Beach walks in Comporta
Praia da Raposa is another one for advanced beach-goers. It's also known as Praia do Pinheiro da Cruz because of its proximity to the prison of the same name. It's not technically open to the public, but you can reach it if you're willing to make the scenic long walk from one of the nearby public beaches.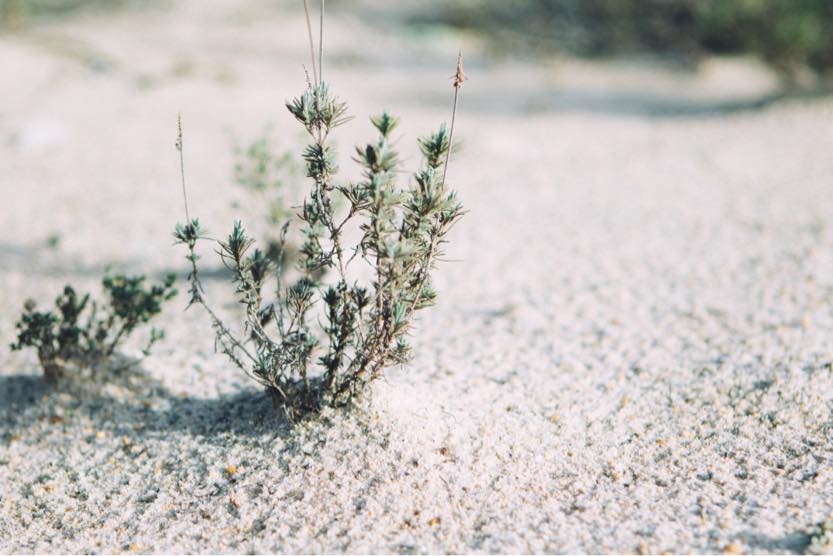 It's notable for its red sandstone cliffs, well-formed dunes, and calm, light-blue waters. As can be expected, there is no infrastructure or services on this beach.
Portugal holidays on Golden sand
Praia Alberta Nova, also known as Golden Beach (Dourada), is rarely crowded, even in summer. The visitors can spread themselves out over 3.5 kilometres of sand, and there's almost always a relatively private spot available for setting up your umbrella.
The access can be a bit tricky, as you need to descend a flight of steep wooden stairs. But the reward is pretty dunes and great views. The beach has been awarded the Blue Flag and Gold Quality Standard Award. There are lifeguards, and a limited number of lounge chairs and umbrellas are available for rent during the summer.
A good choice for a bite to eat during a day at Alberta Nova is Bar dos Tigres, which also handles the chair rentals.
horse riding the dunes
Praia de Melides is a wild, untamed stretch of beautiful golden sand with thriving botanical life. The dunes are picture perfect, but to see them from horseback is a truly special way to visit this beach.
Join José Ribeira and his team of expert grooms and horseman as they endeavour to reconnect Comporta with equestrian adventures. Adventure of Comporta's bucolic setting with the animals that Ribeira grew so fond of that he decided to leave his job in the capital to pursue his dream of reconnecting with the countryside and rediscovering his "country boy" roots.
Embark on an evening ride, as the sky and the beach glow with the burning tinges of the setting sun. The west-facing beach catches the last rays of light as the sun sinks below the enormity of the Atlantic Ocean.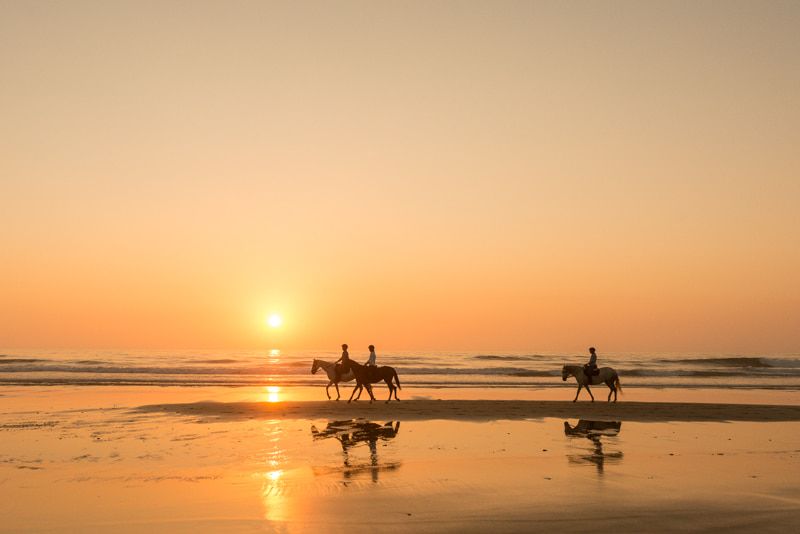 Read more about discovering the Comporta dunes on horseback here.
Where to stay to enjoy Portugal beach holidays in Comporta?
With Le Collectionist, Comporta holidays have never been easier. Although Portuguese protection rules mean that no accommodations can have direct beach access, some of our exclusive villas are within easy walking distance, such as Villa Majoris, Casa Citronella, and Villa Sable. Explore our collection to discover these and other Comporta villa rentals.
Comporta has attracted people from all walks of life who seek to realise their dreams, such as José Ribeira and his horseback trips through the dunes. Another such character is Louis Albert de Broglie, an environmentalist and entrepreneur who felt compelled by the area the second he visited first in the nineties. The result is his unique Comporta villa, Villa Caela, an eco villa designed by him and centred around the concept of a sustainable life, one that can be carried over, preserved, for the next generation.
Read more about our perfect selection of beach villas, Comporta here.