The main area of this luxury holiday home is expansive and airy, with the central living area and each of the six large bedrooms under vaulted, whitewashed ceilings. The look is casual seaside chic, with no fuss whatsoever.
Although there are no beachfront villas in Comporta, Casa Duna comes close to living up to its name. It's within walking distance from a nature reserve and a private entrance to a public beach. Or you can stay on the property and enjoy the heated swimming pool and hammocks beneath the cork trees.
Villa Sable, Carvalhal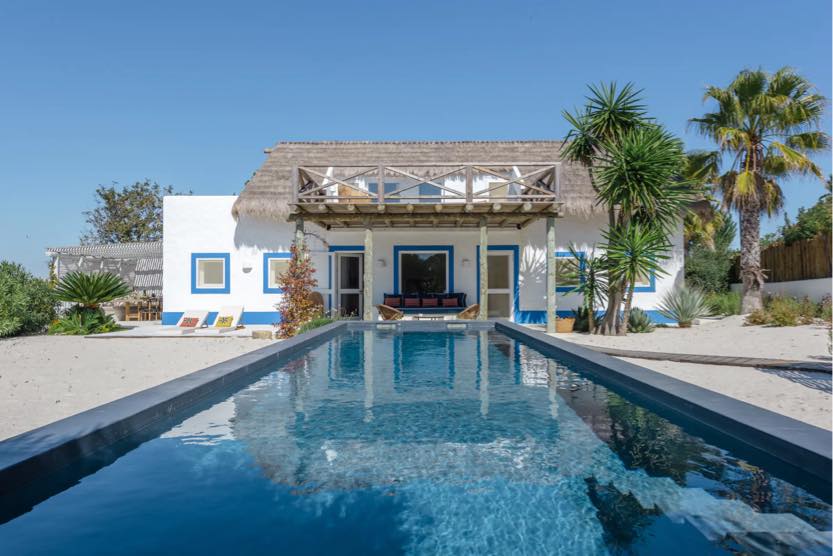 Tucked away in the middle of the Comporta Nature Reserve, Villa Sable is just steps away from the beach. It feels pleasantly far away from everything, between the soothing waves of the Atlantic and the graceful cork trees and umbrella pines of the countryside, making it the perfect place for enjoying a holiday in the open seaside air.
Villa Sable is a perfect blend of natural textures and maritime spirit. From the outside, it looks like a typical house in Portugal's agricultural Alentejo region, with its gleaming whitewashed walls and dashes of bright-blue trim, a thatched roof up on top.
Most of the living space is outdoors, with large covered terraces, dining areas, lounge chairs and daybeds in the shade and in the sun and around the long swimming pool. Inside, the look is simple, with a white-on-white decor and an elegant floating staircase rising up behind the living room sofas. The three bedrooms have private bathrooms and ample sunlight.
Casa Citronella, Comporta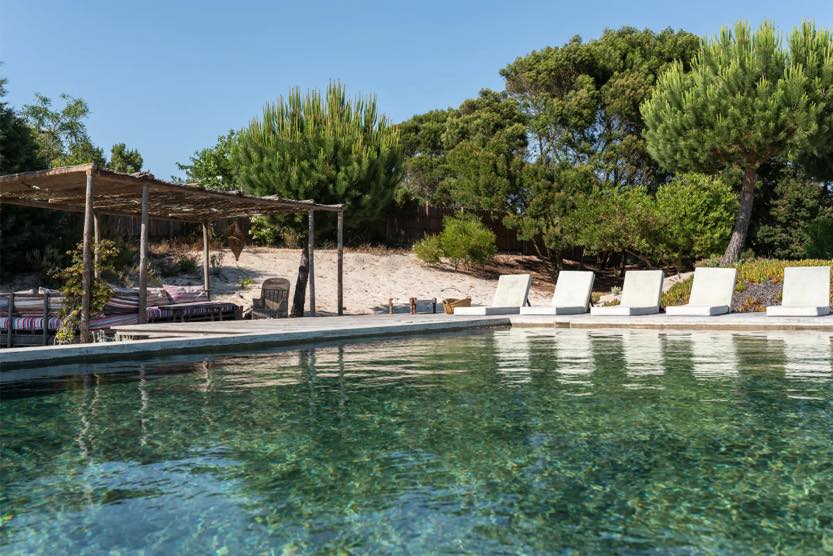 Casa Citronella could be a surfers' hangout – if your surfer friends had excellent taste and a penchant for fine materials and finishes. The bohemian decoration is punctuated by seashells and travel momentos. There are chandeliers made of antlers, lamps based on African statues, and brightly patterned ceramics adorning the walls.
It's walking distance from the beach, so of course you'll be spending your days beside the ocean. Afterward, relax on the striped cushions of the wrap-around, built-in couches in the living room, or around the crackling sparks and warm glow of the outdoor fire pit.
Casa Citronella has four bedrooms with private bathrooms, colorful textiles, and playful artworks ("I just wish my mouth had a backspace key," reads one). Some of the rooms have twin or bunk beds for kids, while others have larger beds and are meant for couples.
Villa Majoris, Carvalhal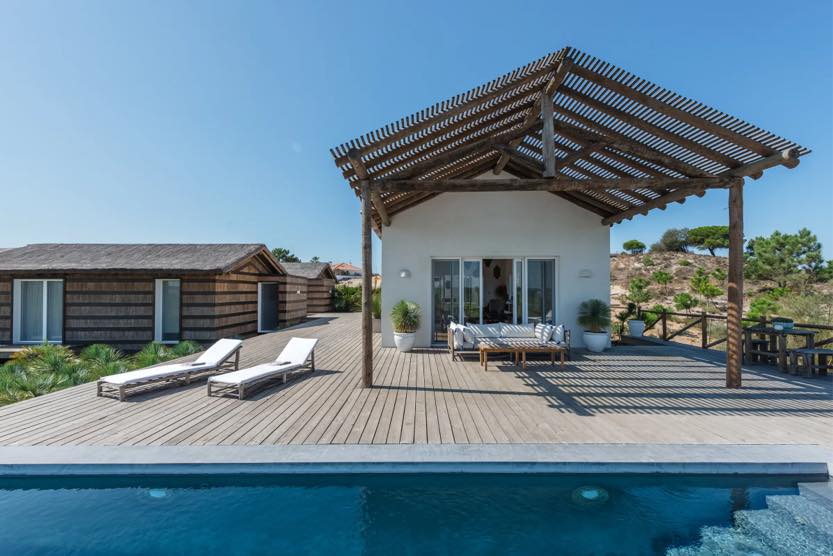 Villa Majoris combines the best of all worlds. It's surrounded by rugged nature, and it's within walking distance of Praia do Carvalhal, but it's also within walking distance of shops, restaurants, and other services in town.
Villa Majoris occupies several bungalow-style buildings – some with the famous Comporta Cabana thatched walls – around a sun-drenched swimming pool. The look is simple and unfussy, with natural wood and white fabrics, wicker lampshades and soft woven blankets in quiet, neutral tones.
The main building includes the living room and ample, gourmet kitchen, with a shaded outdoor dining area in between these two spaces. The three bedrooms are in separate bungalows, with huge windows overlooking the natural landscape, big bathrooms with tile floors, and cozy woven blankets on the beds.
Quinta Branca, Comporta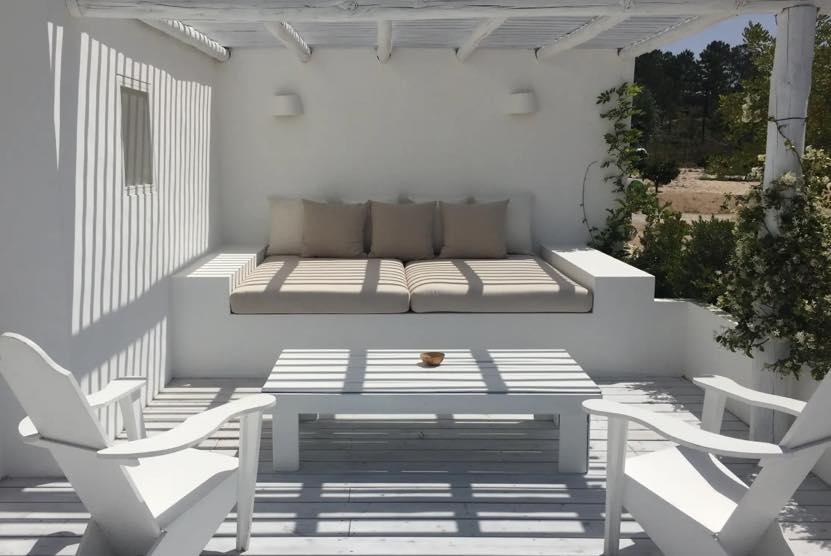 Quinta Branca – White Estate – is surrounded by an immense garden of olives trees and umbrella pines, just a short walk away from the beach. Its white façade extends into a wooden lattice terrace that is arranged as a real outdoor lounge, a place to savor all the pleasures of open-air living.
Interior designer Vera Iachia took the layout of a traditional fisherman's house and luxur-ified it with a minimalist aesthetic and top-quality materials. It's a quiet sanctuary of waxed stone floors, whitewashed wooden ceilings, white walls and furniture defined by clear, contemporary lines.
In the living room, opposite the fireplace, a masonry block supports an elegant couch. And the five bedrooms are beguiling symphonies in black and white.
The surroundings, in Brejos de Carregueira, are equally appealing. Quinta Branca lies at the edge of a fishing hamlet that has held onto its traditions and its soul.
Discover all of our Comporta villa rentals here. And to learn more about what Comporta beach holidays might look like, see our article about what to expect.