Explore the enchanting allure of Sicily's beaches, where paradise meets history. Sicily's coastline is a haven for sun seekers and adventurers alike. Immerse yourself in the rich cultural tapestry of this island in the South of Italy, indulging in mouthwatering cuisine and basking in the warmth of the Mediterranean sun at its breathtaking beaches.
Indulge in opulent experiences on a luxury holiday in Sicily, where history, culture, and exquisite landscapes intertwine. From lavish villas overlooking the Mediterranean to gourmet dining, Sicily offers a refined escape that seamlessly merges elegance with the island's rich heritage. For more ideas on things to do in Sicily, discover our dedicated article and guide to the island.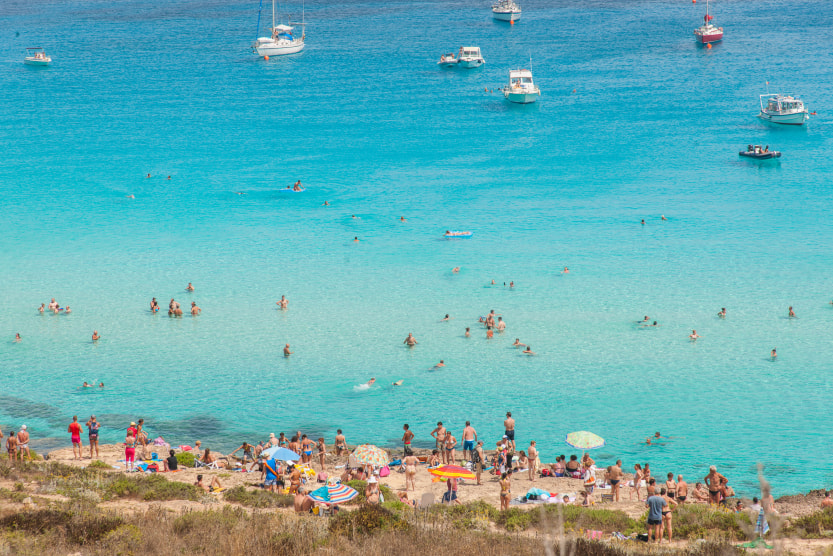 DISCOVER SICILY'S BEST BEACHES IN EACH TOWN
Nestled in the heart of the Mediterranean, each of these Sicilian towns boast beachs that have golden sands, crystal-clear waters, and a blend of ancient charm and modern elegance that Italy is so well known for. Dive into our favourites in each!
Best beaches in Catania, SICILY
Catania unveils a collection of exquisite Sicily beaches. With a mix of volcanic landscapes and coastal bliss, Catania's beaches promise an unforgettable retreat.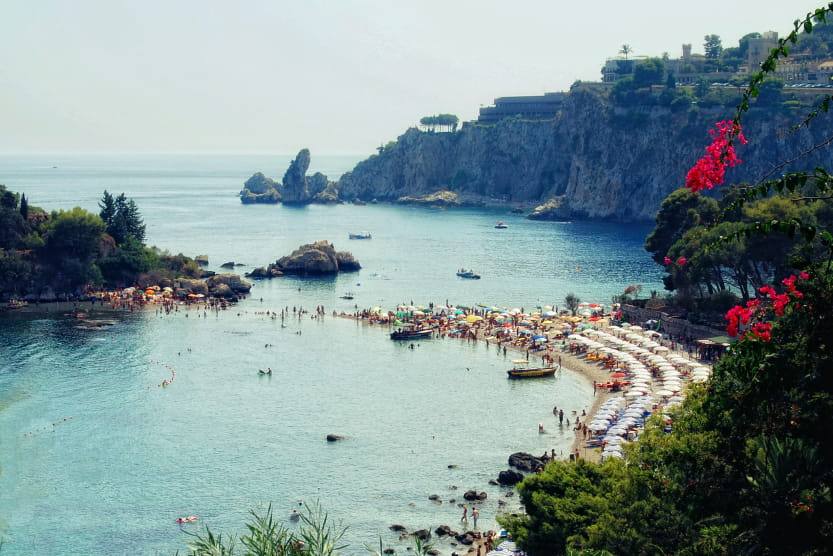 Playa di Catania
This urban beach is known for its lively atmosphere, clear waters, and views of Mount Etna. It's a popular spot for both locals and tourists to enjoy the sun and sea.
La Playa
Located in the charming village of Aci Trezza, La Playa offers a mix of pebbly and sandy shores. It's a serene destination with stunning views of the Cyclops Islands.
San Giovanni Li Cuti
This small beach in Catania is characterized by its black lava pebbles and clear waters. It's a local favorite for a relaxing day by the sea.
Vulcano Sottomarino
Also known as "Submarine Volcano Beach," this unique spot is located near Acicastello. It's formed by volcanic rocks and offers clear waters for swimming and snorkeling.
Aci Castello Beach
What to know:
20 guests
Pool, tennis court, barbecue, sauna
From €22,400 per week
BEST BEACHES IN ISOLA DI SALINA, SICILY
Isola di Salina unveils a captivating array of Sicily's best beaches. These pristine shores make Isola di Salina a hidden gem for beach lovers seeking tranquility.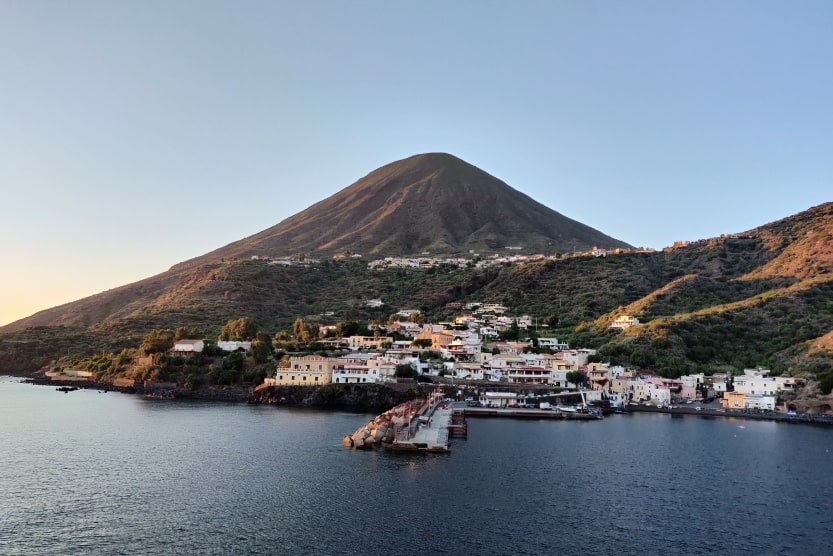 Pollara Beach
Known for its dramatic beauty, Pollara Beach offers a stunning crescent-shaped bay surrounded by high cliffs. It's famous for its appearance in the movie "Il Postino" and is a great spot for swimming and relaxation.
Rinella Beach
With its unique black sand, Rinella Beach is a tranquil and picturesque destination. The calm waters and peaceful atmosphere make it perfect for a peaceful day by the sea.
Spiaggia dello Scario
This pebbly beach offers breathtaking views of the sea and the nearby island of Lipari. It's a serene and quiet spot for enjoying the Mediterranean waters.
Spiaggia di Santa Marina Salina
Located near the main village, Santa Marina Salina Beach features a mix of pebbles and sand. Its proximity to amenities and charming surroundings make it a convenient choice for visitors.
Spiaggia di Malfa
This small and peaceful beach is ideal for those seeking a relaxed and uncrowded setting. It's a perfect place to unwind and enjoy the crystal-clear waters.
Where to stay on Isola di Salina: Villa Gabi
What to know:
12 guests
Heated swimming pool, sea and mountain views, beach within walking distance, barbecque, Mediterranean garden
From €8,445 per week
Best Beaches in Syracuse, SICILY
Syracuse, adorned with captivating Sicily beaches, offers a blend of history and seaside allure. Syracuse's beaches merge cultural richness with coastal enchantment, inviting you to an unforgettable exploration.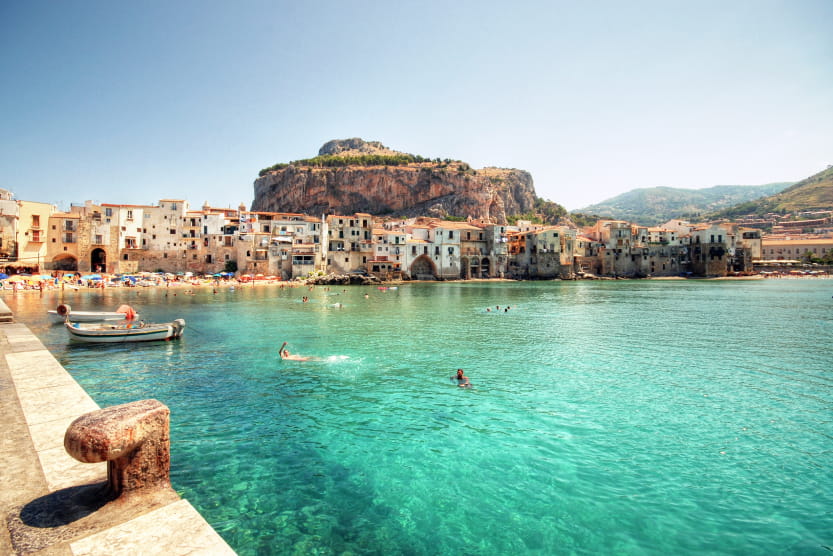 Arenella Beach
Known for its clear waters and fine golden sand, Arenella Beach is a popular destination for both locals and tourists. It offers various facilities and water activities.
Fontane Bianche
Famous for its white sandy shores and azure waters, Fontane Bianche is a vibrant beach with a lively atmosphere. It's a great place to relax, swim, and enjoy water sports.
Cala Rossa
Situated on Ortigia Island, Cala Rossa is a small rocky beach with crystal-clear waters. It offers a unique blend of history and seaside charm, nestled amidst ancient architecture.
Lido di Noto
A long sandy beach with clear waters, Lido di Noto is a family-friendly destination. It offers umbrellas, and loungers for a comfortable beach day.
Vendicari Beach
Part of the Vendicari Nature Reserve, this unspoiled beach combines natural beauty with serene surroundings. It's a perfect spot for nature enthusiasts and those seeking a quieter beach experience.
Best Beaches in Noto, SICILY
Noto in Sicily, reveals a treasure trove of captivating beaches. These Noto beaches seamlessly merge nature's splendor with historical charm, inviting visitors to bask in the Mediterranean's coastal allure.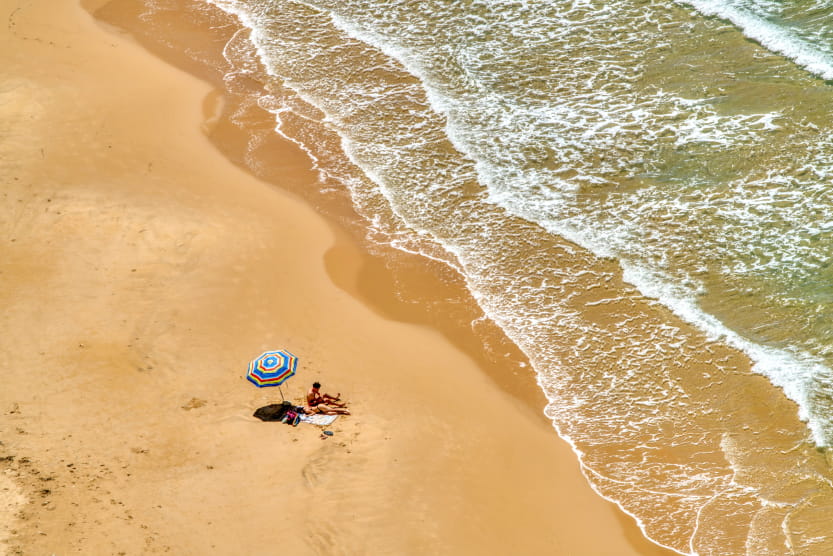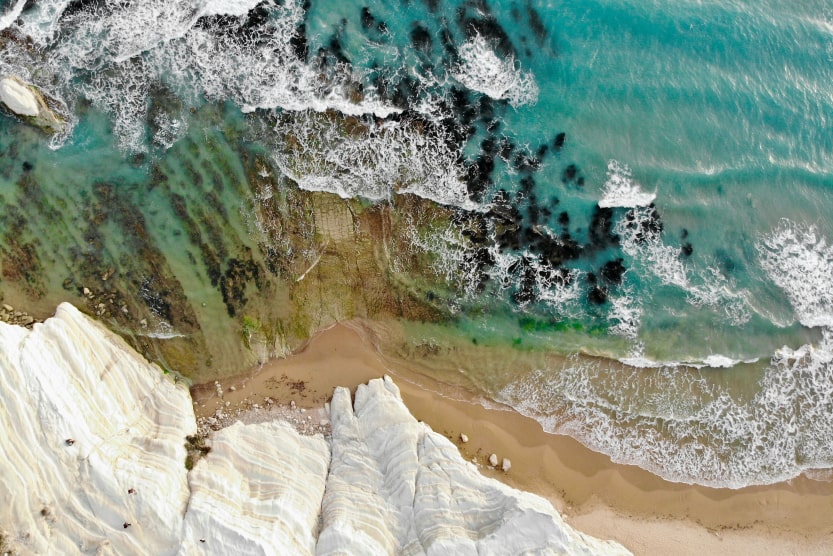 Calamosche Beach
Also found within the Vendicari Nature Reserve, Calamosche is a picturesque cove with turquoise waters, surrounded by rocky cliffs. It offers a secluded and serene escape.
Eloro Beach
Situated near the ancient ruins of Eloro, this sandy beach features clear waters and views of the archaeological site. It's a great place to combine relaxation with cultural exploration.
San Lorenzo Beach
A pristine sandy beach with shallow waters, San Lorenzo is perfect for families and swimmers. Its natural beauty and tranquility make it a popular choice.
Cala Mosche
Accessible via a scenic hike through the Vendicari Nature Reserve, Cala Mosche rewards visitors with a stunning, untouched beach surrounded by lush vegetation.
What to know:
12 guests
Nature views, swimming pool, Mediterranean garden, near a golf course
From €22,005 per week
Best beaches in palermo, SICILY
Palermo, Sicily, is a beach lover's dream, boasting some of the best coastal havens. Add the historic charm of Palermo city, and you have a perfect blend of relaxation and exploration.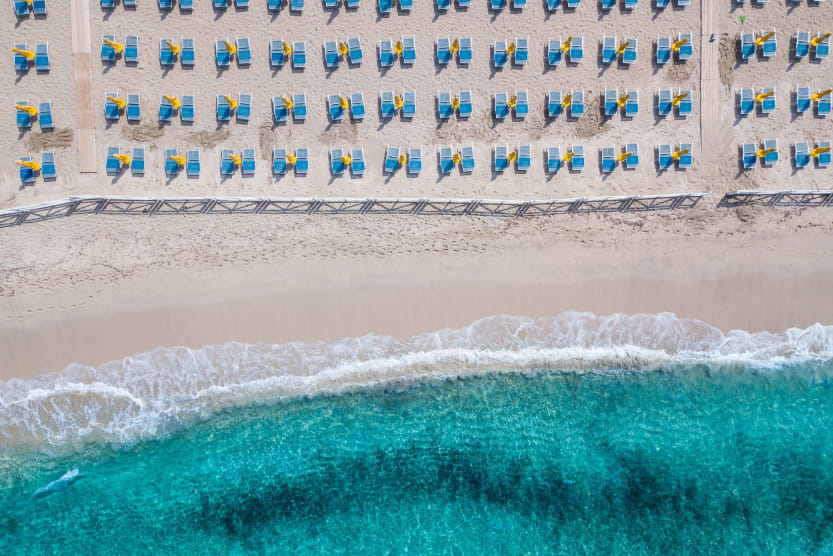 Mondello Beach
Known for its golden sands and clear blue waters, Mondello is a popular urban beach with a lively atmosphere, surrounded by charming architecture and various dining options.
Addaura Beach
Situated just a short distance from Mondello, Addaura offers rocky coves, crystalline waters, and stunning views, making it a more secluded and peaceful choice.
Isola delle Femmine
This picturesque beach is named after a small islet nearby. With its clear waters and sandy shorelines, it's an excellent spot for swimming and sunbathing.
Cala Rossa
A pebbly cove located in the Capo Gallo Natural Reserve, Cala Rossa is known for its clear waters and unique rock formations, making it a great destination for snorkeling.
Capo Gallo
Although more of a rocky promontory, Capo Gallo offers some small coves and crystal-clear waters, ideal for diving and exploring the underwater world.
FREQUENTLY ASKED QUESTIONS