Agritourism in Italy is unparalleled: with rolling vineyards, centuries-old olive groves, and family farms that have been passed down for generations, it is the ideal destination for an agriculture-driven holiday. Tuscany in particular has a vibrant luxury agritourism scene perfectly suited for travellers wanting to experience agricultural tourism while still in full comfort.
Choose one of our luxury farm stays for the best agriturismo Tuscany holidays. From farm tours to wine and food, we have your perfect itinerary ready to go.
AGRITURISMO HOLIDAYS IN TUSCANY
What is agritourism?
Agritourism, also called agriturismo, is a form of tourism centred around agriculture. Get a chance to stay on a working farm, learning what goes into the production of wine, food, and all the delicious dressings that embellish your favourite meals. Agritourism offers a unique opportunity visit farm to table houses and learn from impassioned teachers in stunning locations.


Between verdant fields of produce, centennial olive groves, aged stone farm homes renovated into resplendent stays, and mediaeval architecture, agritourism holidays perfectly showcase rural charm and breathtaking landscapes where nature is the guest of honour.
Often eco-friendly, agritourism stays want to impart the importance of protecting the earth that affords us the most intoxicating wines, delectable truffles, and rich olive oils.
Where to stay
Villa Uva: for holidays drenched in wine and history
Nestled in the Tuscan hills, Villa Uva is a perfect luxury farm stay. Surrounded by vineyards, the estate has an impressive history that marries some of Italy's most powerful families and its more humble country workers.
Originally built in the 14th century, Villa Uva began turning its focus towards agriculture in the 16th and 17th centuries under the leadership of the prominent Riccardi family. Left to fall to ruins, it was later reinvigorated and turned into the thriving agriturismo estate that it is today.
Restored with wine-making in mind, Villa Uva has become the ideal stay for agritourism in Tuscany. Its blend of traditional viticulture techniques and modern technology make this home a truly unique and advanced fattoria.
With agriculture at the heart of its design, Villa Uva also favours biodiversity with its mixed agricultural land. Between vineyard tours and personalised wine tastings, your days spent drinking in the Tuscan sun (and wine!) will make for an unforgettable agritourism holiday.
Villa Uvetta: a cosy and family friendly vineyard stay
Much like its sister Villa Uva, Villa Uvetta is the ideal farm stay if you want to experience wine focused agritourism in a precious, environmentally conscious space. Surrounded by hiking trails in lush forests, secret truffle spots, and an endless sea of wandering vines, this converted farmhouse offers an agriculturally diverse stay grounded in rich historical heritage.
Inside Villa Uvetta, discover traditional decor: terracotta floor tiles arranged in Etruscan patterns, carved wooden furniture, patterned textiles… This quaint and cosy home was renovated using old-fashioned techniques to maintain the building's heart. Today, you'll find yourself in a beautiful and profoundly historical space, surrounded by lush vegetation.

Villa Uvetta, just like Villa Uva, offers sumptuous wine tastings and visits of the estate's impressive wine cellars. You can also go hunting for truffles in the villa's enveloping forest, or hiking on the natural winding trails that cut through the woods. With a wealth of family friendly activities, this country house is a perfect agritourism stay in Tuscany.
Villa Marzuola: food and wine in a family friendly farmhouse
Nestled in the Tuscan countryside, Villa Marzuola has all the makings of a model agriturismo. Surrounded by vineyards and sunflower fields in a nature reserve, experiences around food and wine are the lifeblood of this lavish farmhouse. Weave around the centennial oak and chestnut trees and fragrant Mediterranean plants that lead to your delightful agritourism stay.

The home is designed to marry indoor and outdoor spaces: large windows, private bedroom access to terraces, and sun-drenched sitting areas both inside and out, this home and its surrounding environment are in constant communication. Inside, the exposed beam ceilings and terracotta-tiled floors provide additional rustic charm to the family friendly farm house.


From the minute you wake up, discover delicious regional savours with a complimentary breakfast enjoyed al fresco in the outdoor dining area. To make the most of your agriturismo stay, learn to cook with organic ingredients beside the villa's private chef. Make pasta from scratch or bake whole-grain bread from an ancient recipe, all paired with wines pulled from the villa's ample collection.
For an even more unique cooking class, sign up to go truffle hunting among the villa's dense oak trees. With the help of the private chef, cook your findings into a scrumptious lunch of Tuscan cuisine. You and your children will also enjoy the farmer for a day experience, which takes you around the golden wheat, chickpea, and sunflower fields that surround the property. There, you'll learn the sustainable agricultural techniques that permeate the villa's operations.
Villa Zarapha: feel like royalty in a preserved natural space
Surrounded by expansive olive groves, a magnificent botanical park, and row after row of vineyard vines, Villa Zarapha is a must-visit for luxury agritourism holidays in Tuscany.

With thousands of olive trees making up their on-site olive grove, the owners are thrilled to participate in the Tuscan tradition of making olive oil. Cultivating different types of olives, the variety of oils produced at the villa make for the perfect accompaniment to any meal — and make this an even better agritourism stay.
The botanical park that surrounds the home was designed by the father of modern agronomy, Marquis Cosimo Ridolfi, setting Villa Zarapha in a precious natural space. Designed with sustainability and biodiversity in mind, the centennial trees — many planted by Ridolfi himself — and exotic plants that make up the garden provide an expansive bucolic back yard.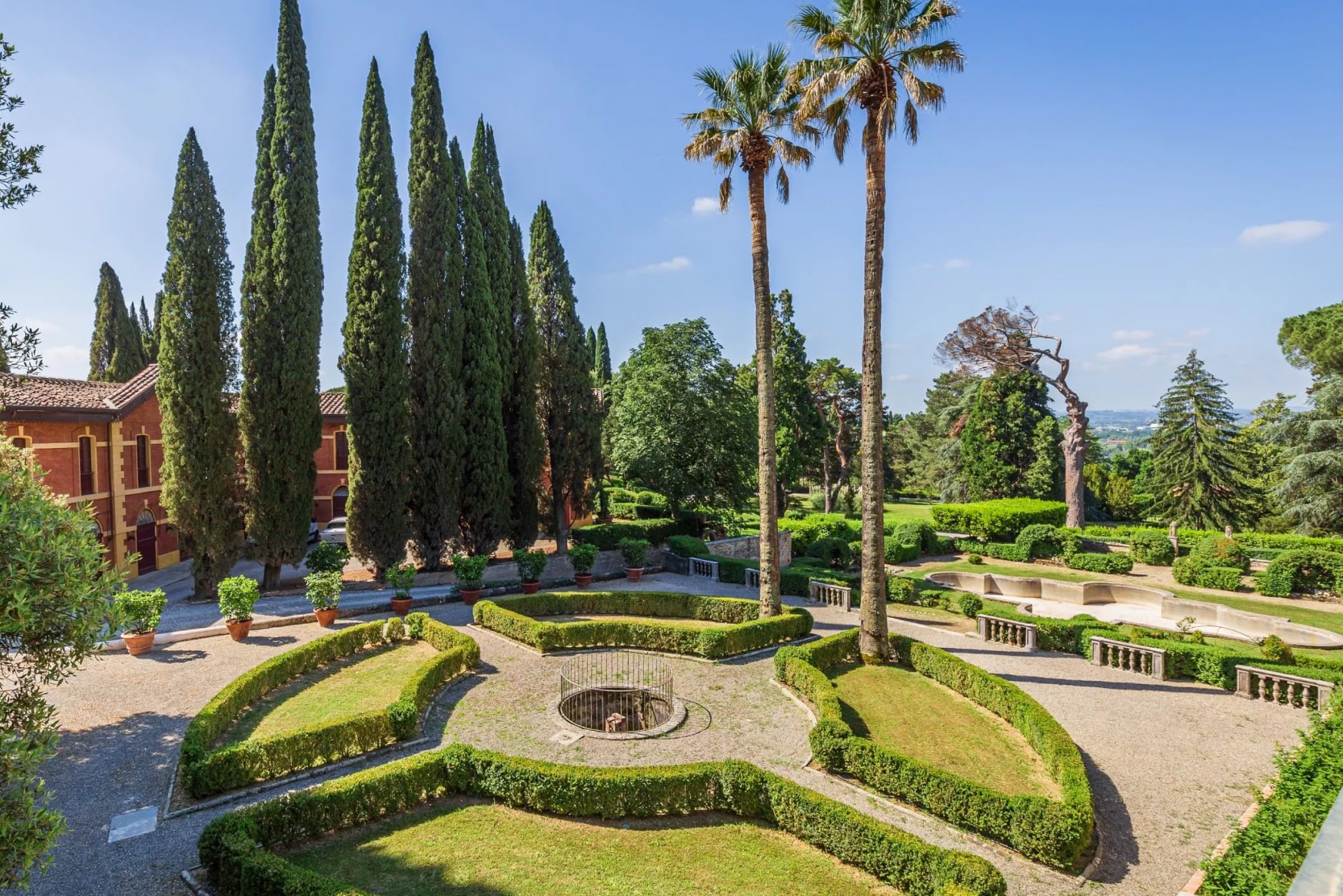 Inside, the decor is reminiscent of palaces and stately homes, imbuing luxury into your agriturismo escape. Large chandeliers, Renaissance-inspired oil paintings, and fresco-style painted ceilings and walls breathe classic airs into this magnificent property. You'll feel like royalty is this self-sustaining and magisterial home.

Despite the villa's splendour, none of the agricultural charm of a farm stay is lost: windows permeate the structure letting the beautiful outdoor scenery flow into the interior space. These sights are even infused into the decor: a blue sky and olive plants climbing up the trellis are painted on the ceiling, while trees, hills, and rivers adorn the walls.
Villa Cresta: mediaeval history in a country house
Sublime views on Siena's vineyards and fields and isolated in a nature reserve: Villa Cresta has everything you could want from a luxury countryside rental. The red brick exterior looks like an Etruscan ruin brought back to life, though it was recently restored into the magnificent palace that it is today.
Inside, exposed brick walls and wooden ceiling beams bring a touch of rural country tradition to the stately home, feeling like a luxurious farm stay. The interior design harmonises modern and timeless pieces: see the seamless juxtaposition of vinyl and upholstered chairs, or relic stone walls with patterned glass in the bathroom.

The rolling hills and flourishing fields that envelop the property are the ideal backdrop for quiet agritourism holidays in a country house. However, if you want to add some agritourism activities to your stay, be sure to take a trip to the neighbouring towns of Siena or Montalcino. There, you can walk down mediaeval roads, visit age-old monuments, or enjoy delicious wine and food tastings.
Best agriturismo activities in Tuscany
Food and wine tastings in sprawling fields
Organic food and wine tours offer amazing Italian food experiences to taste exquisite flavours. Discover agriturismo in Tuscany off the beaten path, bouncing from farm to vineyard tour and indulging in the rich fruits, foods, and wines of this unparalleled region of Italy.
Earthy truffles, savoury and textured cheeses, flavoured virgin olive oil, and fresh bruschetta, all washed down with a chilled glass of wine from the best vineyards in Tuscany — what will your favourite be?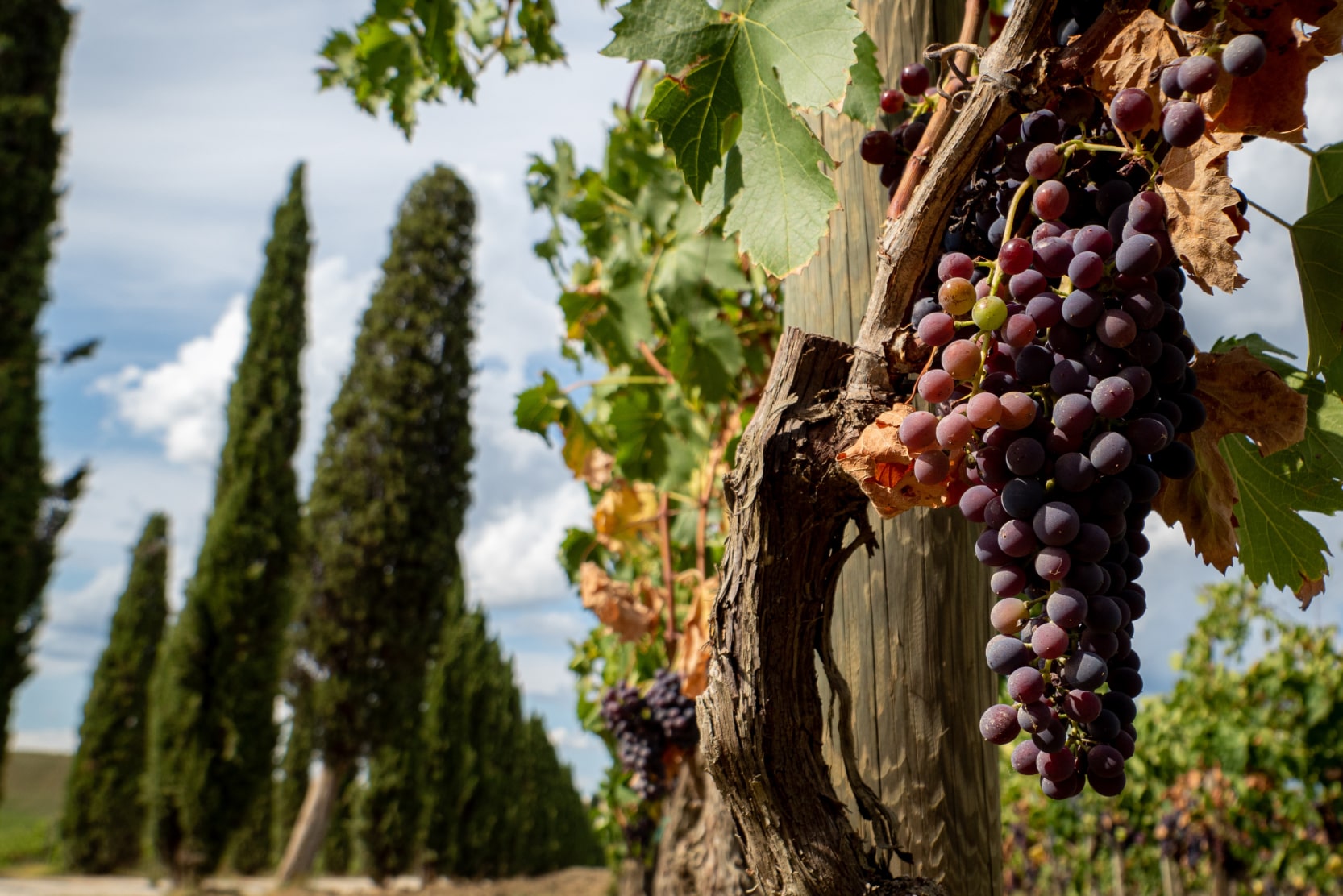 This experience will delight all your senses: not only will your tastebuds revel in the samplings, you'll also get to breathe in the delicious fragrances of both the meal you're savouring and the fresh farm air. While visiting the fields, you'll be struck by the dazzling view of expansive vegetation growing as far as the eye can see. This is the perfect activity for a fully embodied agritourism farm stay.
Truffle hunting among centennial trees
Tuscany is home to many ancient forests made up of towering oaks that have been growing for generations. At the root of these dense trees, discerning eyes will be able to find a rare black pearl: the truffle.
Follow your guide through the woods and see if you can sniff out fragrant diamonds of your own. Your children will especially love the truffle-sniffing dog and the treasure hunt in the trees!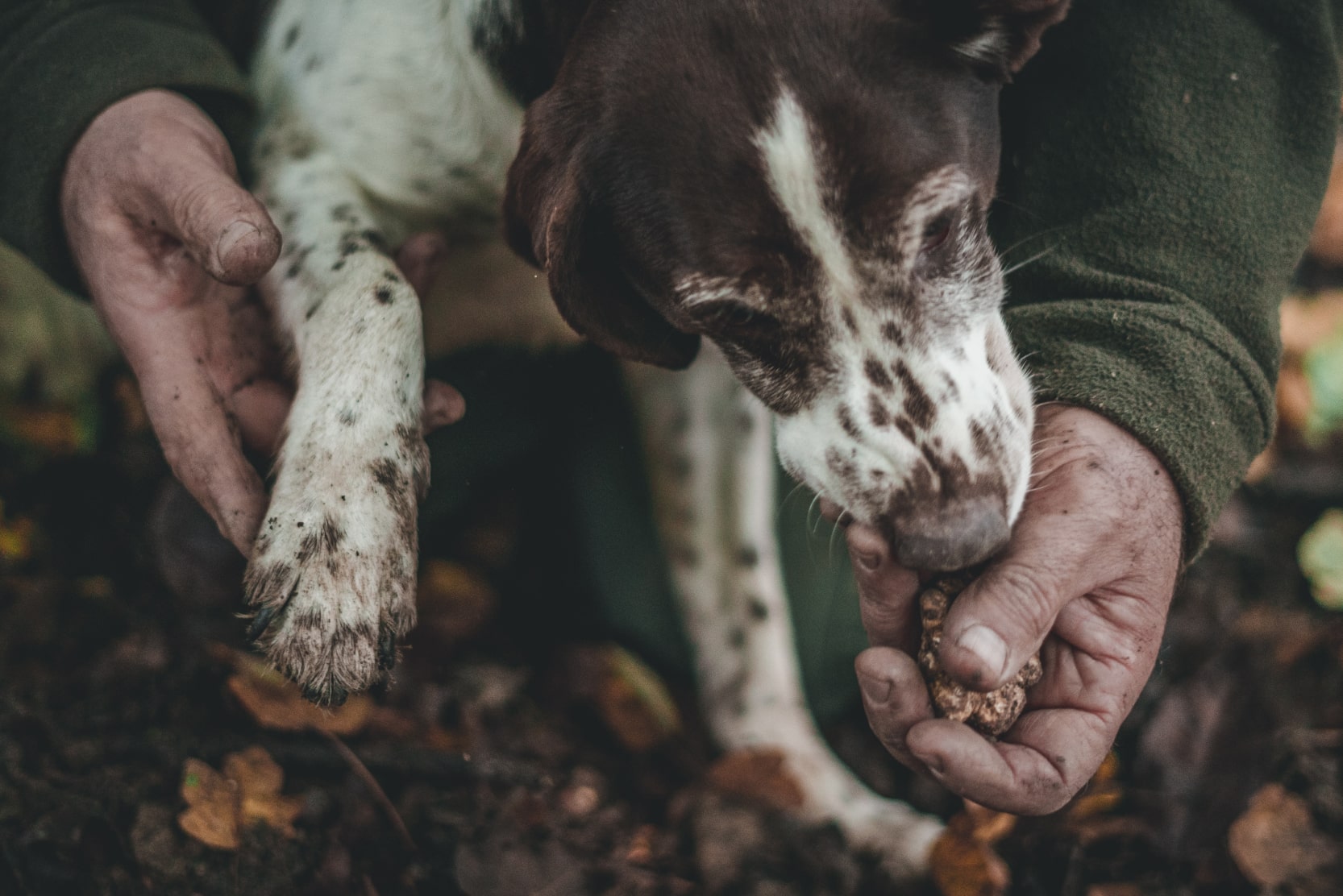 Become chef for a day with private cooking classes
You've flavoured delicious wine and food at your tastings and found some aromatic truffles, now it's time to cook your own meal. Between your newly acquired ingredients, your agriturismo's private chefs, and tailored cooking classes, you'll have everything you need to become a chef for a day.

Learn what goes into a traditional Italian meal, cooked from locally-grown and organic ingredients that you've sourced throughout your farm stay. Of course, pasta and pizza are on the menu for a family friendly meal, but you can also try your hand at baking delicious focaccia on which to savour bruschetta with glistening olive oil and ripe, red tomatoes.
Get active on Tuscany's trails
If you're looking for agritourism activities that aren't centred around food, you'll certainly enjoy the adrenaline rush that comes from canyoning, mountain biking, or hiking up one of Tuscany's trails.
These experiences offer yet another way to enjoy the marvellous natural spaces in this area of Italy. With trails for different skill levels, this is a great family friendly activity suited to children and adults alike.
For a more leisurely yet active excursion, take a bike ride around Tuscany. Its idyllic vineyards, the mediaeval walls of Lucca, the green hills peering over Florence's unbeatable skyline — the region's beautiful landscapes and historic cities are just a few pedals away.
Discover Tuscany by air
For a truly unique perspective on Tuscany's fields, book a hot air balloon ride to take you over the rolling landscapes. Survey the Chianti wine region, Florence's historic buildings and winding roads, the mediaeval bricks that make up Siena, San Gimignano's towering hills and ancient constructions, and the riverside Renaissance walls of Lucca.
Our personal highlight of this smooth and stunning flight over Tuscany? After landing in a beautiful field, savour a delicious brunch al fresco complete with Prosecco and a selection of local produce. This food and wine tasting is emblematic of agriturismo in Tuscany, as is the location in a meadow under the sun.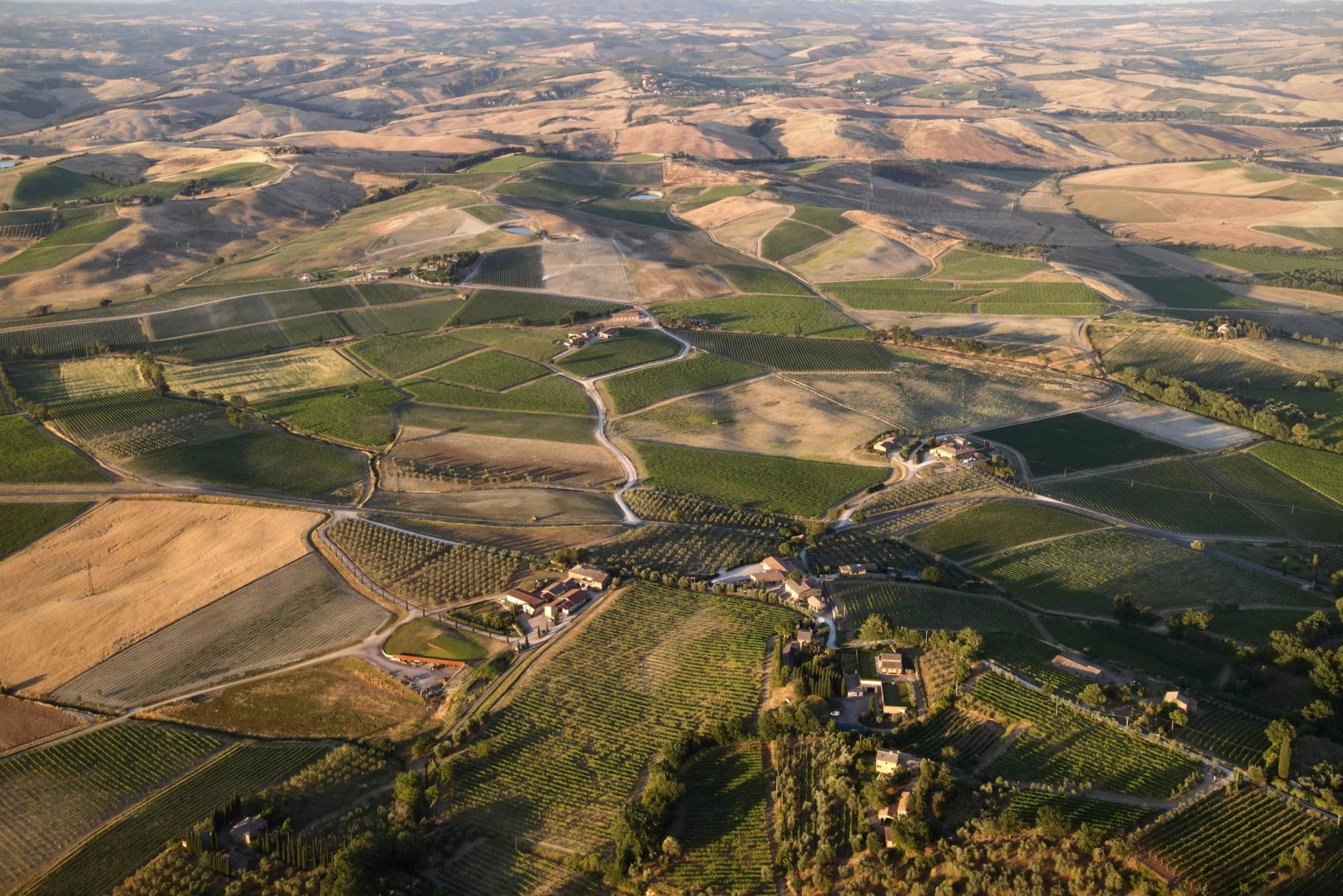 Areas to visit for agritourism in Tuscany
Drink in the views and the wine in the Chianti region
The Chianti region of Tuscany is a must-visit for any wine connoisseur. Encompassing the hilly grounds of Florence, Siena, Pisa, and Arrezzo (among other, smaller cities), this region is named after the famous Chianti wine that it produces.
Travel down the Via Chiantgiana, the main road cutting through the region, to discover fantastic agritourismo vistas characterised by olive groves and vineyards. Of course, wine is the main draw in this stunning region, so feel free to branch off at any of the numerous vineyards along the way for a sumptuous wine tasting.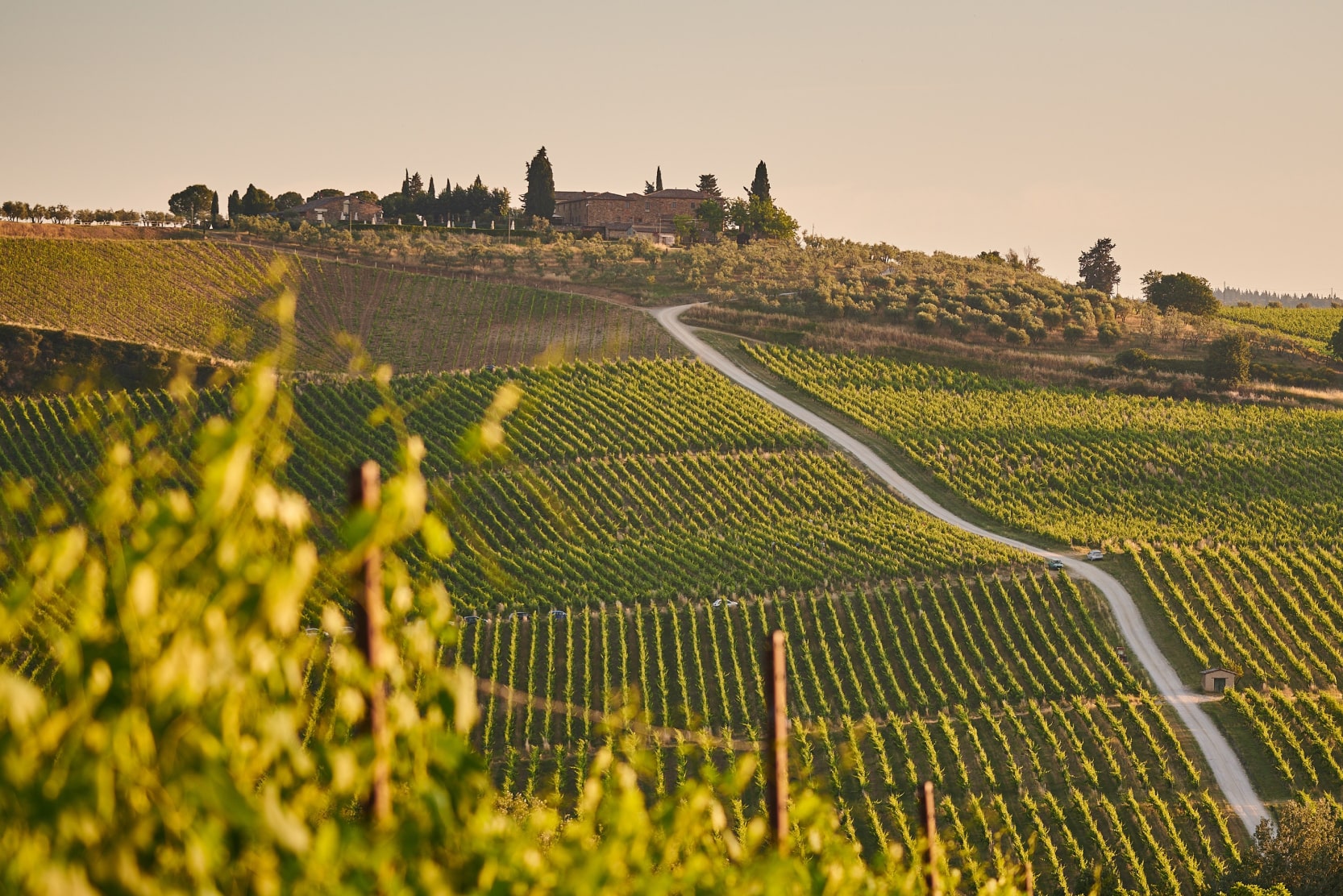 Siena, the mediaeval seat of Italy
Another agriturismo appeal of Tuscany is the preserved and lively mediaeval villages it houses, many of which are dotted around the Chianti region. Of these, Siena is not to be missed. It was one of Italy's most powerful cities in the 13th and 14th centuries as the seat of many financial and banking activities, and that same historic wealth and influence echoes across the town.

In this impressively well-preserved mediaeval city, step back in time. Follow in the footsteps of Renaissance painters, and see their intricate artwork displayed in museums and galleries.
Stop at Palazzo Publico, the sprawling and ancient city hall, and imagine the lively debates that took place within its walls. From the seashell-shaped city centre, Piazza del Campo, you'll be able to spot many other monuments and cherished antique buildings.
A day in Florence, Tuscany's capital
One of Siena's main rivals in the middle ages was its neighbour Florence, where you'll find much of the same mediaeval architecture and appeal. As the capital of Tuscany, it's one of the best destinations for luxury escapes in Italy.
Museums and galleries abound, gastronomic restaurants at every corner, and historic streets bursting with antique artefacts: this city is a perfect stop for agritourism in Tuscany. The interplay between bustling city life in a precious and preserved historical site and the environment that informs it will be a perfect complement to your holidays.
If the city's mediaeval heritage and artwork isn't enough to lure you to this agriturismo destination, perhaps you'll be tempted once you know Florence is the birthplace of the famed Italian gelato. Maybe an ice cream tasting on a hot summer day will entice you?
San Gimignano, where country views and city history meet
Enclosed behind towering 13th century ramparts, San Gimignano sits up on the hills of Tuscany. With bucolic fields as far as the eye can see, this UNESCO World Heritage Site is a superb addition for your itinerary. Known as the "Town of Fine Flowers," San Gimignano's blossoming countryside vistas showcase the best agritourism in Tuscany.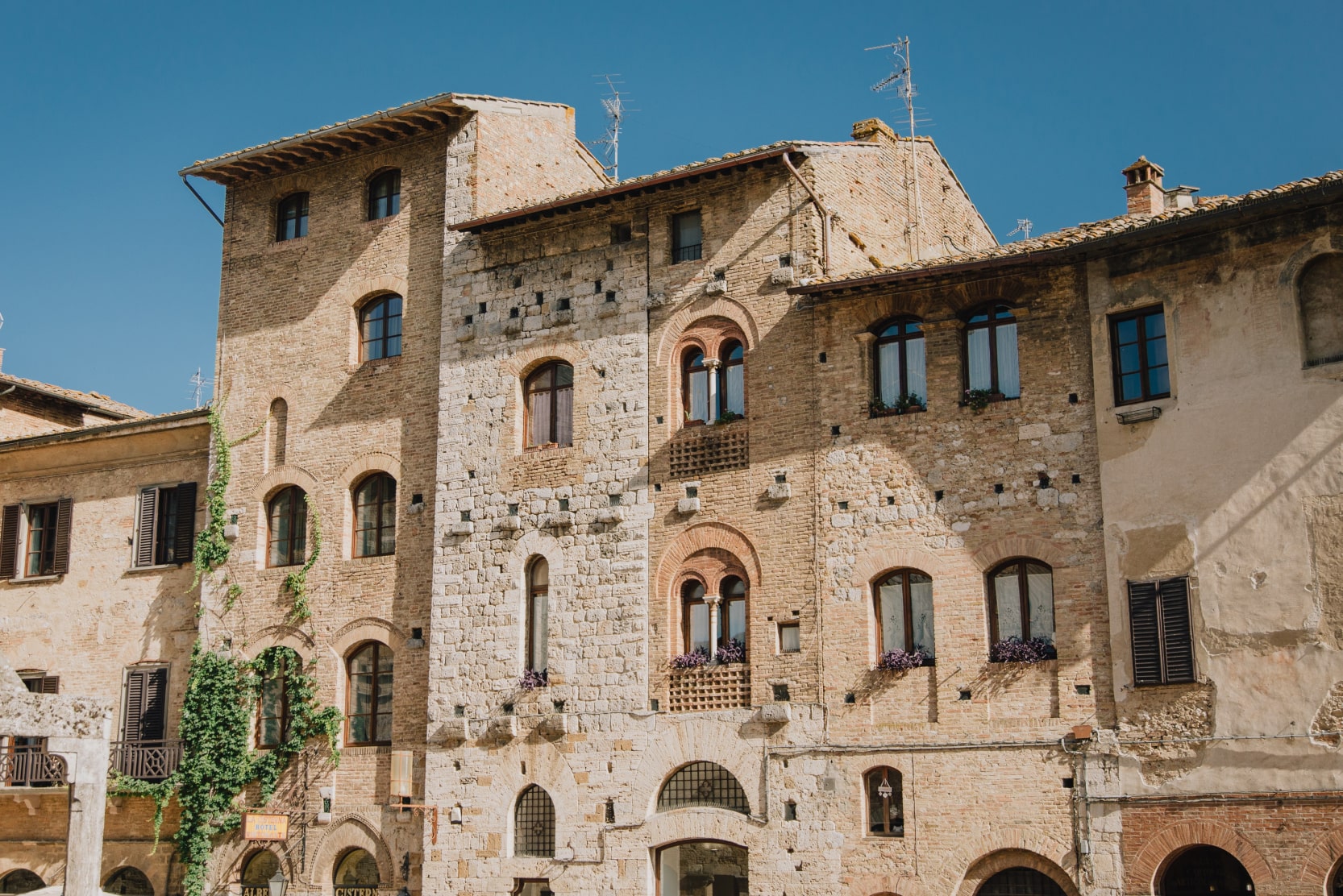 Here, you can marry beautiful rural scenery with rich history. Take a walking tour along the city walls to gaze out at the unparalleled views over Tuscan hills and valleys while learning about the town's past, from battles and sieges to religious miracles. Along the way, you'll encounter several old dungeons and the impressive gates that grant passage into the town.

While you're in San Gimignano, don't miss out on the wine and food tours and tastings. Cured meats, aged cheeses, golden honey, regional wine, and even locally grown saffron await. Learn about the crucial role this spice played in the region's economy while you let its extraordinary perfume aromatize your meal.
Revel in local traditions at Montepulciano
One final hilly mediaeval town that you should visit during your agritourism holidays in Tuscany is Montepulciano. Here, ancient limestone, panoramic vineyard views, Etruscan ruins, and fine Vino Nobile come together and deliver an unforgettable family holiday.
For the best experience, enter at Porta al Prato and walk up the town's winding streets until you reach Piazza Grande at the city summit. Along the way, you'll encounter artisanal boutiques and barrel-rollers who revel in local traditions, one of many great family friendly things to do in Tuscany.
With Le Collectionist, planning your luxury agritourism holidays in Tuscany has never been easier. Select one of our luxury villa rentals and let our team take care of the rest.