To the south of the charming Grosseto province, in the heart of Tuscany's famed landscapes, rich culture, and historical heritage, you'll find Villa Costa Toscana.
This home, now several centuries old and endowed with exceptional architecture, concentrates both local and Zampolli Luchsinger family history. Massimiliano Zampolli, the eldest son, shared with us his passion for this magical place that will forevermore be linked to his family.
"The Maremma is a unique refuge with intact nature, diverse fauna, and an extraordinary sea!"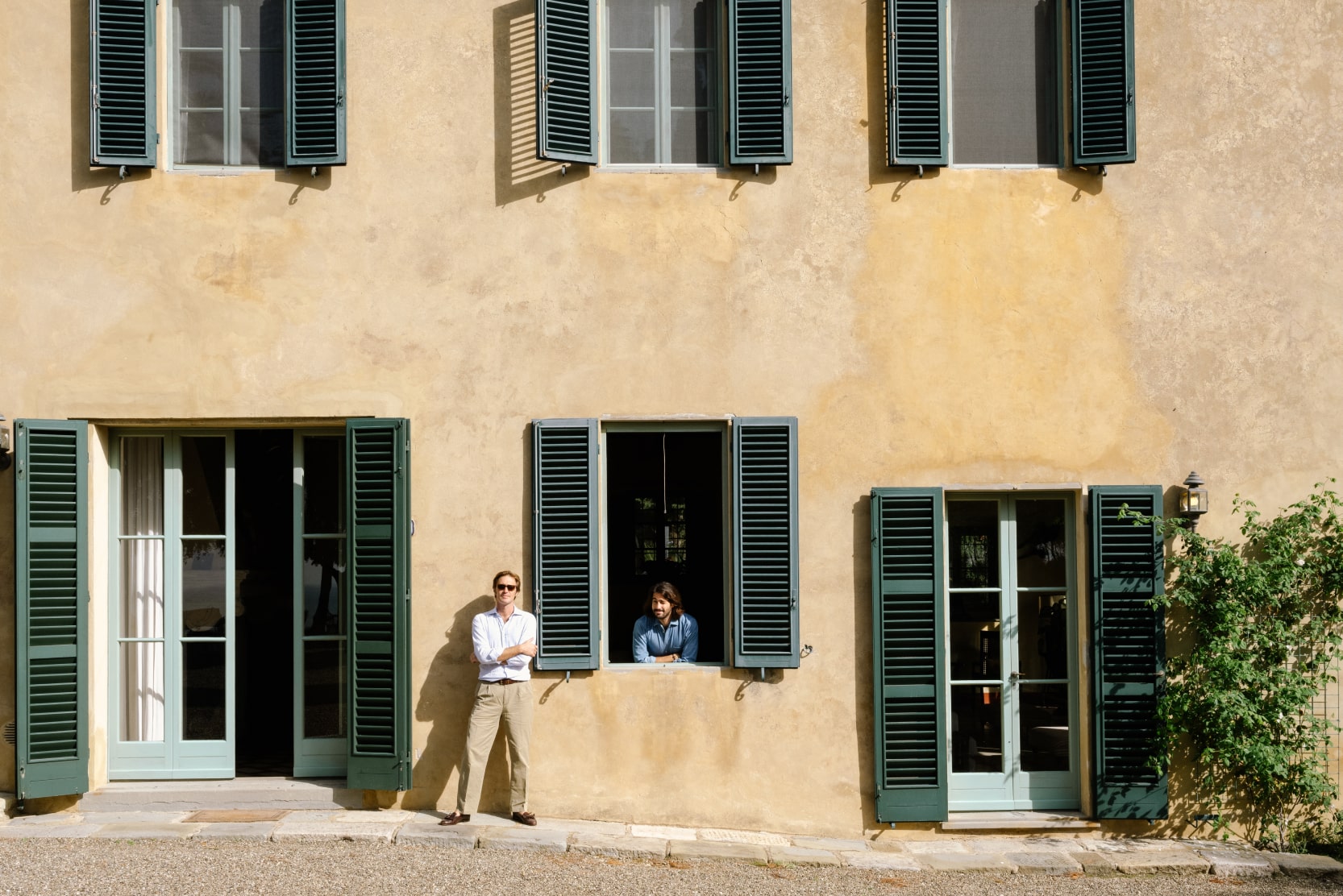 The Maremma region, on the coast of western Italy's Tyrrhenian Sea, is a confidential paradise where 130 km of coastline offer breathtaking views, golden beaches with crystal clear waters, and hidden coves. It also houses a rich historic heritage and many archeological treasures, including the Rosselle and Cosa sites, which stand testimony to a fascinating past.
Known for its sunny weather and mild temperatures, Maremma attracts windsurfers and salt farmers — who have been cultivating its soil since the Antiquity — alike. Finally, its delicious local cuisine of fresh produce and local wines completes the idyllic setting of this preserved Italian terroir, far off the beaten path.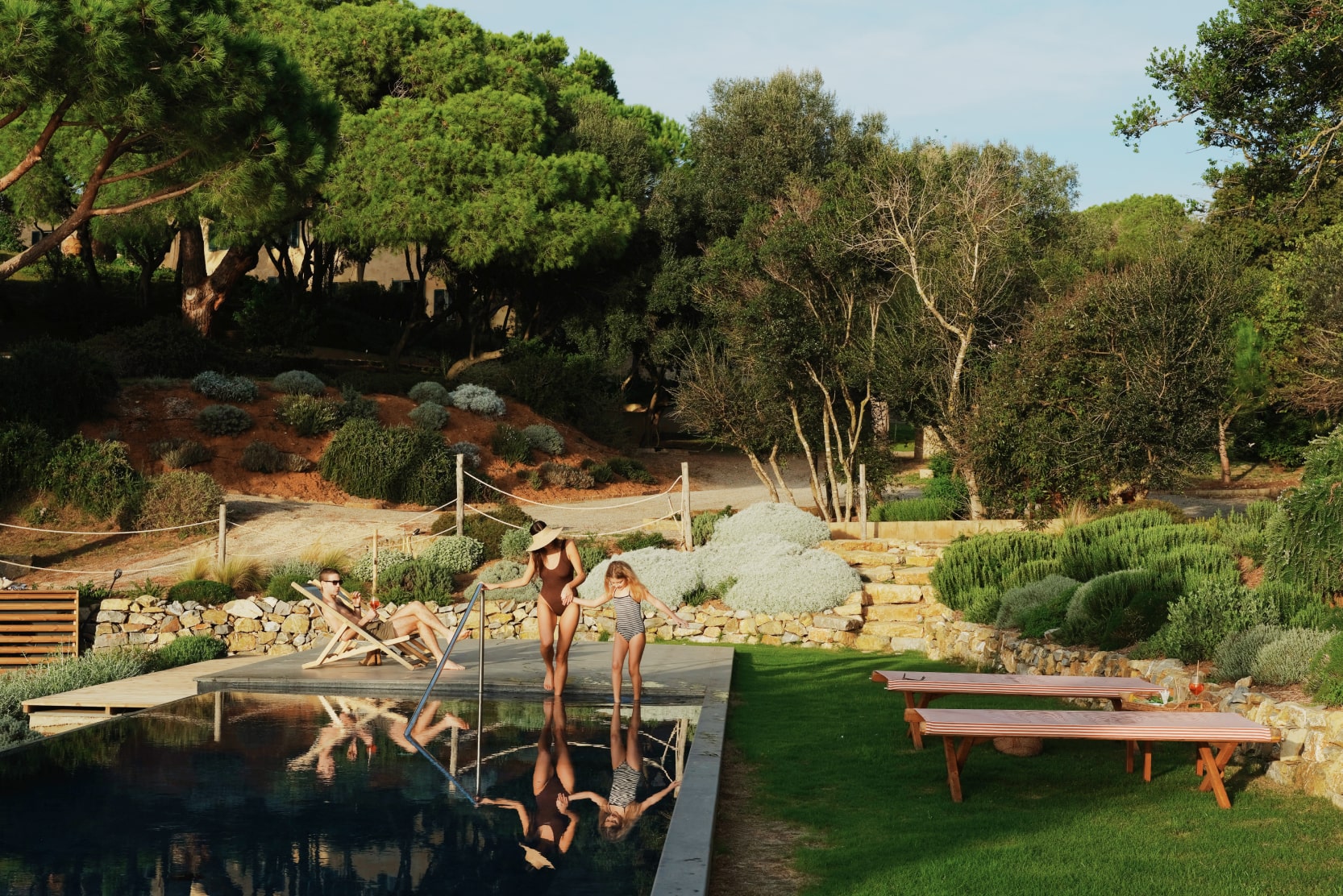 Since 1938, the Zampolli family has spent every summer in Maremma. This cradle of culture and nature is so deeply woven into the family's history that in the late 1980s, Massimiliano's father decided to move there permanently to live under the sign of peace. In 2011, he was able to acquire the architectural gem that is Villa Costa Toscana thanks to a long-time friend.
Ten years later, as if to pay homage to their father's love story with this extraordinary home, Massimiliano, his mother, and his siblings all became owners of this stunning property, a mantle they took on proudly.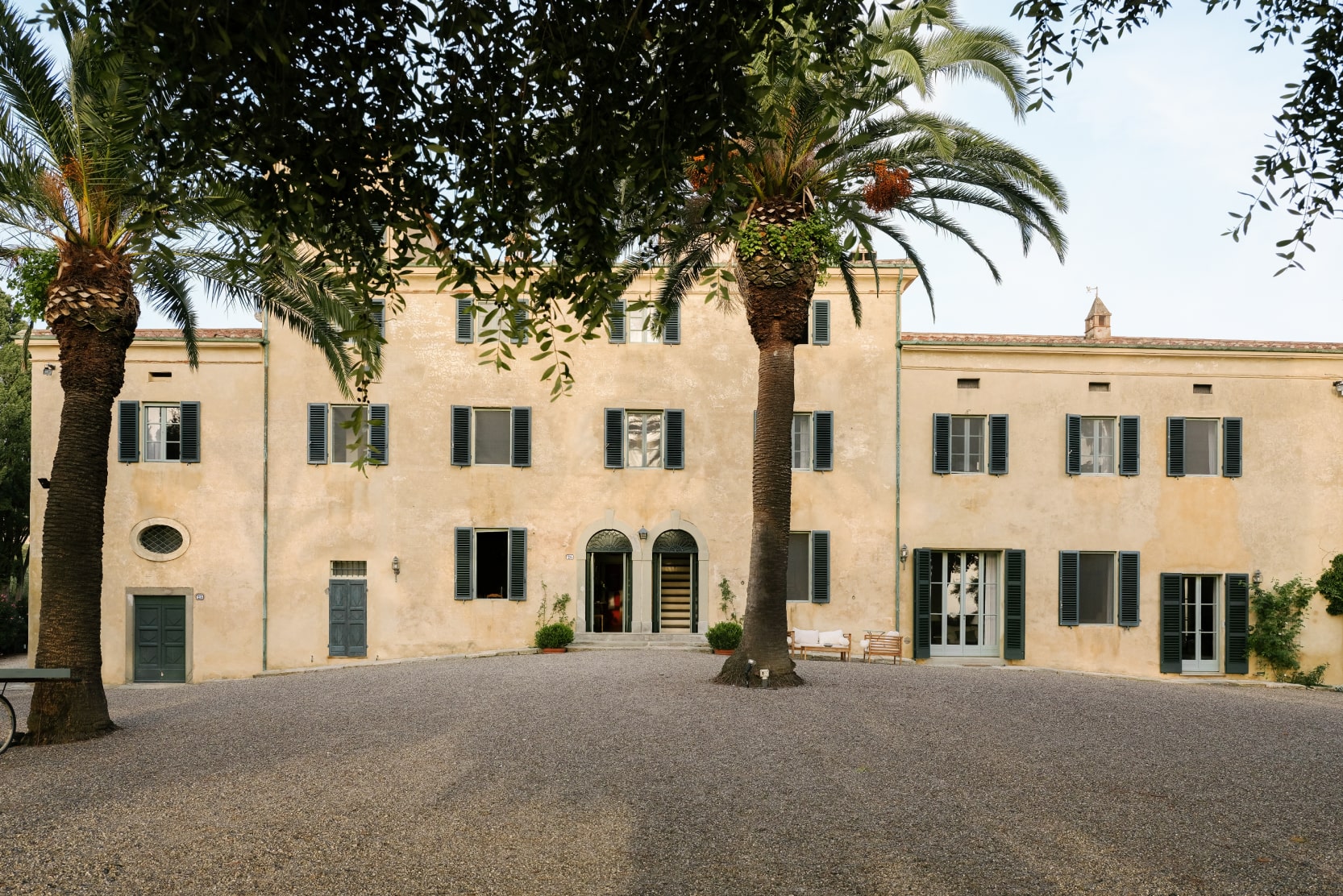 Villa Costa Toscana was built in several stages from 1750 onwards, before the great Reforma di Castello Urbino marked Italian architecture. With its traditionally Tuscan architecture and byzantine inspirations, this villa differentiates itself from the agricultural vestiges and modern constructions that surround it with its charm and rich history, even harbouring a past as a benedictine convent!
This mysterious aura extends as far as the small mediaeval villages of Sorano and Montemerano, perched on the neighbouring hills, and the Parco dell'Uccellina in the Maremma National Park. Only a few minutes from the villa, luxuriant forest and untamed lands hide many treasures at the heart of Maremma, of which the ancient S. Maria Alborense church, founded in the 11th century.
"It's rare to find a historic villa in the region that blends modernity and agricultural utility."
To create an authentic interior in their image, the Zampollis entrusted Villa Costa Toscana's renovation to the talented architect couple made up of Piero Castellini and Paola Orsi. Experts in renovating historic buildings, they seek to sublimate Italian heritage with a unique vision, always full of personality. From cane headboards and mahogany desks, to cream-coloured couches and rattan armchairs, everything invites you to an exotic change of scenery.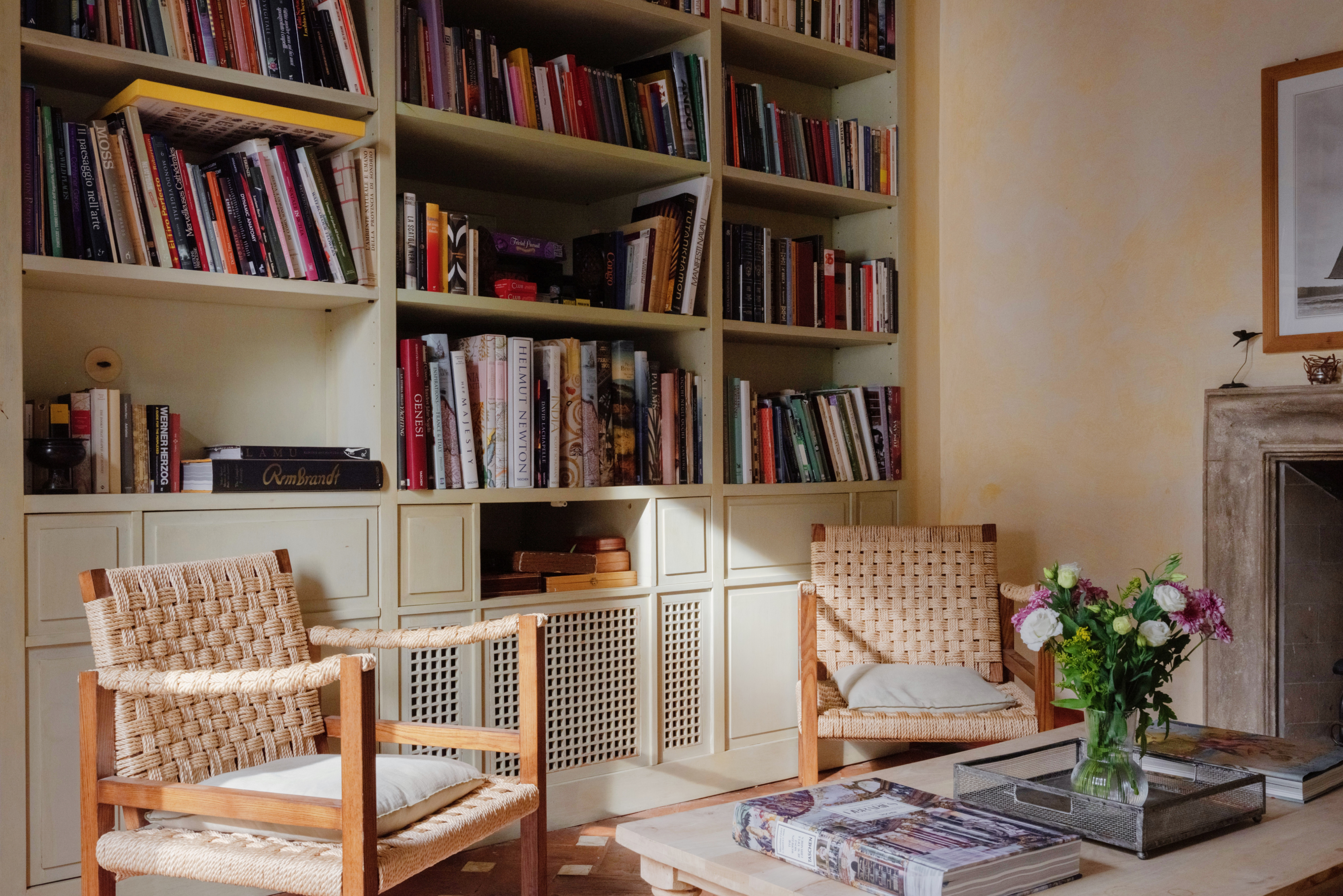 As though stepping into the late 19th century, marvel before solid wood, succulent plants, and colourful walls. Will you be able to find the elephants, panthers, zebras, and rhinoceroses that inhabit the premises? Discover the secrets hidden in Villa Costa Toscana's every nook and cranny.
To perfect this atmosphere of escape, Piero Castellini and his partner skillfully combined authentic antiques, like the living room's armchairs or the four-post beds, and more contemporary furniture with vintage inspirations designed by local artisans. The spacious living room is a perfect example of this blend of styles: wicker lamps, antique candleholders, and furniture with African influences create a warm atmosphere.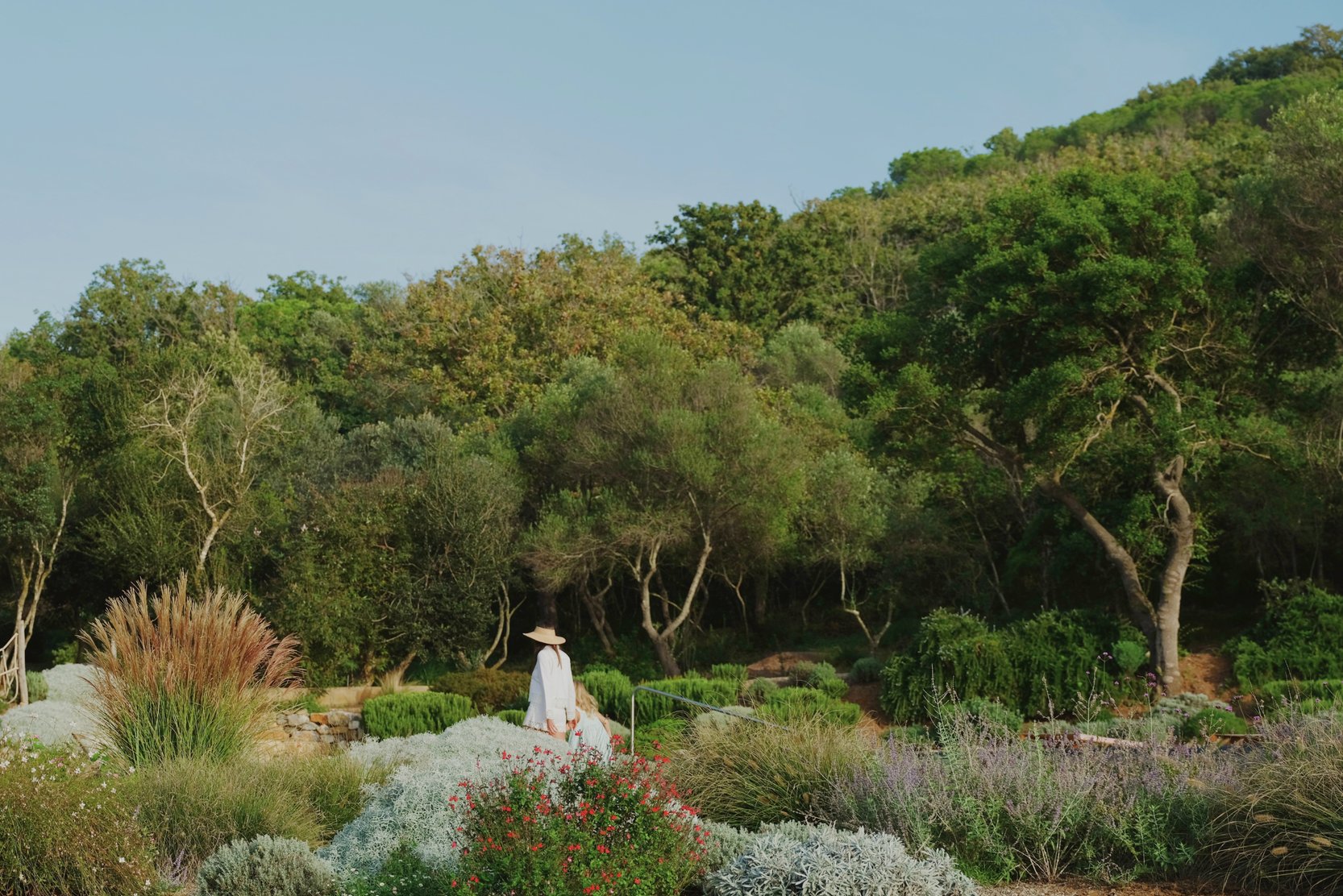 This lodge-like atmosphere is cleverly balanced by Villa Costa Toscana's impressive high ceilings, the timeless works by New York artist Charlie Masson that adorn the walls, and high windows that open onto the verdant garden and the infinitely blue Mediterranean.
Whatever the season, Villa Costa Toscana provides a sunbathed escape. It was essential for the Zampolli's that the home's beautiful volumes, with its coloured cabochon tiles and exposed beams, be a space they could enjoy together as a family. In the spirit of Provincial houses, this haven opens onto the outdoors to invite you to laze together under the sun. Built to host, Villa Costa Toscana conceals a maze of bedrooms, each bathed in subdued light and sparkling colours that lull you to live the dolce vita all year long.
"Charlie Masson's artwork is my biggest inspiration; he knows how to sublimate the beauty of Tuscany's countryside."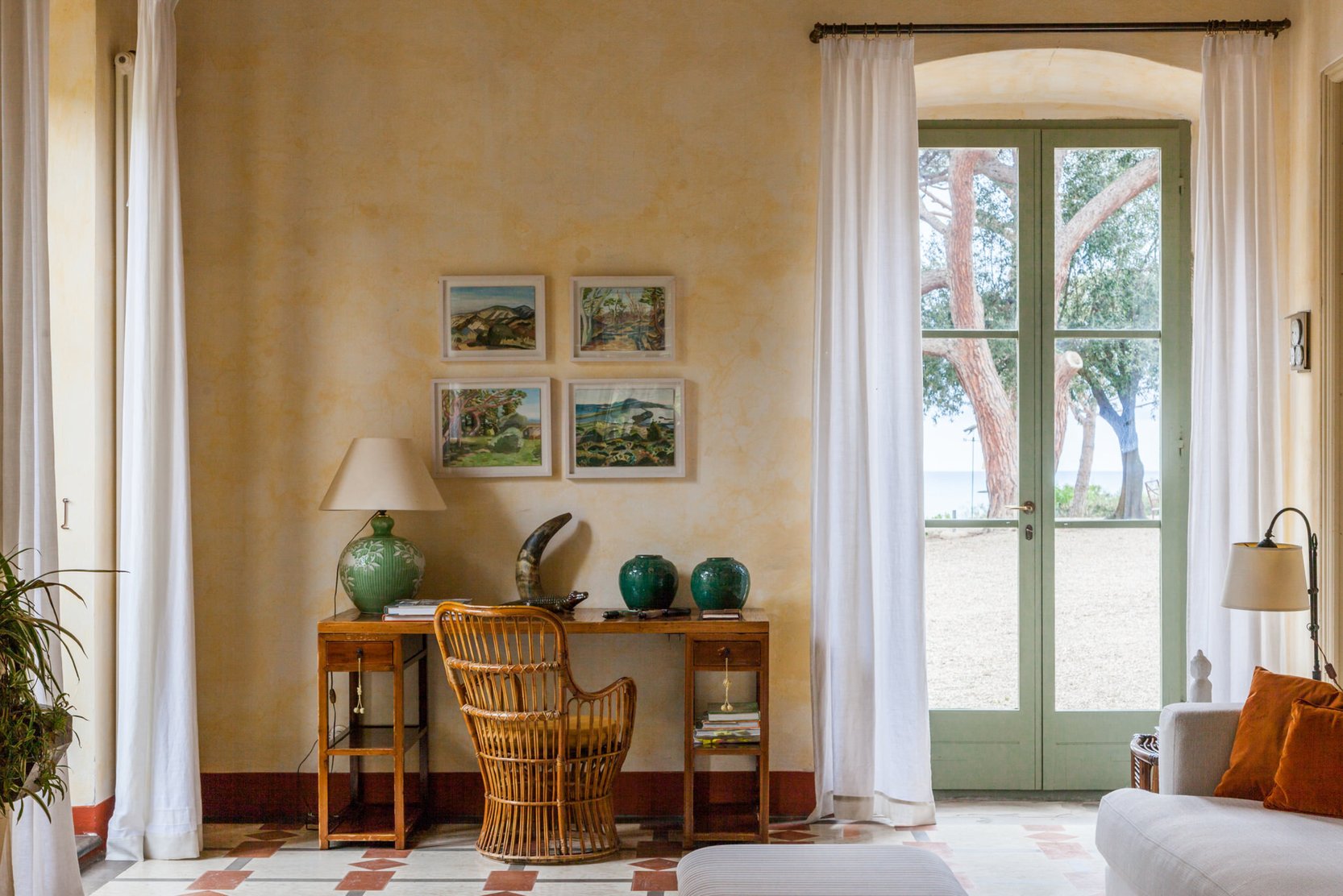 As a new year begins, Villa Costa Toscana is preparing for some changes. Bathrooms renovated in a more contemporary style, bright marble, and multicultural accents: every addition carries the serenity and harmony that already reign over this centennial palace. In a constant effort to modernise the interior without compromising its origins and rustic charm, a new kitchen with professional-grade ovens will be installed, promising fabulous dinners to come. For Massimiliano, this new endeavour is the opportunity to marry atemporal charm with modern comforts within an exceptional and historic framework.
Nestled in the middle of a dry garden, Villa Costa Toscana is perfectly adapted to Maremma's Mediterranean climate. Cyprus trees, palms, and Aleppo pines have been blooming for generations in this sunny region where rain makes itself scarce. By favouring endemic plants, Massimiliano made a responsible choice for an ecological garden with raw beauty.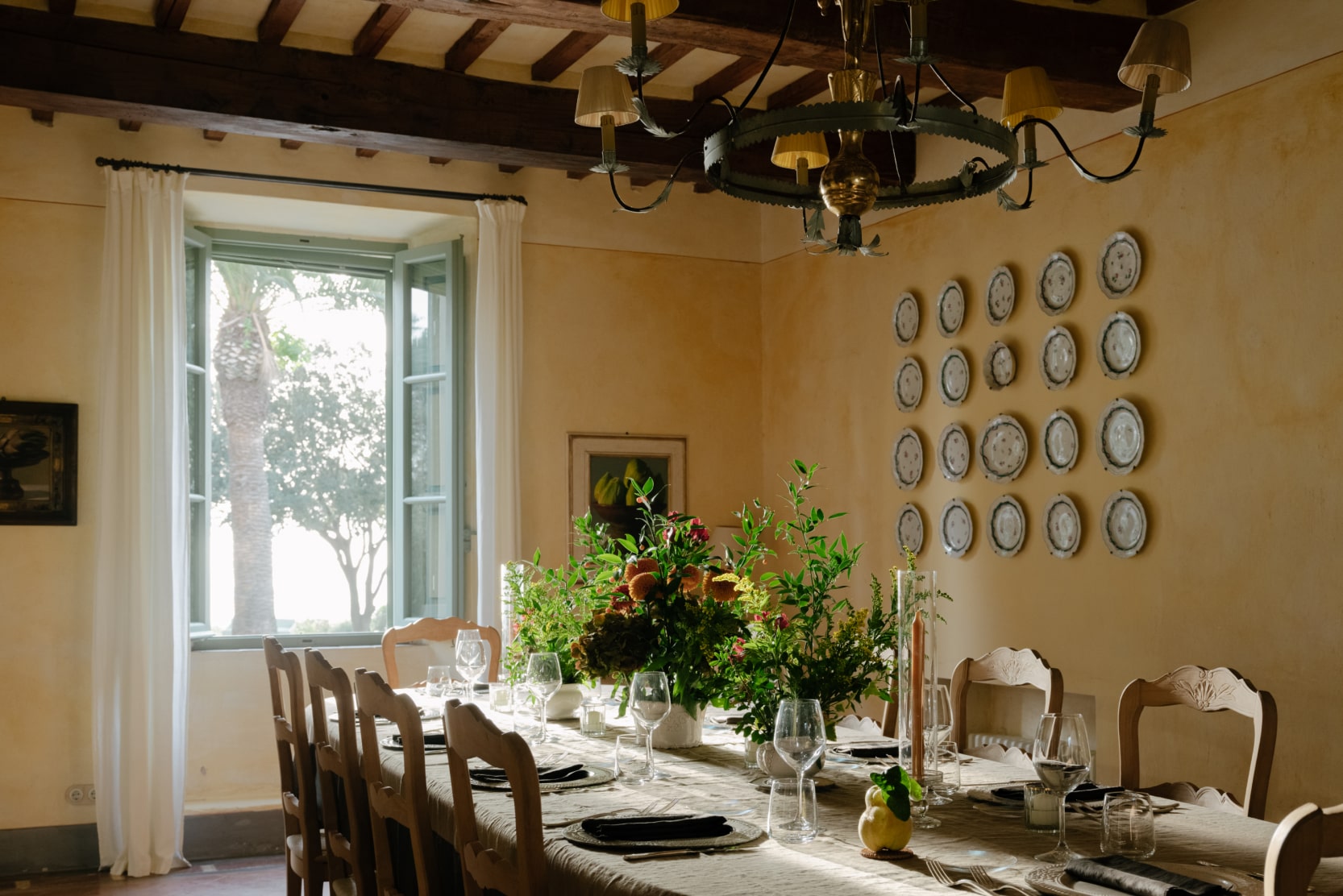 To further respect the natural environment, the Zampolli family intends to add a vast water filtration system to create an organic greenhouse where they can grow their own fruit and vegetables. If you want to unwind in this slice of paradise, we particularly enjoy the outdoor bar beside the infinity pool, from which you can admire the sea view, or the outdoor lounge for a moment suspended under the pine forest.
Massimilano confides that to offer guests total peace of mind requires great care to be taken behind the scenes. To pull off Villa Costa Toscana's show, Massimiliano put together a trusted crew devoted to managing the estate, its facilities, and renovations. Whether you want to taste the private chef's bisecca alla florentina or organise a little celebration among friends with laughter and lanterns in the garden, this hand-picked staff has you covered!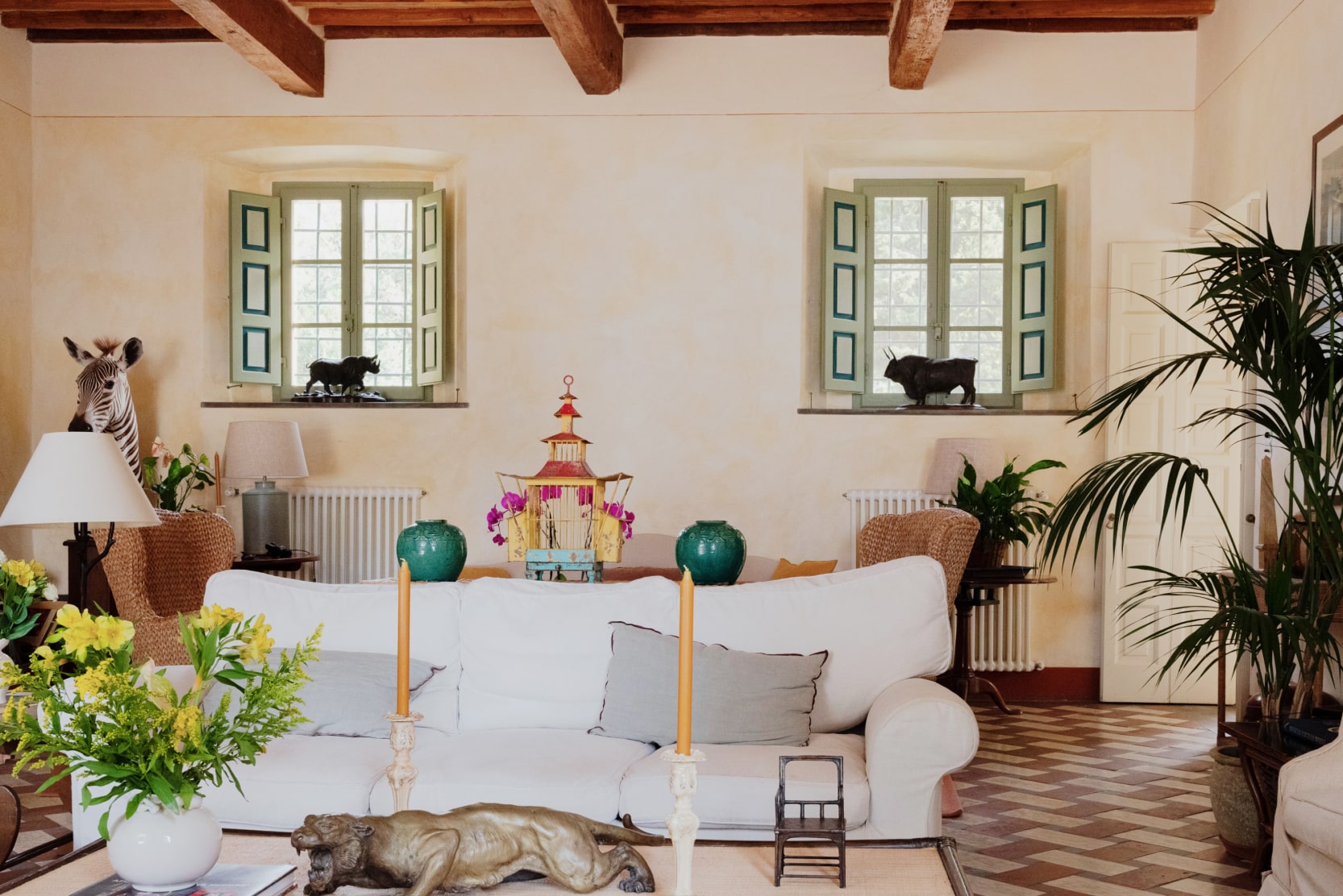 Massimiliano and his family have made Villa Costa Toscana into somewhere where stories and adventure abound, and life is always pleasant. Striving for the common good and upholding values like trust and friendship, the newest generation of Zampolli owners made this prestigious domain into a magnificent and contemporary family home. Full of love and happiness, Villa Costa Toscana offers unforgettable memories and perpetual connection.