A luxury escape with Le Collectionist to Portugal is by no means comparable to a prison break. Firstly, there are no walls confining you from going; no prison guards, no barbed wire-topped walls, no security cameras.
Secondly, booking a holiday with us is nowhere nearly as arduous or meticulous for you as escaping from prison would be. There is no need to plan for months on end or to wait for the perfect window of opportunity to bolt to a better place.
All you have to do is simply browse our luxury villas in Portugal, contact us, make a booking and voila! You're ready to go. This is a getaway of relaxation, not of high-speed car chases. Open a new window to the lavish life that awaits you in Portugal.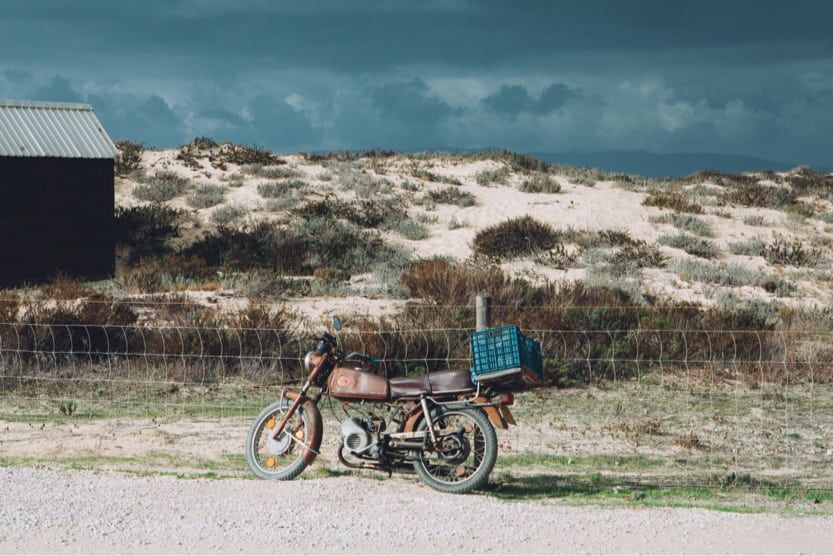 There is, however, one major similarity between escaping from prison and escaping for your luxury Portugal holidays: once you get to your final destination, you will wish never to go back to where it is you escaped from.
Here is our step-by-step guide for successfully escaping to the wonderful destination that is Portugal.
Step One: Planning your escape
A lesson learned from the likes of Shawshank Redemption and Prison Break is that planning is key. But, with us, spontaneity is possible: you can still whip yourself and your loved ones away on a whim, and this comes at no extra effort to you. All you need to do is figure out where it is you wish to go, how long you wish to spend there, and when and how you want to go.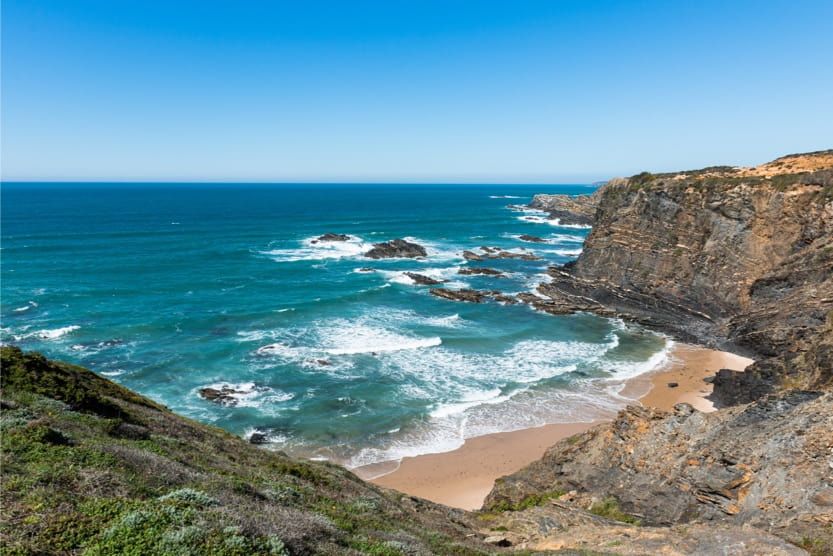 In Portugal, that choice is between the rugged beauty and laid-back lifestyle of Comporta, or the plushness of Algarve, with its startling coastlines and endless golf courses. Once you have chosen the destination, how do you wish to get there? These are the all-important minutiae that you don't have to worry about. Need to get from the airport to the villa? Speak to us to arrange transfers to and from the airport. Or, simplify the whole holiday with a chauffeur with a car.
Step two: Finding the right destination
Once you have decided when and where you are going, you need to find the perfect villa for your holiday, or, in escapee talk, your bolthole, your safe house. Deciding on a villa, like deciding on a safe house, demands deliberation: do you wish to hide in plain sight, amongst the buzz and beating heart of an area, or would your predilections carry you to somewhere quieter?
Depending on which of the luxury holiday destinations in Portugal that you opted for, selecting a villa is simply a matter of perusing the page for that area on Le Collectionist. Browse a little deeper through our spectacular luxury villas in Portugal. Alternatively, use these villas as inspiration. They will undoubtedly serve as the ultimate holiday homes in which to seek refuge on your luxury escapes to Portugal.
Quietude in Comporta
Villa Monte is nestled with modern elegance in an inherently serene setting, where whispering winds, which have fled from howling bays across the dunes, ever changing in their ways, whistle gently through pine needles. The villa, which has no neighbours, blends into its quiet rural surroundings. Its contemporary and angular white facade is interspersed with slatted wooden panels that allow the light to pour in.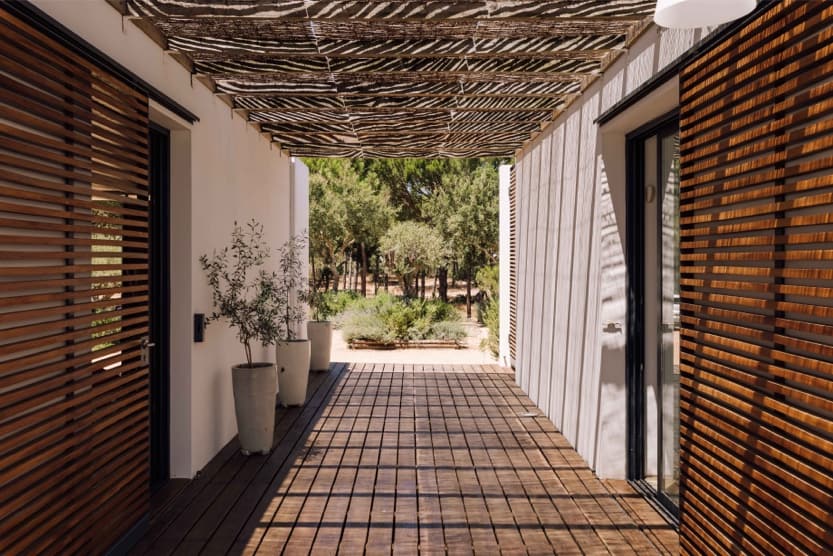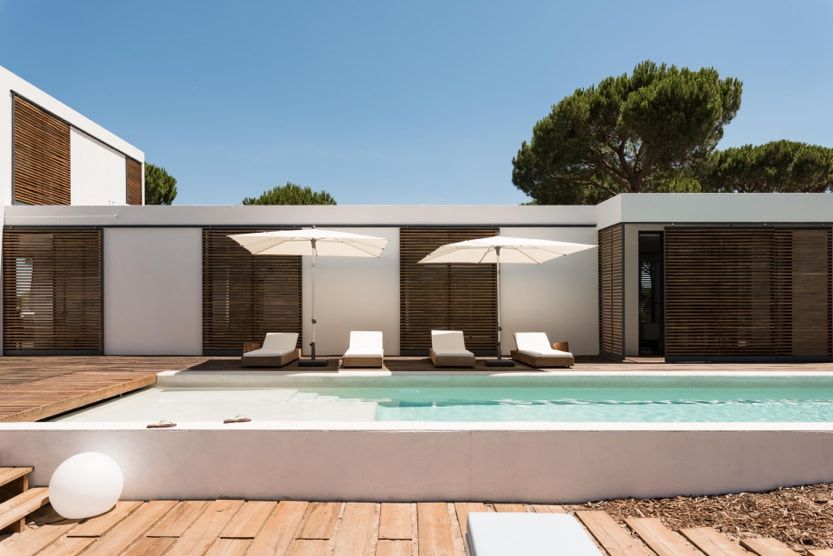 Its large deck offers space in which to immerse in the natural splendour of Comporta without having to leave the comfort of your holiday home. This is a great place to unwind and disconnect; a villa where the meaning of escape is embraced with complete and utter ease.
Escapism in a surfer's hut, Comporta
Within walking distance from the beach, Casa Mir is a picturesque place to keep your feet in the sand and, much like hiding in plain sight, blend in with the laid-back locals. The ample outdoor space and dazzlingly bright walls give this beachy paradise a heavenly aura. Modern comforts and a rustic vibe will have you never wanting to leave your luxury holidays in Comporta.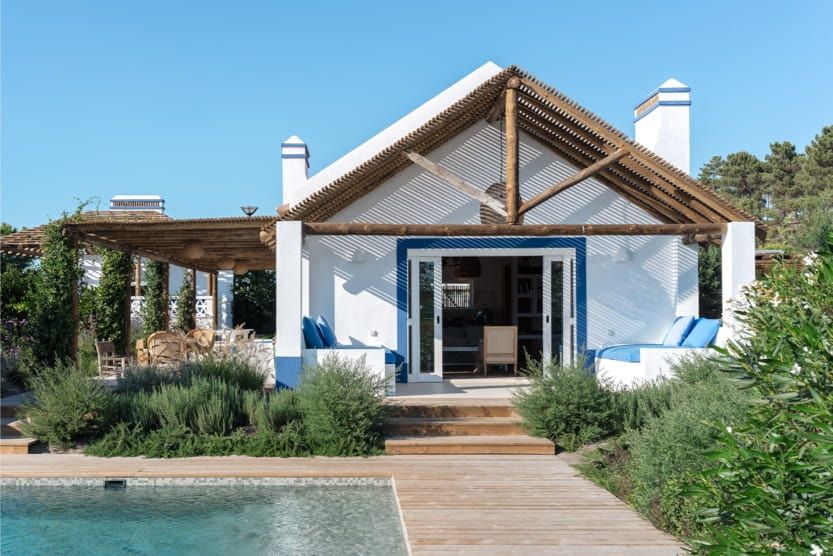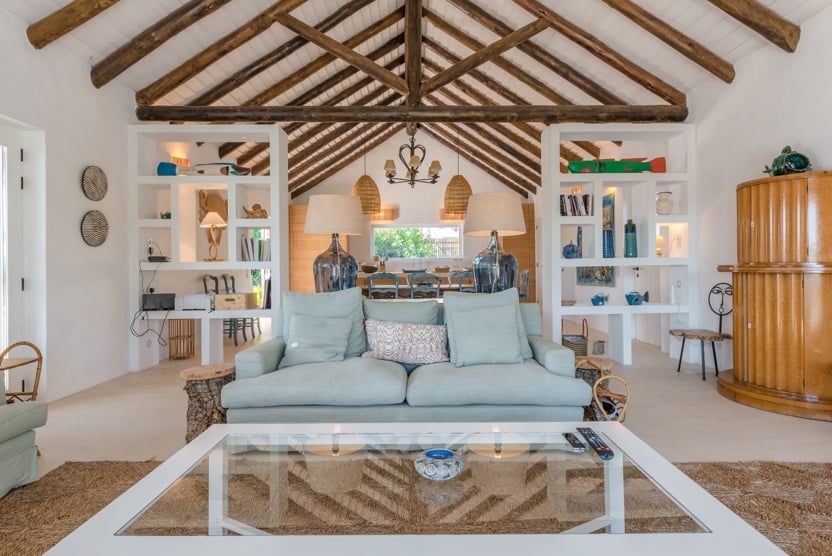 From the relaxation space next to the rippling mosaic pool, you can gaze out over the quintessentially bucolic Comportan countryside. Host sundowners on the rooftop, or do an evening yoga session on the deck in front of the house. This is a place of relaxation and returning to the simple pleasures of life in a charming villa.
Disappear into dreaminess, Algarve
Crisp white awnings twist and flick in the breeze, as fiery terracotta, burning brightly under the summer sun's glare, sets the rooftop ablaze. By night, the vividness of the rooftop's verdant vegetation and fired clay softens, giving way to the warm glow of candlelight that frames the long dining table. The views across the rooftops of Olhão beneath the expansive canopy of stars impart a feeling of anonymity in and amongst the buzz of the town.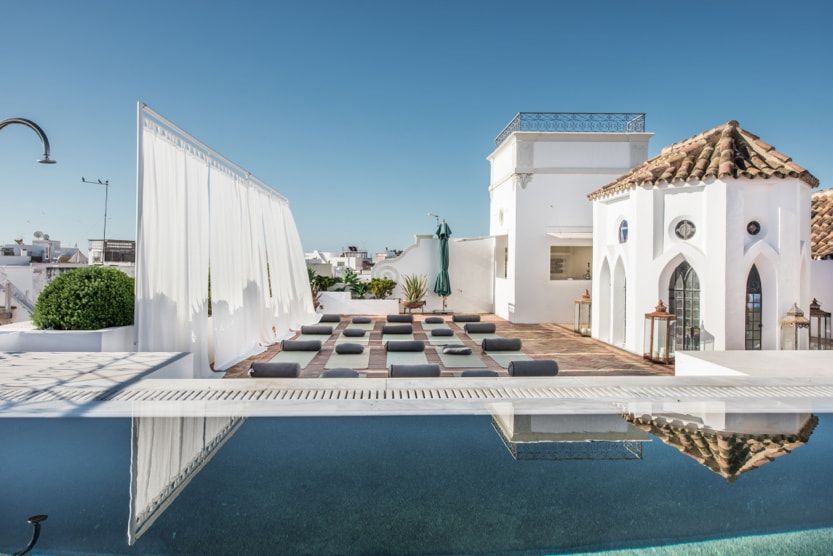 Villa Santina is a large 24-person villa in downtown Olhão, Algarve. The villa's spaciousness and labyrinthine layout, even on the relatively open rooftop, affords its inhabitants a feeling of privacy and solitude, if they so choose. Spend a quiet afternoon in the meditation room, unwinding in the massage room, or playing cards from your deckchair beside the rooftop swimming pool.
Fortunately, with this safe house, you don't have to concern yourself with escape routes. The only woes emanate from a foreboding feeling that one day you will have to depart this dreamy state of being.
On the edge of the world, Algarve
While you don't have to worry about being pursued, you may be looking for a unique and private destination in which to disappear into the outer reaches on your luxury escape to Portugal. There is no better place for this than Villa Keisa. From its perch atop the seaside cliffs of Portugal's south coast, it contemplates the might of the Atlantic ocean as its currents, tides and swells reach towards the north African coastline.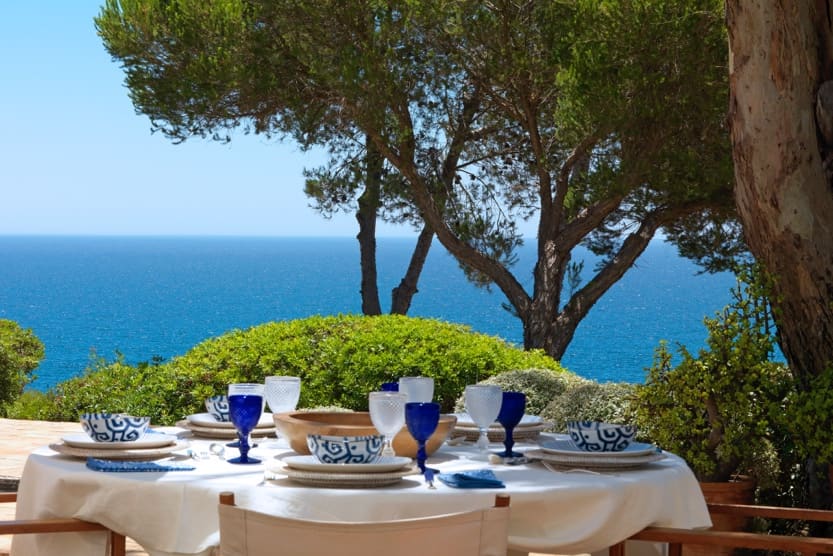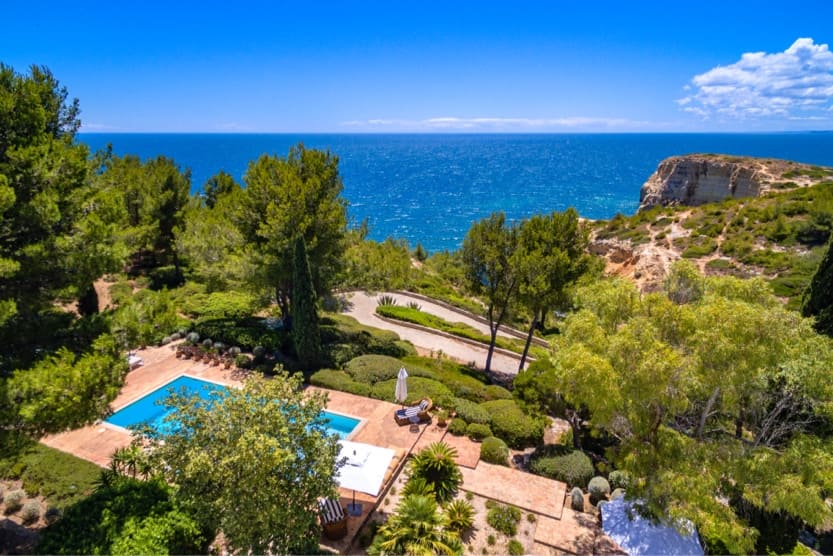 The flourishing foliage is a screen against the outside world, allowing peace to ensue, broken only by the notes of nature and the bursts of merriment from family and friends by the pool. Wander down the winding path to the beach for a dip in the cliff-clustered bay below the villa.
Step three: Survival guide to the area
In any escape situation, as you are all probably aware from experience, to get to your safe house is simply not enough. One must take proactive measures to ensure that one's escape is successful. For escapes, that success is measured in longevity. For holidays, it is measured in enjoyment.
Le Collectionist sure does offer some enjoyable activities to make the most of your luxury escapes to Portugal's beautiful coast. Why not make your escape to the area as thrilling as possible?
Golf in Algarve
One of Algarve's greatest draws is the plethora of world-class golf courses that are elegantly strewn in flourishes of bright greens across the landscape. Our villas are situated a short distance from some of the area's impressive golf courses, and bookings can easily be arranged through your dedicated holiday Tailor.
The kingdom of dolphins, Comporta
Between your surf lessons, where you might be lucky enough to catch some waves alongside some dolphins, embark with our wildlife expert to the Estuary of Sado. Here, you will learn about the wonderful sealife, including the playful and highly intelligent dolphin, and the abundant birdlife in the area.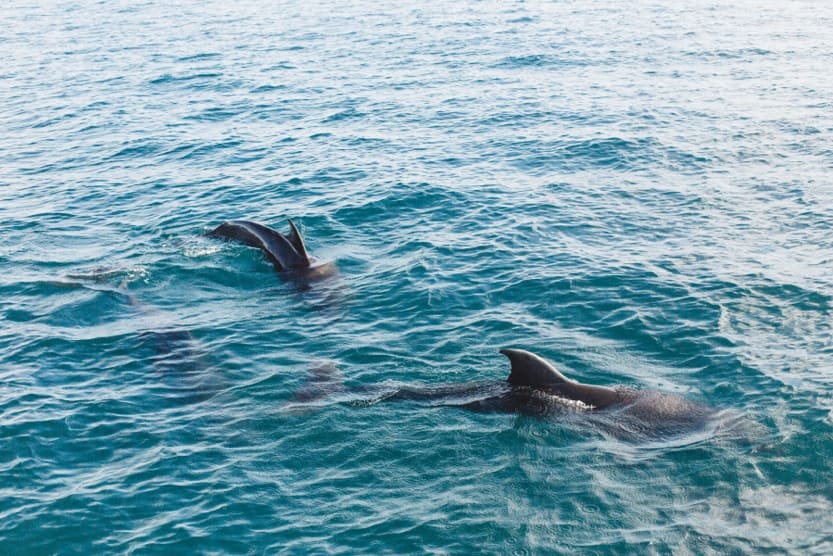 Become a Comportan horseman
With one of our expert equestrian guides, you can charge along the beaches of Comporta atop a majestic stallion. With the wind rushing and swooshing through your hair, it will be difficult not to feel like a fugitive, or a hero, on this exhilarating activity.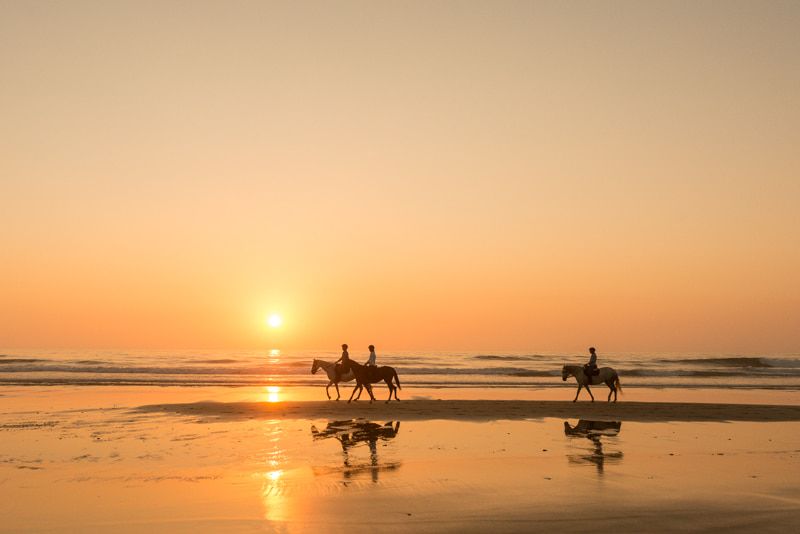 We are here to provide you with 5 star holidays in Portugal. Our excellent villas and experiences will offer you an insight into the delightful way of life along the Portuguese coast. Whether you choose to live lavishly in Algarve or immerse in the simple pleasures of Comporta, a villa holiday is a great immersive alternative to luxury hotels in Portugal. Explore Le Collectionist website and or services and follow these invaluable guidelines to inspire your next adventurous escapes.