St Tropez has risen to proverbial stardom in the world of towns. The sleepy picturesque fishing village that was once the reserve of hedonistic artists and writers in the late-19th century and mid-20th century as a holiday destination, a muse for artistic discovery, has grown into a world-famous resort. It is now the sought-after realm of family holidays and libertines alike. The area is magnanimous in its ability to cater for all holiday pursuits, making it a treasure trove for luxury France holidays.
One of the many pastimes on St Tropez holidays, beyond exploring tucked-away beaches, vibrant markets, and wondrous towns, is to frequent some of the notorious beach clubs in St Tropez. And to assure you, a summery afternoon is never poorly spent in a Saint Tropez beach club.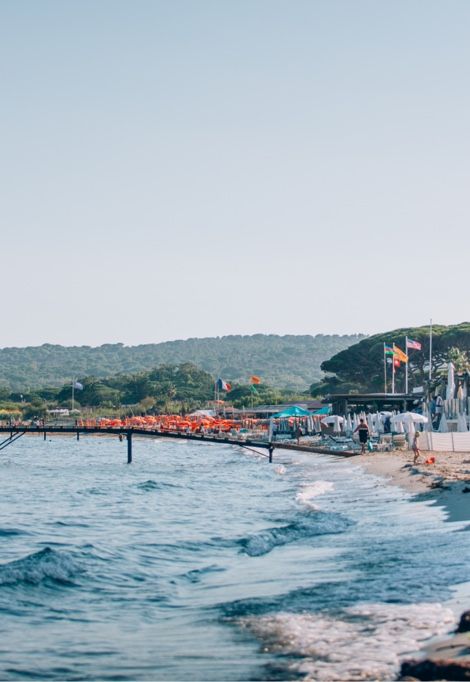 Even the mere thought evokes images of languid days on white and golden beaches, sometimes delightfully rugged ones, lounging around after leisurely lunches with condensation-clung glasses of crisp rosé littering long tables. The sea as the backdrop and your feet in the sand, all worries seem to drift off, displaced by pure contentment.
St Tropez is one of the finest luxury holiday destinations in the world and has a reputation for its excellent beach clubs, where afternoons as described above are easily found.
Le Club 55
One of the most renowned beaches in the area is not actually in St Tropez. Pampelonne beach is actually in neighbouring Ramatuelle and hosts some of the area's best beach clubs. In the summer, Pampelonne beach is a bustling, beachy metropolis. It is lined with stalwarts of the beach club scene, names whose reputations date back to times before the throngs of people clamoured to gain entry. One such club, and arguably the most famed of them all, is Le Club 55. It is a Pampelonne beach club that would complete most lists of St Tropez's best clubs.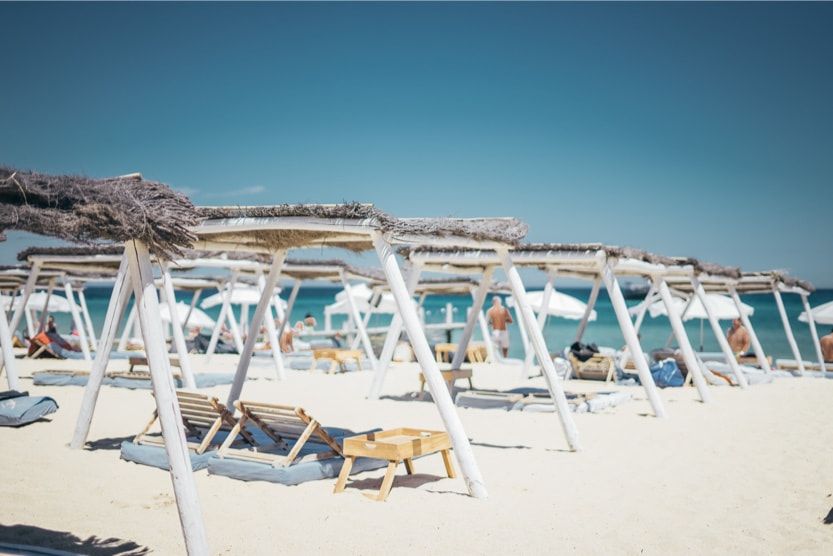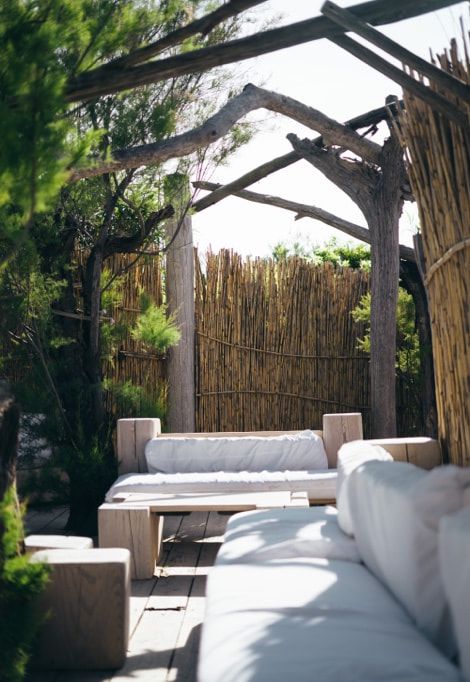 Le Club 55's name is a tribute to the year that Brigitte Bardot and the crew were filming And God Created Woman - the film that was attributed with launching the area's eventual fame. Bardot and her fellow cast members were unknowingly writing the future of this quiet idyll in the French riviera, and this club is equally entwined in its folklore.
The mythic club has retained the charm it had when it opened its doors to Roger Vadim, the film's director, and his crew for refreshments during filming. It has transformed into a sophisticated, yet eternally rustic restaurant. You will find it a great place to cool off beneath the trees, with artificial mist flittering down, catching light in rainbows. You are also likely be rubbing shoulders with celebrities.
Order the classic crudités, a signature dish that is as much about the performance as it is the food. Finish your meal with a regional delicacy - a raspberry tropézienne.
Information
43 Boulevard Patch, 83350 Ramatuelle, France
+33 4 94 55 55 55
club55.fr
La RÉserve A La PLage
La Réserve à la Plage is a comfortably laid-back, yet chic restaurant also on the thriving Pampelonne beach. Owner Michel Reybier has stylishly captured the raw natural surroundings and history of fishing in the area through the restaurant's interior: rattan lampshades, like great sunhats, pour from the ceiling above the charming clutter of wooden and weaved palm furniture, which has been eclectically strewn across the restaurant floor with elegant intent. It is an intricately and pleasantly organised chaos.
The menu was designed by Eric Canino, executive chef of Michlin-starred La Voile, and serves an ambrosial variety of Mediterranean cuisine. An emphasis on the tradition of sharing food adds to the relaxed ambience, encouraging guests seated at the long tables to interact and indulge wholeheartedly.
Flee from the heat of the day to this thatch-roofed oasis, where Provencal rosé and a chilled atmosphere will welcome you without fail. You will want to take off your shoes and saunter across the sand between sunbeds and umbrellas to dip your feet in the cooling waters. The evening's cool ushers in a more energised mood, as people are gently uplifted by champagne and smooth music.
Information
Chemin de l'Epi, 83350 Ramatuelle, France
+33 7 85 14 72 90
lareserve-plage.com
Indie Beach House
Reminiscent of Ibizan summer evenings, Indie Beach House has burst onto the scene with an effortless flourish of its relaxed vibe. Also situated on the famed stretch of beach that is Pampelonne, this cool restaurant was founded by three young locals who wanted to bring their own spin to the scene of Saint Tropez beach clubs.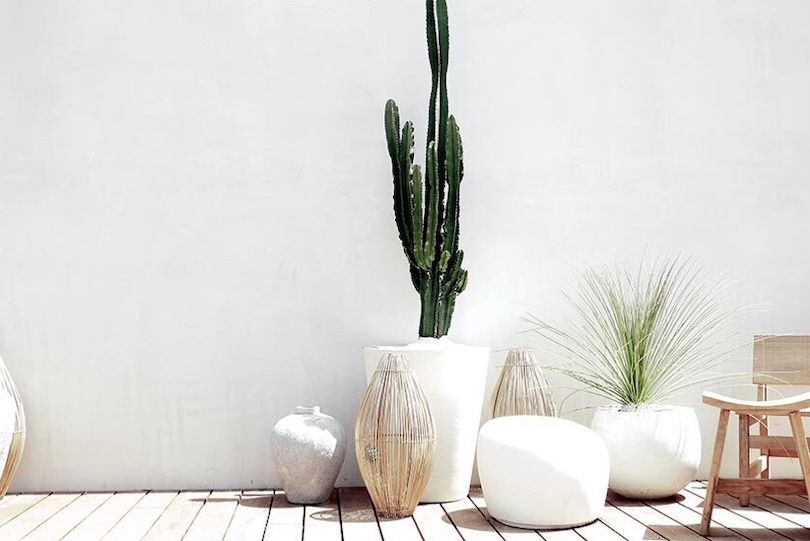 The restaurant mimics its surroundings and seamlessly fits into the landscape; the wooden furniture matches the colour of the sand, while white beams, strung with hanging chairs and lampshades resembling fishing baskets, give the restaurant an elegantly bohemian finish.
The menu boasts the best of Argentinian cuisine, with a performance of grilled meats, a tender feast for the eyes and tastebuds. As the sun sets, it is a great place to share food and drinks. Later on, the sand transforms into a stage of barefooted dancing and care-free fun under a canopy of stars. For more on the buzzing Pampelonne beach, check out our favourite Pampelonne beach hot spots.
Information
Route de Bonne Terrasse, 83350 Ramatuelle, France
+33 4 94 79 81 04
indiebeachhouse.com
La plage des Salins
Wander to the sea towards Plage des Salins and you will be greeted by what appears to be a double layer of Mediterranean: the sea sits almost directly beneath a ripple of blue parasols, which seem to ebb and flow with the breeze. Les Salins fish restaurant is plonked right on the rugged beach, teetering on the edge of the sea, while the Italian restaurant is positioned on the terrace above.
Les Salins is a popular Saint Tropez restaurant located on a relatively peaceful stretch of beach. The authentic and unpretentious charm draws visitors back time and time again. Listen to the lapping, slapping, swishing sounds of the sea whilst savouring freshly grilled fish and a refreshing glass of white wine. Because of Les Salins' popularity it would be wise to book in advance.
Information
340 Chemin des Salins, 83990 Saint-Tropez, France
+33 4 94 97 15 66
lessalins.com
Nikki Beach St Tropez
Nikki Beach has become a veritable behemoth of the beach club party scene, not only in St Tropez, but in all of the other glitzy locations around the world that Nikki Beach has a club and restaurant. This is a beach club for the party crowd, where those in the know go to dance, tan, eat, and drink in no particular order. Nikki Beach regularly plays host to world-class DJs, a place where holidaymakers and famous people lose themselves in the same crowd, a place to forget and be forgotten.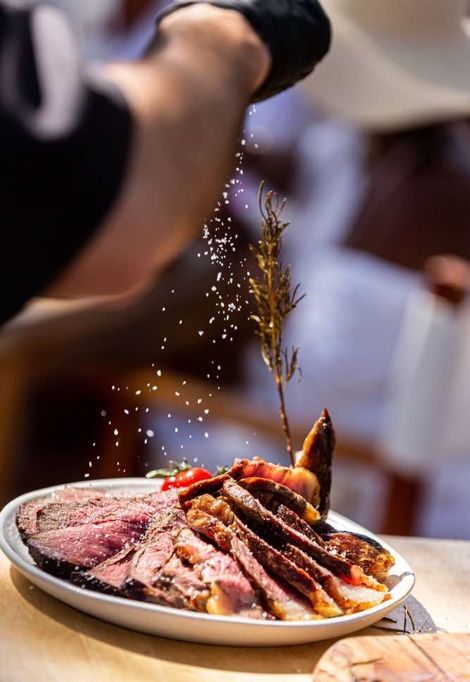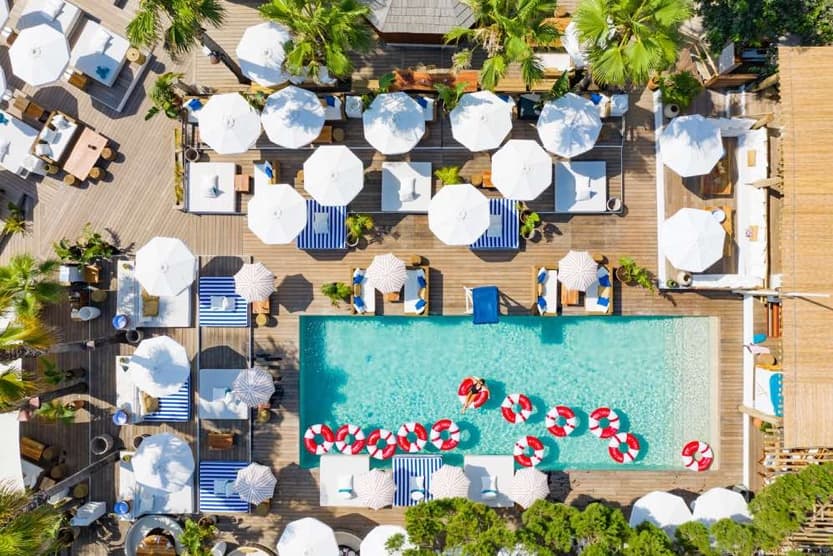 Nikki Beach is a St Tropez restaurant and club located on the vibrant Pampelonne beach that serves delicious Mediterranean staples. The pool, which has been the centre of countless summer parties since the club's opening in 2002, is surrounded with spacious sunbeds where one can sprawl to soak up the St Tropez sun with a classic cocktail never far off.
Information
1093 Chemin de l'EPI, 83350 Ramatuelle, France
+33 4 94 79 82 04
saint-tropez.nikkibeach.com
Explore some of our many beautiful luxury villa rentals in St Tropez to discover these and more of the wondrous things to do in St Tropez. Le Collectionist makes memory making easy by taking care of all your needs, wants and wishes.