When it comes to food in the French Alps, there is no shortage of options. From hearty mountain dishes to local wines and cheeses, there is something for everyone. For those looking for a traditional Alpine experience, dishes like fondue and tartiflette are a must!
Michelin star restaurants are synonymous with luxury, and the French Alps are home to some of the best in the world. A spot on the Michelin Guide is the most prestigious status a restaurant can achieve. To earn a Michelin star, a restaurant has to meet rigorous criteria including everything from the quality of the ingredients used to the overall dining experience, so guests can rest assured that they are going to have a special meal. Whether you prefer a cosy atmosphere with classic food or an ultramodern dining space with experimental delicacies, this luxury holiday destination offers dining experiences like no other.
Explore our favourite restaurants in the French Alps:
michelin star Restaurants in megève:
Flocons de Sel
This chic, alpine establishment is the perfect place to immerse yourself in the majesty of the mountains. Chef Emmanual Renault takes a subtle yet inventive approach to cooking that will leave you in excited anticipation of each course!
Michelin Recommends:
Char with carrots and lemon mousseline

Golden veal sweetbread

Soufflé with lemon and orange blossom sorbet




Information:

1775 route du Leutaz
74120 Megève, France
+33 4 50 21 49 99
https://www.floconsdesel.com/

La Table de l'Alpaga
With an emphasis on vegetable dishes, this restaurant will give you a true taste of the region. You will feel right at home in its cool yet cosy interior, and make sure to visit for the annual New Year's Eve dinner for an extra special experience!
Michelin Recommends:
Mushrooms with buckwheat and egg yolk
Lamb with peas and hyssop
Rhubarb with goat cheese and wild thyme


Information:
66 route de Prariand
74120 Megève, France
+33 4 79 33 01 04
https://www.beaumier.com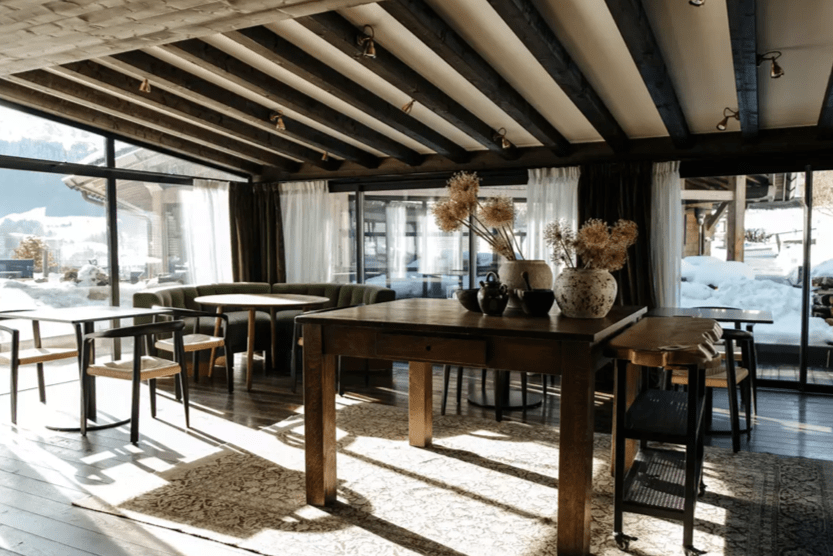 michelin star Restaurants in Courchevel:
Le Kintessence
With a panoramic view of the valley, this intimate restaurant only uses the finest local and seasonal ingredients to offer you delicious and unique dishes. Make sure to try one of their amazing desserts created by their own pastry chef!
Michelin Recommends:
Pork loin with blonde peas, ravioli and horseradish mustard

Roasted chicory trout trout with saffron

Jasmin foam sorbet with banana and l

emon meringue



Information:
238 rue des Clarines
73120 Courchevel, France
+33 4 79 40 08 80
https://www.lek2palace.com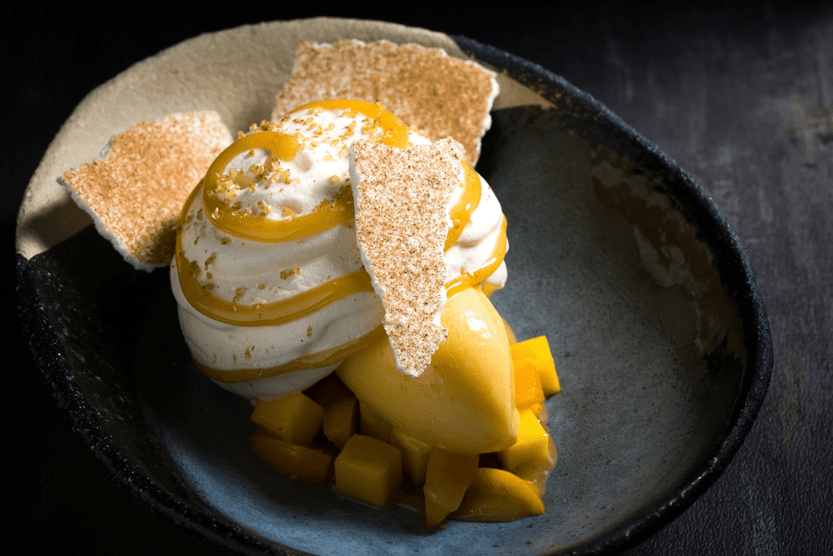 Le Chabichou x Stéphane Buron
Chef Stéphane Buron believes that to make something complex, you must make it simple. This paradox is the foundation of his craft, in which simplicity is the key to delivering unique and memorable dishes. Through this simplicity, he can promise true perfection in the food he serves!
Michelin Recommends:
Roast chicken with baby carrots and red wine sauce
Scallops roasted with mushroom oil and corn
Caramelised popcorn with pepper


Information:
90 route des Chenus
73120 Courchevel, France
+33 4 79 33 01 04
https://www.chabichou-courchevel.com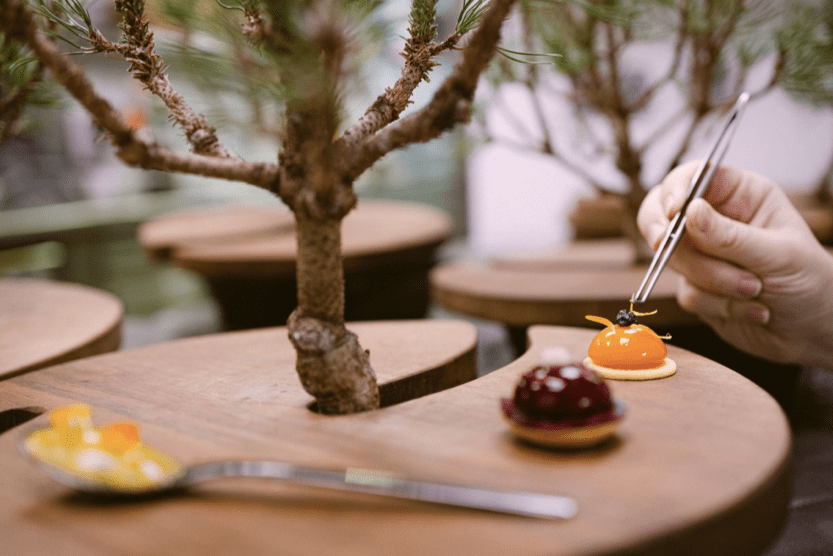 Sarkara
If you are looking for experimental, avant-garde cuisine, then this is the place for you. This intimate setting is also the perfect place for dessert lovers. Taste its award-winning sweets made by pastry chef Sébastien Vauxion!
Michelin Recommends:
White artichoke cream and sorbet

Crapaudine cooked in charcoal with white beetroot sorbet and gentian

Spicy prune paste with curry ice cream and almonds




Information:
238 rue des Clarines
73120 Courchevel, France
+33 4 79 40 08 80
https://www.lek2palace.com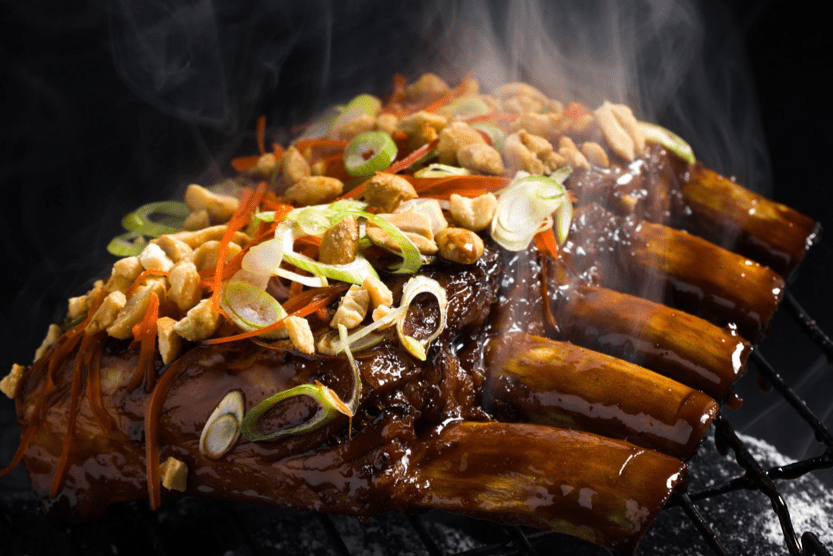 Le 1947
Courchevel's only three-star restaurant, Le 1947 is sure to delight you. The intimate dining room has a view of the open kitchen to allow guests to see the performance that is three-star cooking, as they can watch their amazing meals be prepared for a truly unforgettable experience!
Michelin Recommends:
Black truffle blini
Chicken breast with white wine sauce, spinach and nutmeg
Caramelised butternut squash ravioli


Information:
Le Jardin Alpin
73120 Courchevel, France
+33 4 79 00 50 50
https://www.chevalblanc.com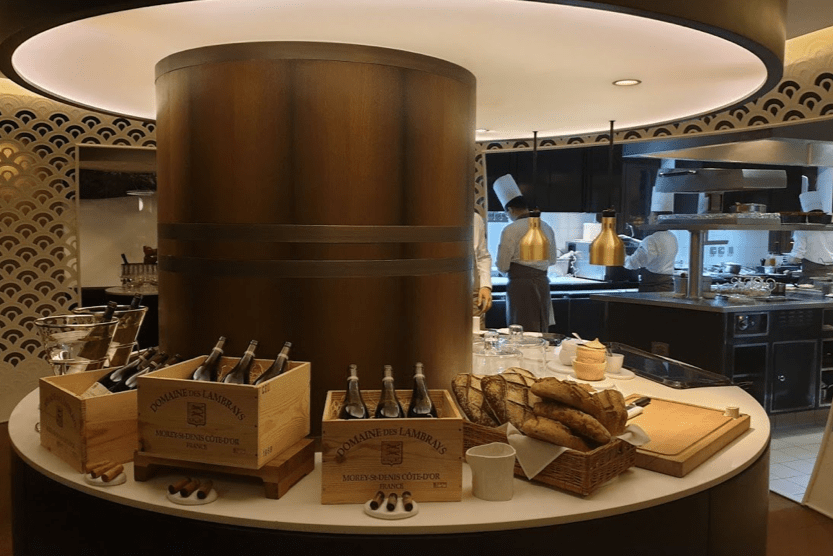 Le Montgomerie
With a relaxed ambience, and views of the stunning mountain peaks, you will feel immersed in the beauty of the Alps. Focussed on regional products and local producers, this restaurant will give you an authentic taste of your surroundings, opening up your senses and creating new culinary experiences!
Michelin Recommends:
Grilled scallops with cauliflower and garlic juice
Roast venison fillet with beetroot and elderberry
Mango sorbet with passionfruit and ginger


Information:
356 Route de l'Altiport
73120 Courchevel, France
+33 4 79 01 46 46
https://www.lek2altitude.com
La Farçon
Under the guidance of Julien Machet, this former crêperie has soared to new highs in the world of haute cuisine. His themed menu, based on traditional alpine routes, will give you great insight into the rich flavours and history of the Alps!
Michelin Recommends:
Smoked eel with crayfish juice
Beef terrine with vegetables
Baba with raspberries and coffee ice cream


Information:
Immeuble Kalinka
73120 Courchevel, France
+33 4 79 08 80 34
https://www.lefarcon.fr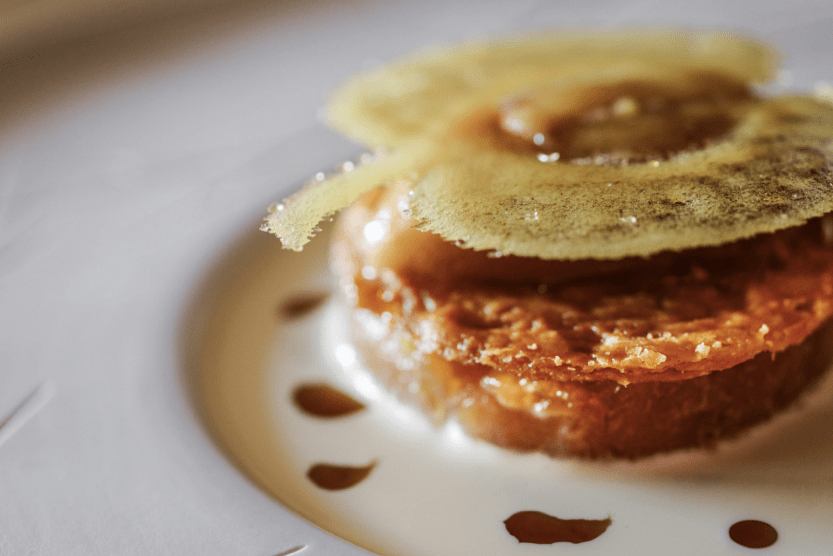 Azimut
This elegant restaurant with a cool, candlelit ambience is the perfect place for an intimate dinner, and its refined atmosphere is matched by the quality of its cuisine. Make sure to try a selection of their famous cheeses, and take advantage of the robust wine menu to find the perfect pairing for your meal.
Michelin Recommends:
Quail fillet with parsley and mushroom cream
Bass with potatoes and pink grapefruit sauce
Chocolate rum mousse with pineapple


Information:
273 Rue de la Madelon
73120 Courchevel, France
+33 4 79 06 25 90
https://www.restaurantazimut.com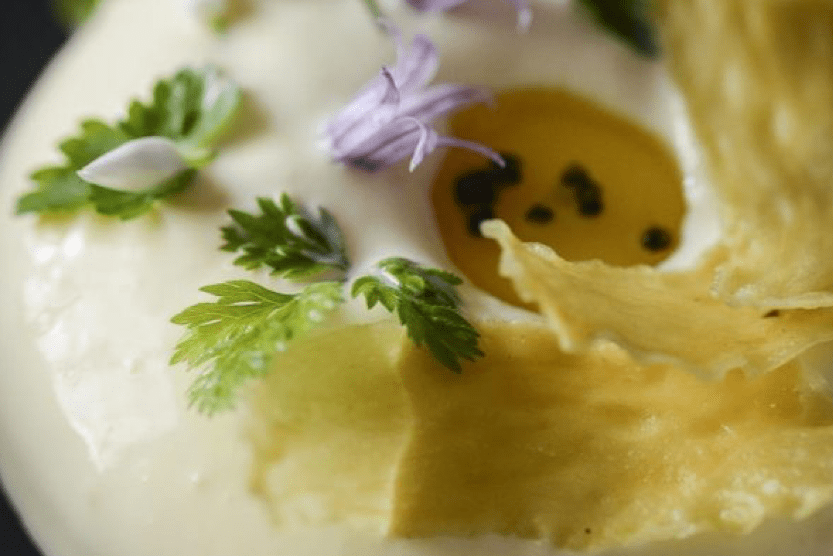 Baumanière 1850
If you are looking for a change of scenery during your stay, come taste the delicious Mediterranean cuisine at this Alpine fusion restaurant. Created by three-star chef, Jean-André Charial, these authentic, high-quality dishes will truly elevate your stay in the mountains, and give you a spark of southern flavour!
Michelin Recommends:
Vegan poke with grilled sesame and tofu
Swiss chard with beurre blanc and black truffle
Crème brulée


Information:
661 Rue de Bellecôte
73120 Courchevel, France
+33 4 79 41 51 60
https://www.hotelstrato.com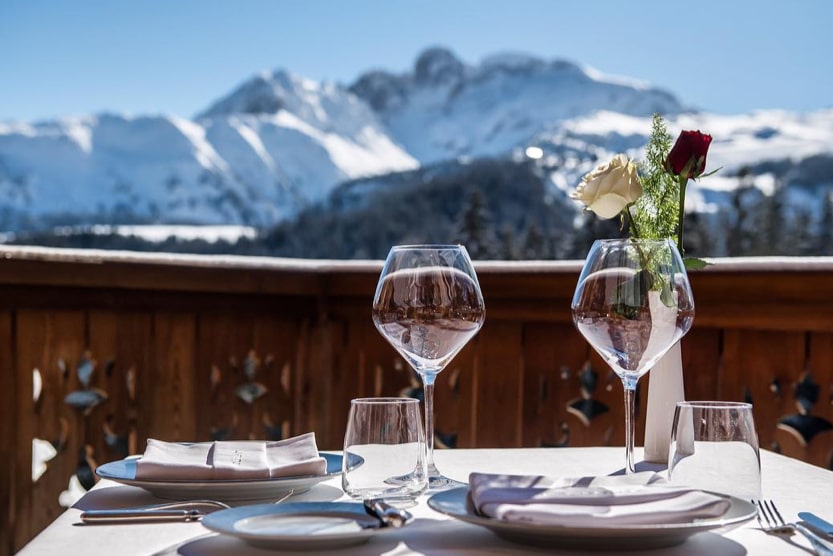 michelin star Restaurants in Chamonix-Mont-Blanc:
Albert 1er
Head chef Damien Leveau bases his creations on seasonal market produce, always striving to innovate and evolve with his dishes. His passion for cooking shines through in his creative presentation, as he seeks to take haute cuisine to new heights in the snowy peaks. He aspires to create an experience which grounds guests in the present moment and leaves them with an unforgettable experience with food in the magic of the mountains.
Michelin Recommends:
Caviar with raspberry and fresh almonds
Lake Geneva perch with green apple and celery
Hyssop soufflé with apricots and white chocolate


Information:
38 route du Bouchet
74400 Chamonix-Mont-Blanc
+33 (4) 50 53 05 09
https://www.hameaualbert.fr
At Le Collectionist, we strive to help you plan the perfect holiday, no matter your preferences. If you want to make your stay in the French Alps even more special, look through our collection of luxury villa rentals and choose the perfect home for you!