"All is noble and tender, everything speaks of love, nothing recalls the ugliness of civilisation," said Stendhal about Lake Como in his masterpiece La Chartreuse de Parme. An idyllic location, the lake and its surroundings are an absolute haven of peace. With its peaceful atmosphere and green landscapes dotted with quaint villages and historical villas, Lake Como is nestled in Northern Italy.
Dive into the Dolce Vita with Le Collectionist, in one of the most beautiful destinations for your holiday in Italy. To cross the lake, hop onto a boat as the locals do. What does one do at Lake Como? Make your visit unforgettable by following our recommendations of things to see and do, and treat yourself to our luxury concierge service in one of the finest luxury holiday destinations.
when is the best time to visit lake como?
The best time to visit Lake Como is during the late spring and early summer, typically from May to June. During this period, the weather is pleasantly warm, and the lush vegetation around the lake is in full bloom, creating a picturesque setting. The tourist crowds are also relatively smaller compared to the peak summer months, allowing you to enjoy the serene beauty of the lake without the hustle and bustle.

Late summer, from September to early October, is another excellent time to visit Lake Como. The weather remains pleasant, and the lake's surroundings start to don beautiful autumn colours. This time offers a more relaxed atmosphere, making it ideal for leisurely strolls along the lake's promenades and exploring the charming towns along its shores.

Ultimately, the best time to visit Lake Como depends on your preferences. Whether you seek vibrant summer activities or a quieter escape, Lake Como offers its unique charm year-round. To discover more, take a look at our article on visiting Italy.
WHAT TO DO IN LAKE COMO, ITALY: VISIT THE ENCHANTING TOWNS
Como Unveiled: Exploring historic charms and lakeside tranquility
The town of Como is the biggest town near the eponymous lake. It is bursting with historic, cultural and architectural treasures. At the heart of the historic centre is the main plaza: the Piazza Cavour. With shimmering waters and colourful buildings, the decor is typically Italian.
To finish your visit in style, take the funicular to Brunate and admire the view of lake Como and the surrounding villages. Several vantage points can be enjoyed during the ascent, which the boldest will want to climb on foot. After all, it would be a shame not to go hiking in this marvellous nature.
Lenno Charms: Villa del Balbianello and botanical bliss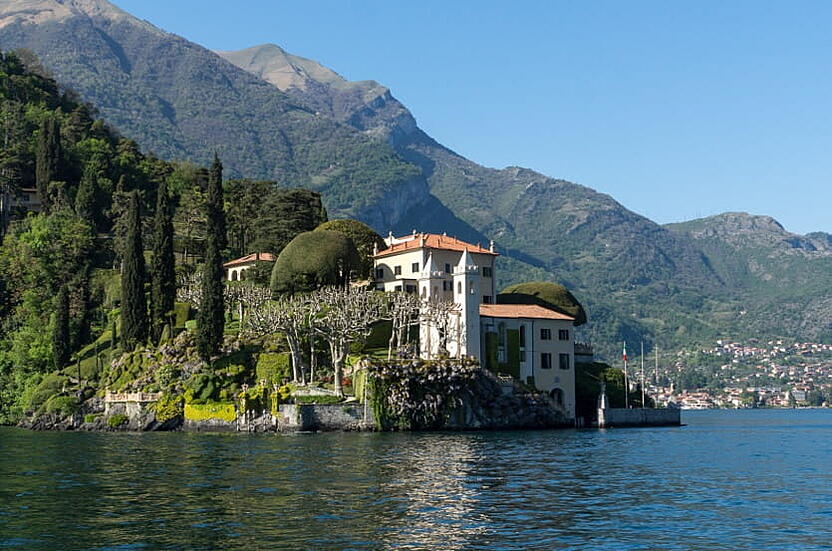 Villa Balbianello is a highlight of the region. This elegant five story villa, with a commanding view of Lake Como, was built in 1787 on the ruins of a Franciscan convent. Look familiar? No wonder, you have probably seen it in many a film, not only in Casino Royale.
Why not sail near the green-covered building and admire its splendour, or take part in a guided tour tracing its history? If this villa has got you daydreaming, note that you can organise events here such as dinners, weddings and other celebrations. Infuse your events with the place's unique flavour and make your holidays at Lake Como unforgettable.
Bellagio: A voyage into the pearl of Lake Como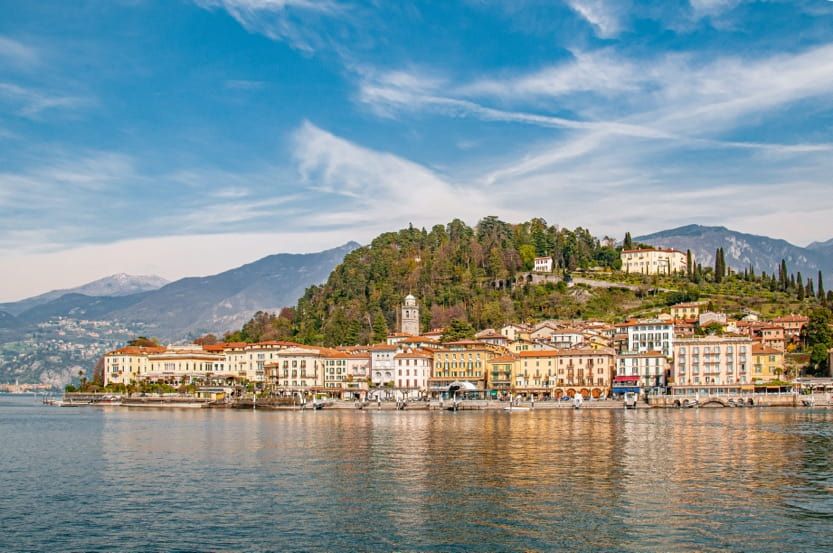 Nicknamed the "Pearl of the Lake", Bellagio is a luxury holiday destination renowned throughout the region. An attraction in Italy for decades, Bellagio has welcomed film stars and international politicians alike, from Winston Churchill to Clark Gable and, still today, George Clooney. In the centre, the narrow streets and colourful houses are straight out of a fairytale.
Boasting a star in the Michelin Guide, the restaurant Mistral, can be found in the heart of the Grand Villa Serbelloni Hotel. Its unique setting will transform your gourmet interlude into an unmatchable experience. Blending tradition and molecular gastronomy, chef Ettore Bocchia composes dishes that epitomise Italy and the Mediterranean.
Varenna's Timeless Beauty : Diving into the Allure of Villa Cipress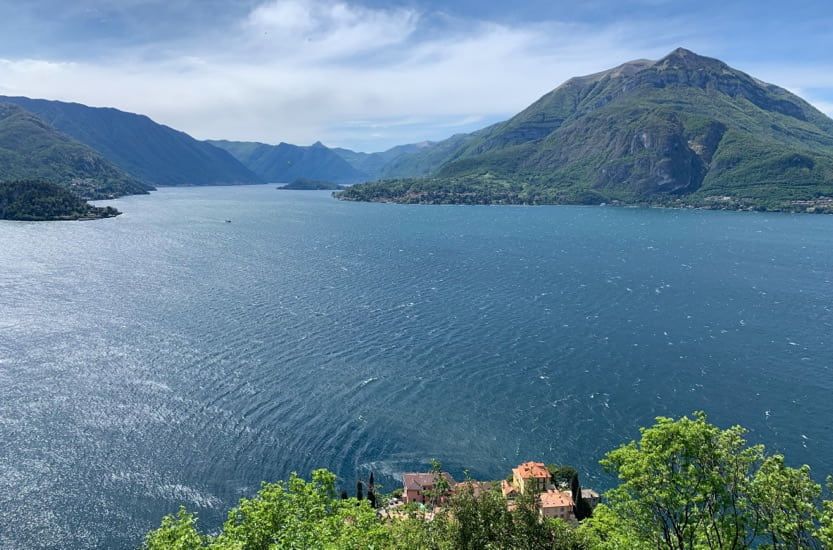 Want to escape from it all? Villa Cipressi's Botanical Garden is the ideal spot from April to October. Take a stroll under the shade of the trees, wander from fragrant flowers to imposing plants and take in the amazing view of the lake.
If you feel like going further, the 6km-long Greeway dei Patriarchi follows the lake on a hiking trail which you can walk along whatever your mood. This immersion into nature will make you lose track of time while you discover a variety of fascinating landscapes.
What to do in Lake Como, Italy : Top luxury activities
Scenic boat tours
Boat tours around Lake Como are an enchanting way to explore this stunning Italian destination. These tours offer a unique perspective of the lake's captivating beauty, surrounded by the majestic Alps. As you cruise along the crystal-clear waters, you'll be treated to panoramic views of picturesque villages, lush gardens, and historic villas perched on the hillsides.

Whether you choose a leisurely cruise or a private guided tour, a boat ride on Lake Como is an unforgettable experience, allowing you to soak in the romance and natural splendour of this Italian gem.
Water sports
Lake Como offers a fantastic playground for water sports enthusiasts. Visitors can enjoy a variety of activities, including windsurfing, kitesurfing, and sailing. The lake's reliable breezes and clear waters make it an ideal spot for windsurfing and kitesurfing, with several rental shops and schools available for beginners.
Sailing is another popular choice, with numerous yacht clubs and charter services allowing you to explore the lake's nooks and crannies. If you prefer a more relaxed experience, paddle boarding and kayaking are excellent options, allowing you to peacefully glide over the tranquil waters while taking in the stunning surrounding scenery. Whether you're an adrenaline junkie or seeking a leisurely aquatic adventure, Lake Como has something for everyone when it comes to water sports.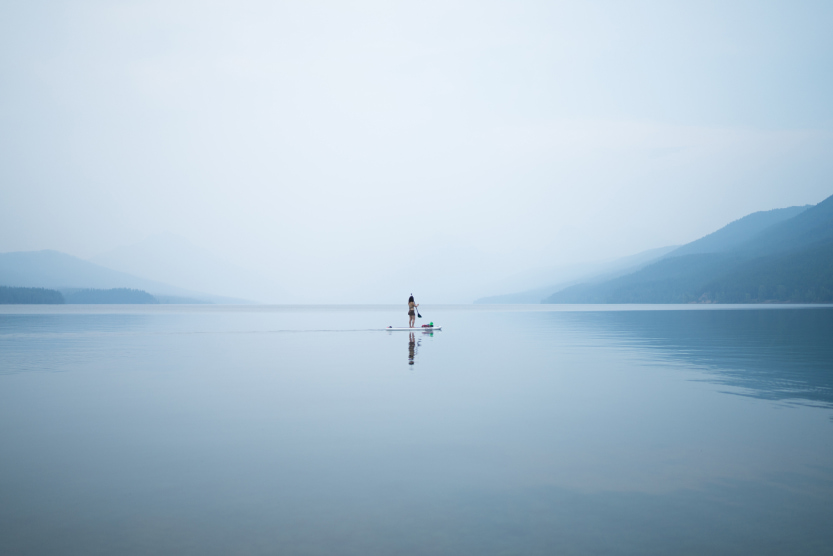 Taste the region's wines
While Lake Como is renowned for its natural beauty, it also boasts a growing wine culture that offers unique opportunities for wine enthusiasts. Visitors can embark on wine tours that take them through the region's picturesque vineyards and wineries. The local wine scene primarily focuses on producing high-quality white wines, including the famous Valtellina Superiore, made from the Nebbiolo grape variety.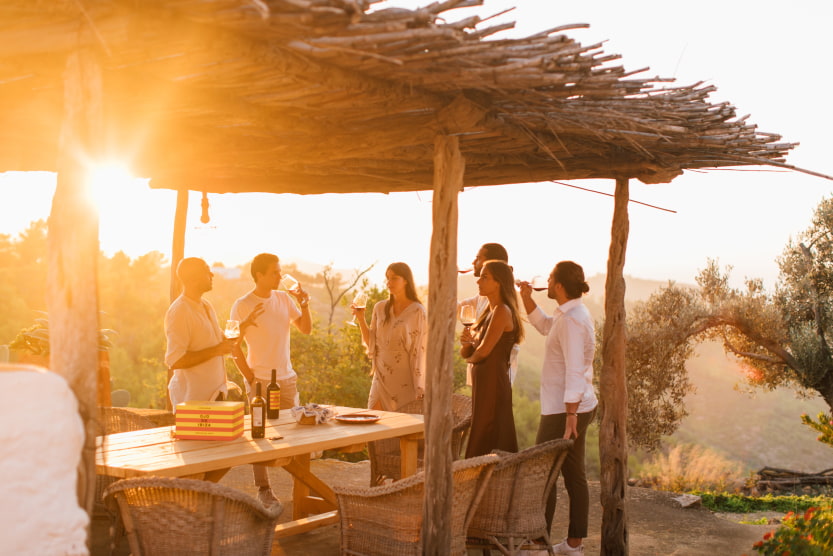 Where to stay in Lake Como: discover our Luxurious villas by the water
Villa Cipresso
Villa Cipresso immerses you straight into the grand Italian style: atypical architecture in a lush garden with an array of sculptures, completed by luxury facilities such as a pool, hammam, and a relaxation area. A well-earned break while exploring Lake Como and its surroundings. And if your heart so desires, there is even a beach a little way from the house.
Villa Deluca
Villa Deluca is a true gem in the region of Lake Como. With its double vista on the lake and mountain, it is in unique harmony with nature and the perfect destination for an escapade at the heart of the Italian mountains. Be as one with nature from the pool, the lounge or the dining room: you are treated to a magnificent spectacle wherever you are.
Villa Ginevra
Villa Ginevra is the apotheosis of Italian luxury. Perched high up, with stunning views of the lake below and art in every corner, you'll find yourself wanting to explore every nook and cranny of this villa.
With Le Collectionist, finding the perfect Lake Como villa rental has never been easier. Explore our collections and organise your luxury holidays in Italy with our team of devoted tailors.