©Pierre Monetta/Alain Ducasse au Plaza Athénée
Michelin recommends
Puy green lentils, caviar and eel jelly

Beef heart, lobster from Normandy and nectarines with fragrant woodruff

Curdled and emulsified farm milk infused with jam
Information
25 avenue Montaigne, Paris, 75008, France
+33 1 53 67 65 00
alain-ducasse.com

Le Cinq
This restaurant, guided by Christian Le Squer, intrigues with pirouettes of flashiness and deliberately delicate minutiae. The high ceilinged room, with intricate cornice lining the walls, is an excellent setting in which to enjoy the creative menus of Le Cinq.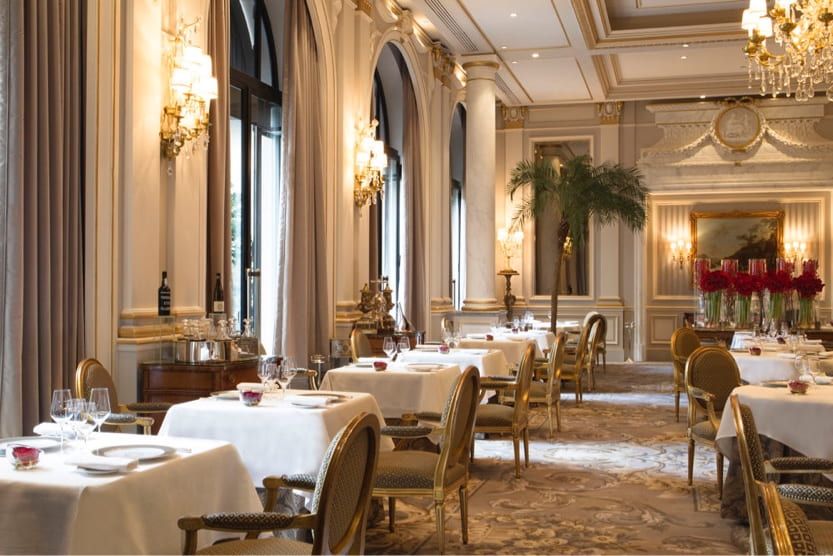 ©Grégoire Gardette/Le Cinq
Michelin recommends
Stiffened Breton langoustines, mayonnaise and crunchy buckwheat pancakes

Spaghetti gratin, Paris ham and truffle

Cold dark chocolate and carambar with roasted peanuts
Information
31 avenue George-V, Paris, 75008, France
+33 1 49 52 71 54
restaurant-lecinq.com

Pierre Gagnaire
While simplicity governs the interior of the restaurant, the cuisine is anything but. Bursting flavours come together under the incisive gaze of chef Pierre Gagnaire to create a unified whole that pleases the senses.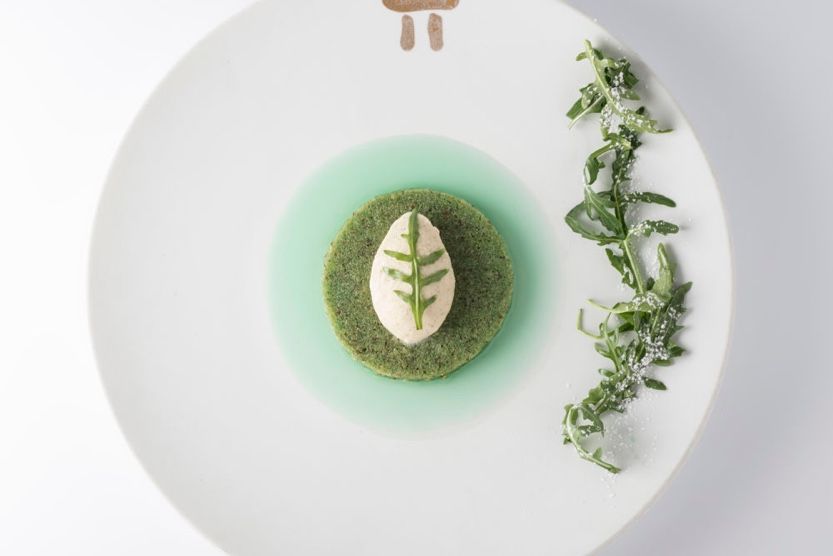 ©Jacques Gavard/Pierre Gagnaire
Michelin recommends
Scents of the earth

Limousin veal chop with absinthe

The great dessert
Information
6 rue Balzac, Paris, 75008, France
+33 1 58 36 12 50
pierregagnaire.com

Le Pré Catelan
Modernity and tradition are fused in both the setting and the food produced in Frédéric Anton's kitchen. Located in the Bois de Boulogne, Le Pré Catelan curates a menu that expertly draws from a number of traditions.
Michelin recommends
Langoustines prepared in ravioli with foie gras and fine gold-leaf jelly

Cherrywood smoked salmon with wasabi cream

Pollen, shortbread and honey ice cream
Information
Route de Suresnes - Bois de Boulogne, Paris, 75016, France
+33 1 44 14 41 14
leprecatelan.com

L'Assiette Champenoise
This restaurant offers unending creativity, where discreteness offers a new experience with each mouthful. Chef Arnaud Lallement is a stickler for attractiveness in presentation.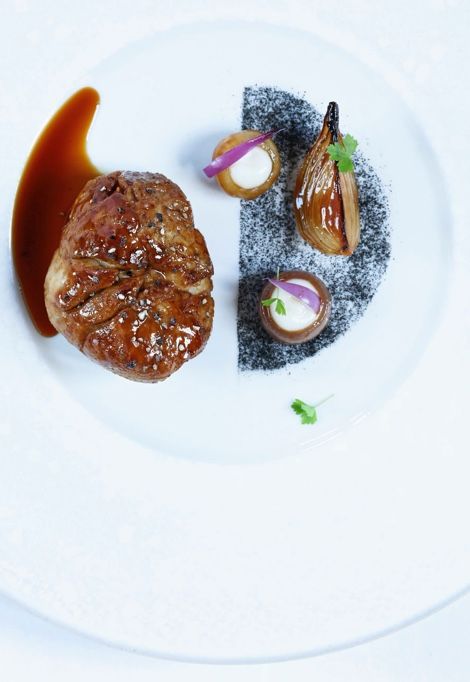 ©Matthieu Cellard/Assiette Champenoise

Michelin recommends
Royal langoustine, lemon caviar and creamy nage

Blue lobster "homage to my dad"

Guanaja chocolate with Piedmont hazelnut
Information
40 avenue Paul-Vaillant-Couturier, à Tinqueux, Reims, 51430, France
+33 3 26 84 64 64
assiettechampenoise.com
3 MICHELIN STAR RESTAURANTS IN THE EAST OF FRANCE
Maison Lameloise
Maison Lameloise is truly deserved for all three of its stars, as Éric Pras continues to entice guests with his innovative menu.
Michelin recommends
Crispy marinated langoustines with puffed rice, celery and green apple

Blue lobster in bourguignon with roasted tail in shellfish butter

Creamy Ecuadorian chocolate with cocoa bean ice cream
Information
36 place d'Armes, Chagny, 71150, France
+33 3 85 87 65 65
lameloise.fr
Troisgros - Le Bois sans Feuilles
Tucked away in the Ouches Estate, Chef Michel and his son breathe life into wholesome ingredients and local produce. With a respect for tradition, but aspirations for blazing their own trail, you will undoubtedly be ushered into new experiences in this restaurant.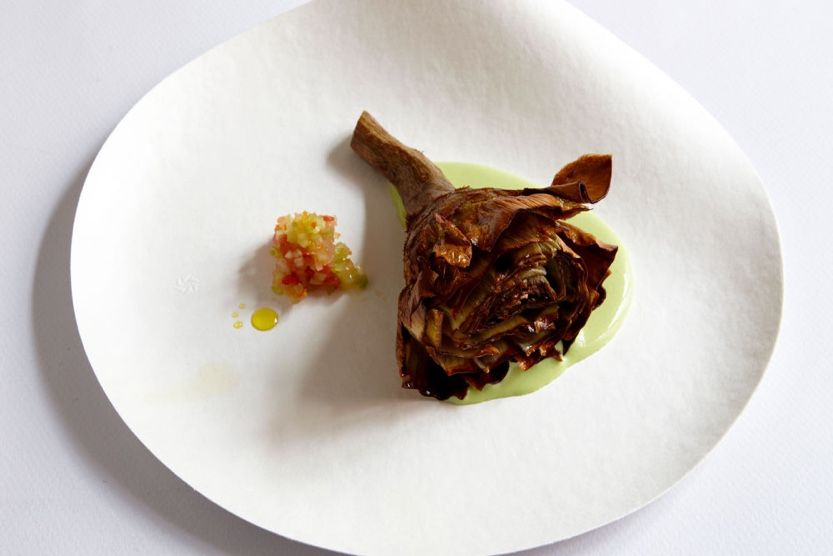 ©Marie-Pierre Morel/Troisgros
Michelin recommends
Chanterelle and crab tartlet
Grilled lamb hazelnuts
Saffron sun
Information
728 route de Villerest, Ouches, 42155, France
+33 4 77 71 66 97
troisgros.com
Georges Blanc
Georges Blanc, following in the footsteps of his grandmother and those before him, doffs his cap to the heritage of French cuisine whilst still going off piste in the most adventurous and exciting ways.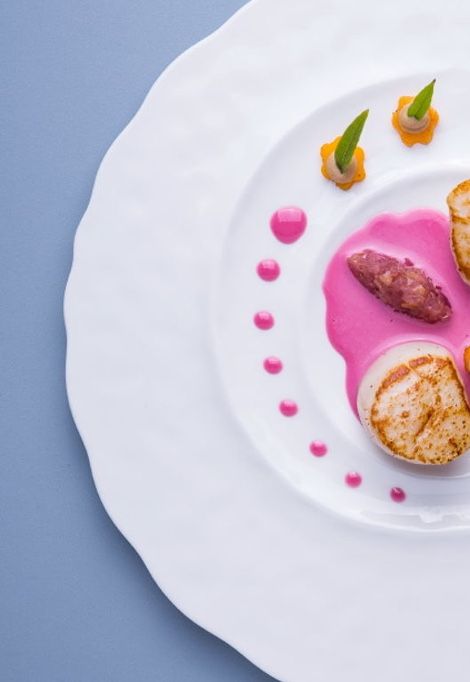 ©Georges Blanc/Georges Blanc
Michelin recommends
Multicoloured blue lobster with savagnin and a trilogy of vegetable ravioli with black garlic

Poularde de Bresse "Élisa Blanc" served with Vonnassienne pancakes

The Vonnassien ideal, fine shortbread with gaudes and vanilla-infused milk chocolate
Information
Place du Marché, Vonnas, 01540, France
+33 4 74 50 90 90
georgesblanc.com
Le Clos des Sens
In keeping with the geography, Le Clos des Sens imagines a variety of dishes comprised of organic fish from the region's lakes. Laurent Petit brings that imagination to life with flair and finesse.
Michelin recommends
Information
13 rue Jean-Mermoz - in Annecy-le-Vieux, Annecy, 74940, France
+33 4 50 23 07 90
closdessens.com
Le 1947
Driven by inventiveness, this contemporary restaurant with Yannick Alléno at the helm receives plaudits for its technicality and adventurousness. The sauces, which bind each dish, deserve special credit.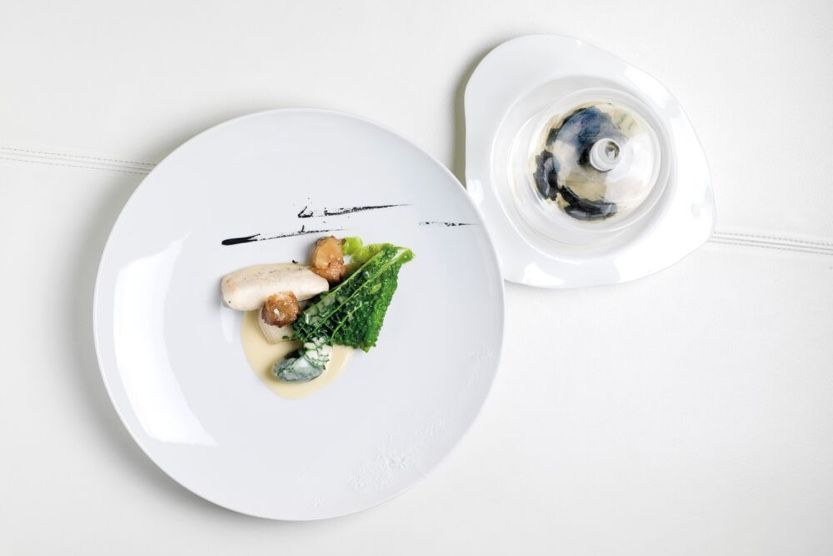 ©Philippe Vaures/Le 1947
Michelin recommends
Une ballade en sous-bois
Wood-fired Wagyu beef, marrow-flavored potatoes and a cumin condiment
Crispy spindle with black truffle and fleur de sel
Information
Le Jardin Alpin, Courchevel 1850, Courchevel, 73120, France
+33 4 79 00 50 50
chevalblanc.com
3 MICHELIN STAR RESTAURANTS IN THE SOUTH OF FRANCE
Christopher Coutanceau
Every dish presented by Cristopher Coutanceau has come from a place of fundamental appreciation for the ocean, the ingredients and the generous gifts of the seasons. The young chef's minimalistic style feels timeless.
©Philippe Vaures/Christoper Coutanceau
Michelin recommends
All about lobster
Sardine from head to tail
Variation of the foreshore
Information
Plage de la Concurrence, La Rochelle, 17000, France
+33 5 46 41 48 19
coutanceaularochelle.com
Régis et Jacques Marcon
Mother nature is master in this fine-dining establishment: the sunken building boast glorious views over the rolling hills, and the light seems to change with the seasons, as does the menu. The Marcons' respect for nature is embodied in the flavourful dishes that emerge from their kitchen.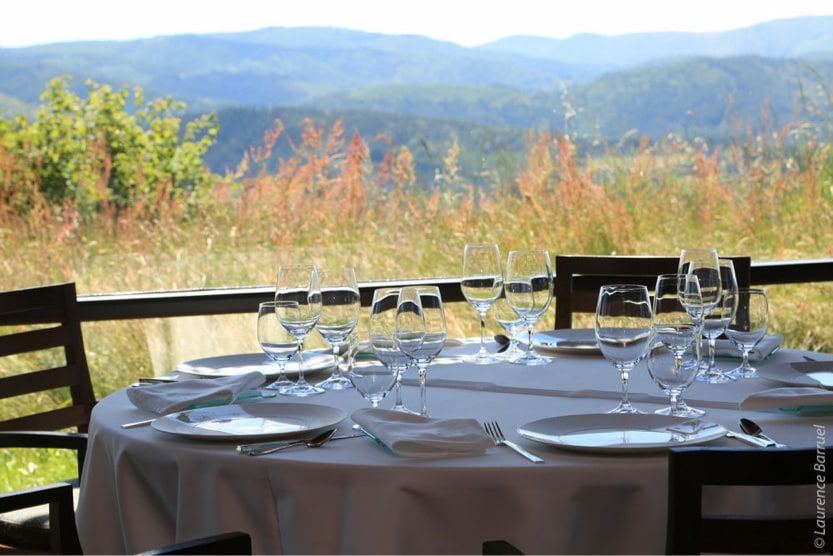 ©Laurence Barruel/Régis et Jacques Marcon
Michelin recommends
Skewer Margaridou of sweetbreads and morels

Grilled lobster cassoulet and green Puy lentils
Hot verbena soufflé
Information
Larsiallas, Saint-Bonnet-le-Froid, 43290, France
+33 4 71 59 93 72
lesmaisonsmarcon.fr
Flocons de Sel
In this inimitably cosy Alpine setting, Chef Emmanuel Renaut constructs dish after dish that is inherently entwined with nature, but bears a unique signature, whether it be a flavour, a fusion, or a daring to try something new.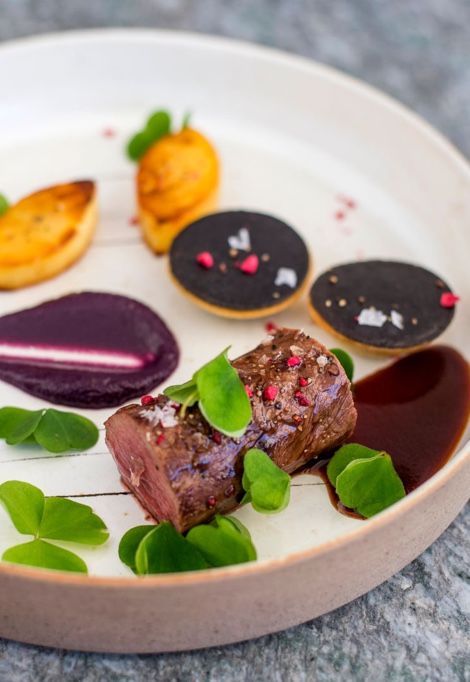 ©ANNE-EMMANUELLE THION/Flocons de Sel
Michelin recommends
Lake Geneva feral fillet cooked in salt. Served cold with a hogweed jus
Venison fillet served with a mondeuse and juniper sauce
Milk ice cream from Val d'Arly with apricot compote and a thin slice of meringue
Information
1775 route du Leutaz, Le Leutaz, Megève, 74120, France
+33 4 50 21 49 99
floconsdesel.com
Pic
The PIC family history has a wise and experienced finger in the pie of French cuisine. This longstanding institution is worth its three stars not for its past contributions, but for its continued ability to construct near perfection with each dish.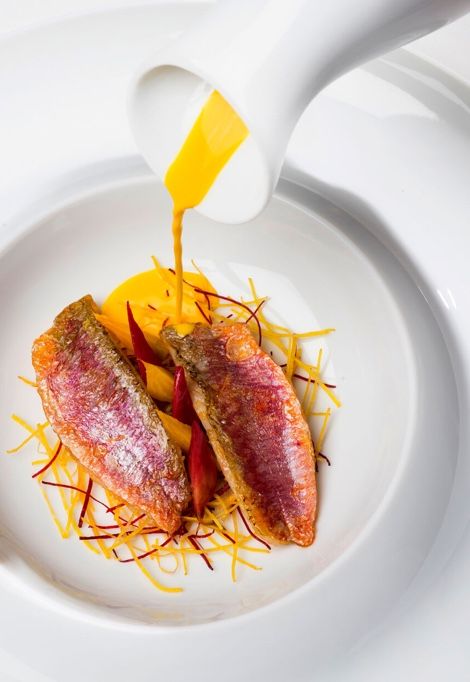 ©ANNE-EMMANUELLE THION/Maison Pic
Michelin recommends
Sea urchin served with creamy whiskey, apple and nasturtium
Sweetbread in a wax shell
White millefeuille served with a light, wispy Tahitian vanilla cream
Information
285 avenue Victor-Hugo, Valence, 26000, France
+33 4 75 44 15 32
anne-sophie-pic.com
René et Maxime Meilleur
Each dish sings hearty odes to the Savoie region and French cuisine in general. Everything is performed with honest resolve, which makes this cabin-like Savoyard experience feel that much more intimate.
Michelin recommends
Information
Hameau de Saint-Marcel, Saint-Martin-de-Belleville, 73440, France
+33 4 79 08 96 77
la-bouitte.com
L'Oustau de Baumanière
Beyond the effortlessly beautiful setting, the cuisine gifts guests of L'Oustau de Baumanière with tales of Provençal heritage, where local produce is centre stage. The restaurant is also the holder of a Michelin green star for its focus on sustainability.
©Virginie Ovessian/L'Oustau de Baumanière
Michelin recommends
Smooth red mullet, farm cream, crispy scales and socca
Squab cooked in a hay crust served with a drizzle of lavender jus
Millefeuille light cream with Madagascan vanilla and florentine pistachio
Information
Mas de Baumanière, Les Baux-de-Provence, 13520, France
+33 4 90 54 33 07
baumaniere.com
Les Prés d'Eugénie - Michel Guérard
Michel Guérard's reputation does nothing to inhibit his drive to create a light and intricate menu sprinkled with genius.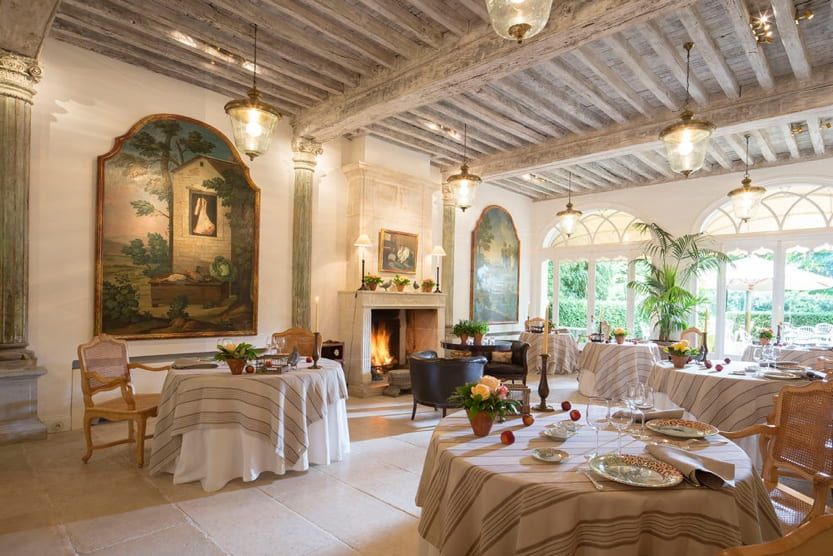 ©Corentin mossiere/Les Prés d'Eugénie - Michel Guérard
Michelin recommends
Soft pillow of morels with truffles and chanterelles under the mousse
Sun of the fisherman, sea spider broth and wild seaweed butter
Crunchy salt and pepper chocolate puff pastry with caramelized endive sabayon
Information
Place de l'Impératrice, Eugenie-les-Bains, 40320, France
+33 5 58 05 06 07
lespresdeugenie.com
Auberge du Vieux Puits
This sophisticated, but unpretentious restaurant is filled with the surprises that Chef Gilles Goujons has perfected.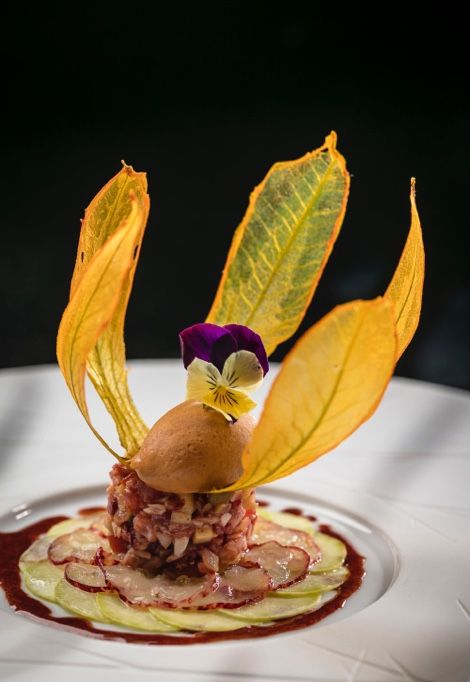 ©Bruno Preschesmisky/Auberge du Vieux Puits
Michelin recommends
Rotten chicken egg with truffles, warm briochine and cappuccino to drink
Rouget barbet, delicious apple stuffed with a "bullinada" brandade
Brittle Menton lemon, citrus bergamot and kumquat sorbet served with a lemon and thyme cream
Information
5 avenue Saint-Victor, Fontjoncouse, 11360, France
+33 4 68 44 07 37
aubergeduvieuxpuits.fr
Le Petit Nice
Gérald Passédat's vernacular is the Mediterranean and his garden, with intonations from his worldly experience. This restaurant's take on classic Mediterranean dishes will leave your mouth helplessly watering.
Michelin recommends
Southern fish in a Nordic caravan, bottarga, caviar and scratchings
Longline wolf "Lucie Passedat"
Evanescent nougat with almond milk, pistachio and honey
Information
Anse de Maldormé, Marseille, 13007, France
+33 4 91 59 25 92
passedat.fr
AM par Alexandre Mazzia
The chef spins his personal history into the complexity of each dish, with Mediterranean overtones underpinned by currents of Africa. Alexandre Mazzia serves up excellent fish and fresh vegetables with ingredients of the sea.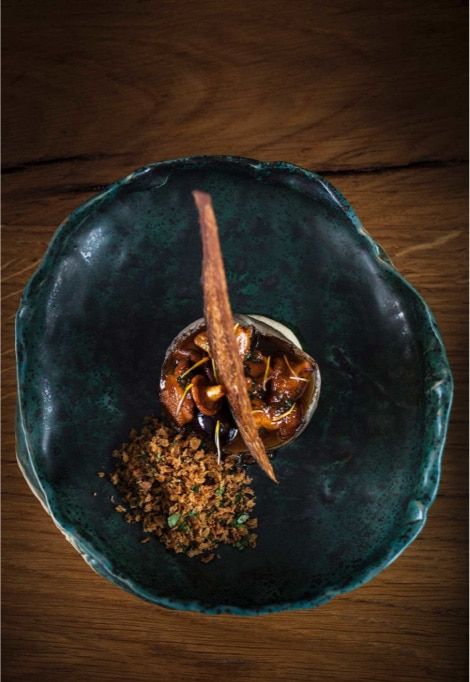 ©Mathieu Cellard/AM par Alexandre Mazzia
Michelin recommends
Langoustine, seaweed popcorn, mortadella and plankton white butter
Sparassis in duck jus with pepper-verbena and black pancetta from Bigorre
Mango, date, old vinegar from Modena and fleur de sel
Information
9 rue François-Rocca, Marseille, 13008, France
+33 4 91 24 83 63
alexandre-mazzia.com
Christophe Bacquié
The ambience feels like a grand party thrown in a wealthy friend's Mediterranean garden. The standard of the food, however, will quickly dispel any suspicions of party catering. Each detail is very particularly and intricately brought together to make a harmonious whole.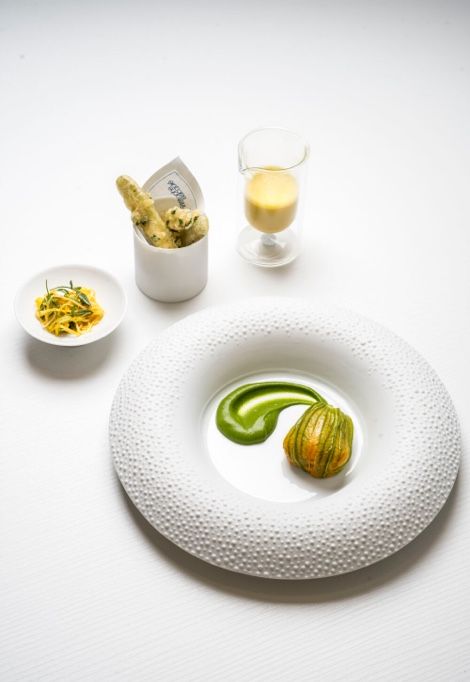 ©AEThion/Christophe Bacquié
Michelin recommends
Stuffed zucchini flower served with a flower broth
Pigeonneau au sang cooked in a spicy salt paste served with a tangy myrtle vinegar jus
Hot cazette soufflé and roasted coffee bean ice cream
Information
3001 route des Hauts-du-Camp, au Circuit Paul Ricard, Le Castellet, 83330, France
+33 4 94 98 29 69
hotelducastellet.net
Le Louis XV - Alain Ducasse à l'Hôtel de Paris
In the lap of luxury, surrounded by the quintessentially glitzy grandeur of Monte Carlo, Alain Ducasse's Le Louis XV churns out simplicity in its most awe-inspiring form.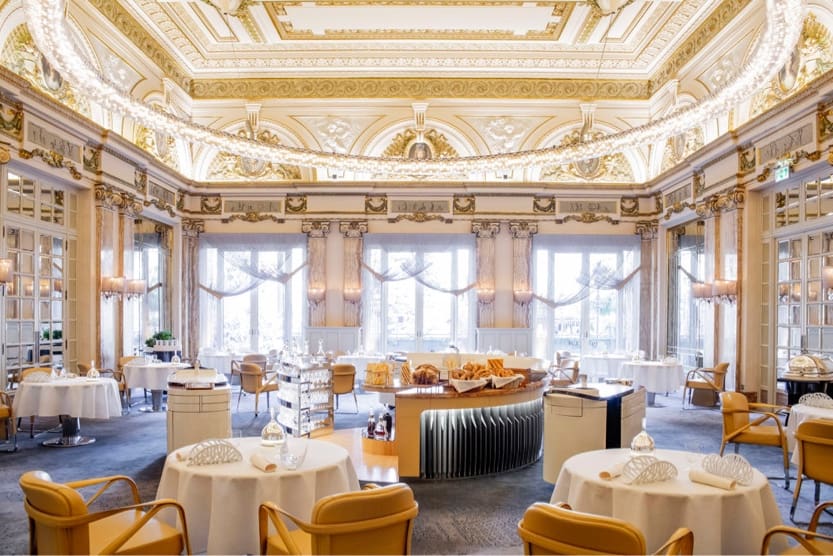 ©Pierre Monetta/Le Louis XV - Alain Ducasse a l'Hotel de Paris
Michelin recommends
Gamberoni from San Remo with a delicate jelly of rockfish and caviar
Mediterranean sea bass with mentonnais citrus fruits
Rum baba of your choice with half-rise cream
Information
Place du Casino, Monte-Carlo, 98000, France
+377 98 06 88 64
ducasse-paris.com
Mirazur
Chef Mauro Colagreco pays tribute to the fruits, flowers, and vegetables of his gardens with dishes that hum and smack with pleasure.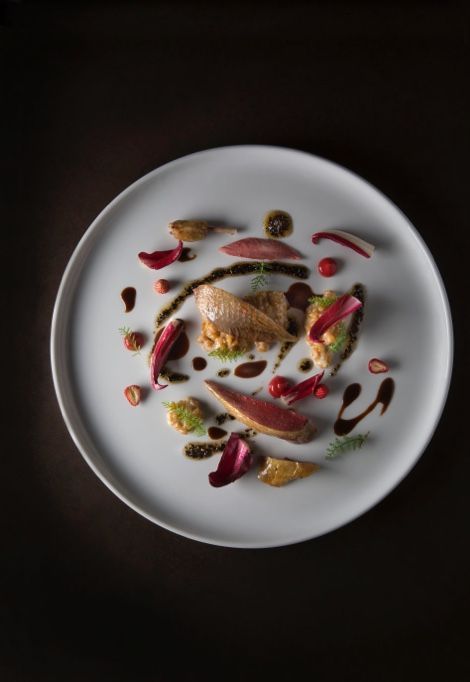 ©Eduardo Torres/Mirazur
Michelin recommends
Rhubarb rose

Lamb millefeuille cooked in its own juice, seaweed and spinach

Chocolate and rosemary
Information
30 avenue Aristide-Briand, Menton, 06500, France
+33 4 92 41 86 86
mirazur.fr
La Vague d'Or - Cheval Blanc St-Tropez
The cuisine flirts with Normandy, while holding the Mediterranean's gaze with reverence. Chef Arnaud Donckele does everything with a sincere love for the art of food.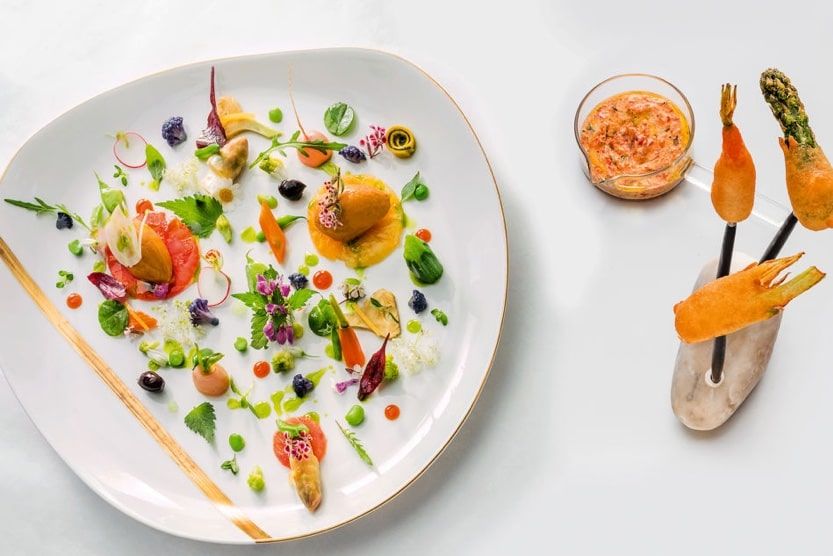 ©Richard Haughton/La Vague d'Or
Michelin recommends
Information
Plage de la Bouillabaisse, Saint-Tropez, 83990, France
+33 4 94 55 91 00
chevalblanc.com
Visiting these amazing Michelin Star restaurants on your luxury France holidays pairs well with one of our stunning villas. Explore Le Collectionist for the perfect villa from where to discover these luxury holiday destinations of the culinary world.