As in most regions of France, there is a unique culinary tradition that comprises the proud heritage of Normandy. Normandy is known for many things - its chalk-white cliffs that preside over the channel, the rolling fields that evoke a sense of softness and the battles that took place on them - but it is in the world of food that the most passion and emotion is incited.
For years Normandy and its neighbour Brittany have argued and sought to stake their claims on the cuisine that these places have become famous for: cream and salted butter and cider are all tussled over. Food is important to Normans, indeed it makes up the fibres of cultural heritage across France, and it is for that very reason we see so many amazing luxury restaurants scattering this ancient and historically rich land.
With this guide to the top 8 Michelin restaurants in Normandy, you can witness this love of food, witness this culture, through the most pleasing of sensory experiences: taste.
The 8 best Michelin-star restaurants in Normandy, France
Jean-Luc Tartarin**
Maximin Hellio*
L'Essentiel*
1912 - Les Cures Marines*
Le Donjon - Domaine Saint-Clair*
G.a. au Manoir de Rétival*
L'Odas*
Le Jardin des Plumes*
Au Super Fin*
La Licornes Royale*
2 Michelin-star restaurants in Normandy
Jean-Luc Tartarin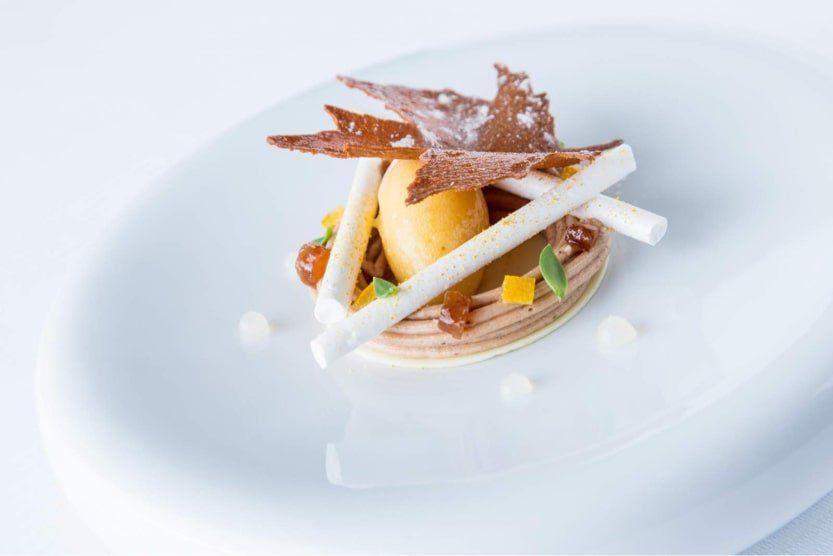 Heavily bombed in the Second World War, Le Havre has risen, a phoenix from the ashes, with the help of the famous Belgian architect Auguste Perret. At first rejected, the brutalism and modernity of the modern Le Havre has now been embraced and forms part of the regional history of Normandy; it's a place where old meets new and no place in Le Havre better encapsulates this convergence than Jean-Luc Tartarin. In a chic and stylish modern setting, old flavours and favourites of the region are given new life in a tremendously innovative and tasteful way.
Michelin recommends
Rosemary smoked langoustines, cappuccino of head juice with squid ink
Crispy sweetbread with morels and farmhouse cream
Vanilla millefeuille
Information
73, Avenue Foch, 76600 Le Havre
+33 2 35 45 46 20
jeanluc-tartarin.com
1 Michelin-star restaurants in Normandy
Maximin Hellio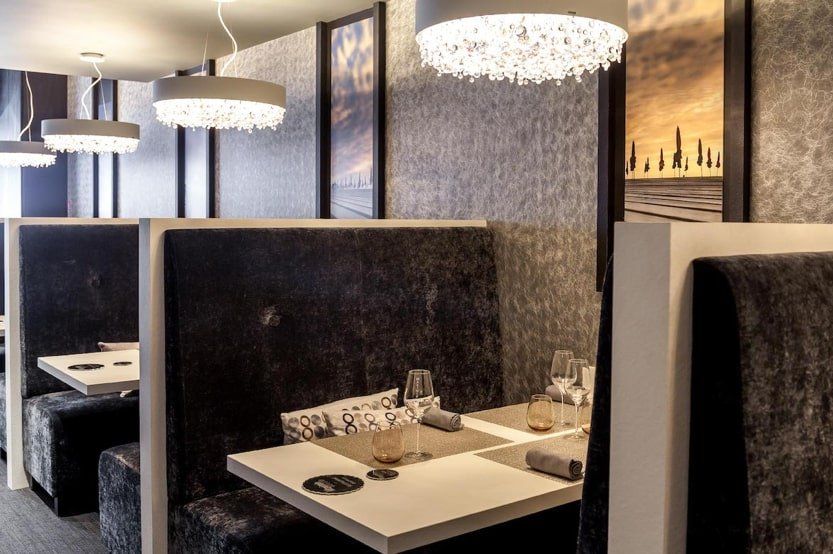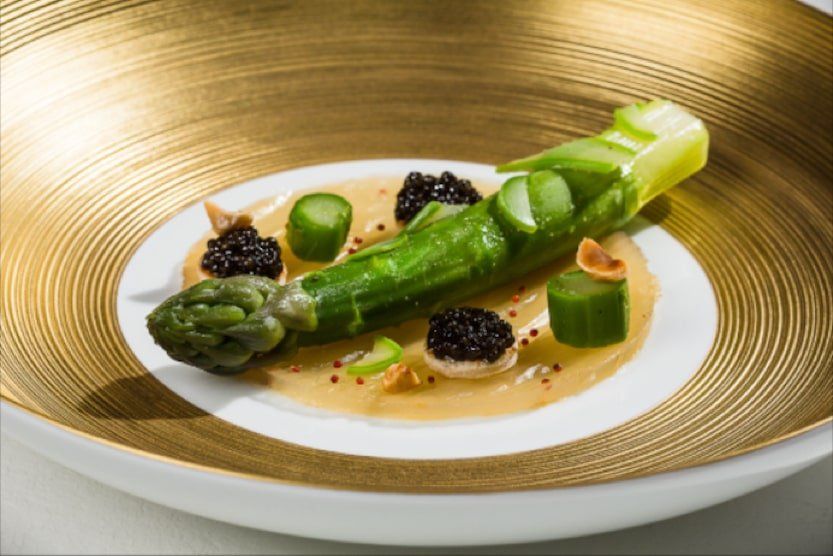 Chef Maximin Hellio's eponymous restaurant is in the centre of the bustling seaside resort of Deauville. Once the exclusive reserve of wealthy Parisians, Deauville has grown into a lavishing holiday destination with a rich fine-dining scene. From the street one can peer through the glass windows of this modern-fronted restaurant to see the magic of the chefs at work. Transport yourself from the din of seagulls, cars and passersby into a world of Norman cuisine, where Hellio pays tribute to local ingredients and flavours.
Michelin recommends
John Dory from a small boat served with artichoke
Blue lobster 'de mon papa'
Le plein de douceurs
Information
64 Rue Gambetta, 14800 Deauville
+33 2 31 49 19 89
maximinhellio.fr
L'Essentiel
Also in Deauville, L'Essentiel boasts a fusion of Korean and French cuisine with exemplary meat and seafood dishes, including crab and oysters to start or wagyu beef as a main. Mira, who is from Korea, and Charles, originally from France, produce a delectable set menu in their small and modern townhouse restaurant that boasts a small terrace away from the buzz of the town. Each dish is as much about aesthetics as it is about flavour. This is one of the Michelin restaurants in Normandy worth visiting if you are a lover of excellent fusion cuisine.
Michelin recommends
Crab, oyster, cucumber, ponzu and coriander
Toothfish, bulgur and wakame served with a Tom Yum emulsion
Peach and turmeric
Information
31 Rue Mirabeau, 14800 Deauville
+33 2 31 87 22 11
lessentieldeauville.com
1912 - Les Cures Marines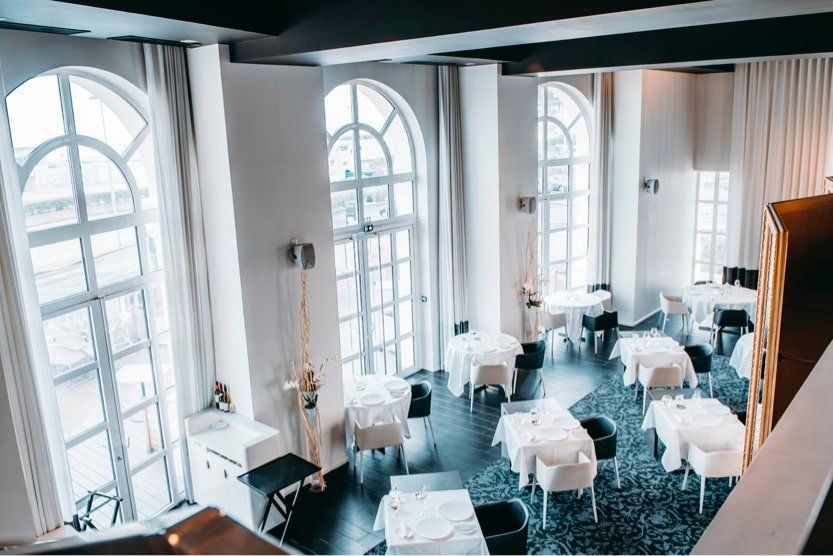 With black surfaces catching the light cast from the vast windows and reflected by the ornate gold mirrors with a slight lustre, this restaurant in Trouville will make you feel effortlessly glamorous. Chef Johan Thyriot, whose passion lies in Japanese cuisine, will take you on an intriguing journey through expertly melded dishes of peppers and spices, with subtleties and bold statements peppered across the menu. It is a dining experience that will undoubtedly keep you thinking, and enjoying. The restaurant exhibits its commitment to sustainable gastronomy through the use of local and organic produce and fresh fish from Trouville, as well as on-site produced honey.
Michelin recommends
Textures of vegetables served with an aubergine caviar
Roasted pigeon breast with sweet spices, creamy minty peas and giblet on toast
Textures of chocolate with roasted buckwheat
Information
Boulevard de la Cahotte, 14360 Trouville-sur-Mer
+33 2 31 14 25 90
le1912.com
Le Donjon - Domaine Saint-Clair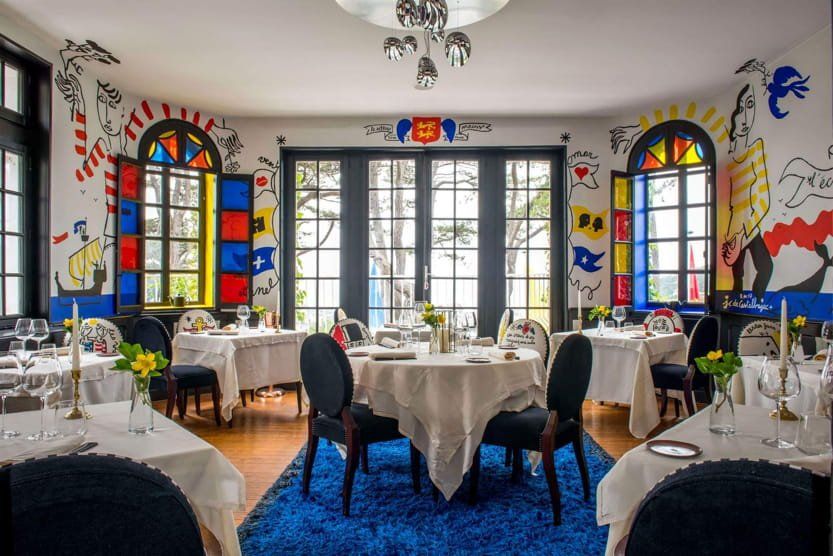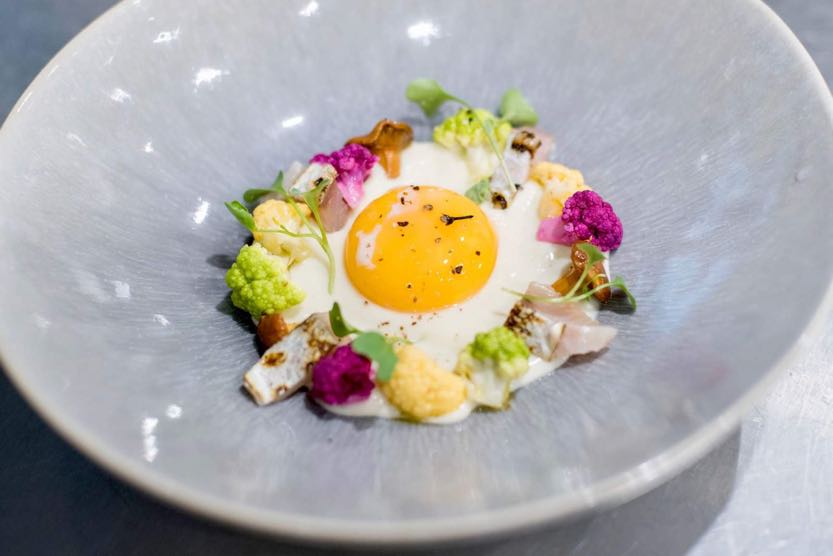 Everything about this restaurant is enticing and playful, teasing your senses and encouraging you to be inquisitive, from the colourful fresco that coaxes out your youth to the hearty seafood that has the power to fascinate. The menu is at the whim of the day's catch, which is bought from the stalls of the Fécamp fish market. Perched on the hills outside Étretat, this restaurant boast spectacular views.
Michelin recommends
Oyster and whelk from Normandy served with cocos de Paimpol and garlic cream
Return of the fish auction with basil, buttered cherry tomato and young vegetables
Soufflé à la Bénédictine
Information
Chemin de Saint-Clair, 76790 Étretat
+33 2 35 27 08 23
hoteletretat.com
G.a. au Manoir de Rétival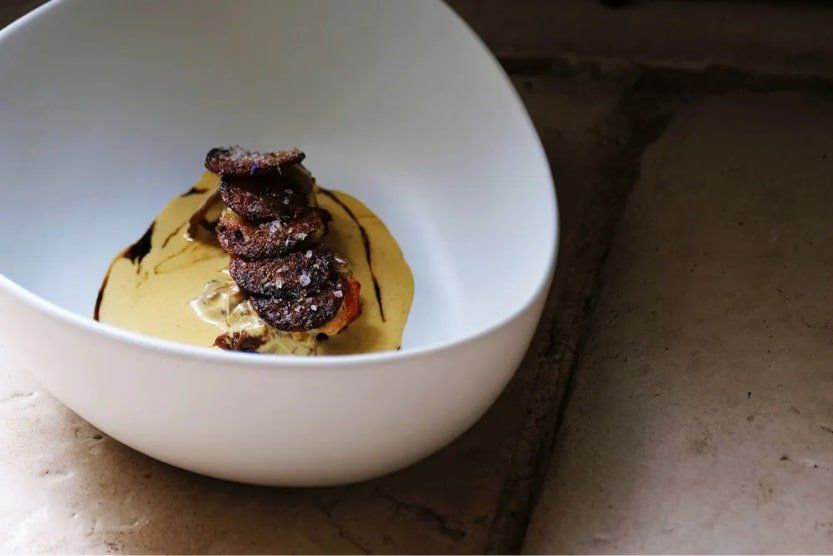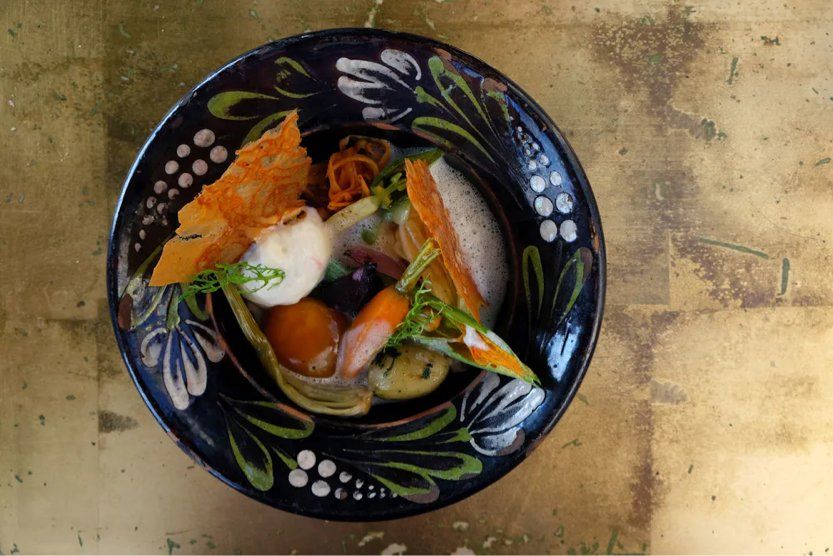 The young German chef at the helm of this wacky and wonderful restaurant has a deep love for French cuisine that shines through in the creativity and, often, beguiling dishes that have the power to amuse. Take your seat at the chef's table, making you feel right at home as the magic happens all around you. With a Michelin Green Star, this is definitely one of our favourites on our list of Michelin restaurants in Normandy.
Michelin recommends
Vegetable salad from the vegetable garden

Lobster with a jus des têtes and chives

Tarte Tatin with a Granny Smith sorbet
Information
2 rue Saint-Clair, Caudebec-en-Caux, 76490, France
+33 6 50 23 43 63
restaurant-ga.fr
L'Odas
Flowing with the seasons, L'Odas has a knack for producing piquant dishes throughout the year. Head chef Olivier Da Silva crafts creative dishes from carefully curated ingredients, giving each ingredient its due credit in the dish. The setting is cosy and intimate (a great place on our list of Michelin star restaurants in Normandy to visit in winter) and from the private sitting room you can lap up views over the streets and rooftops of Rouen.
Michelin recommends
Duck tartare, pine nuts, parmesan and young shoots

Bar à la plancha, piperade with tomato juice, shellfish and a full-bodied chorizo ​​jus

Breton shortbread, organic raspberries and white chocolate ganache
Information
4 passage Maurice-Lenfant, Rouen, 76000, France
+33 2 35 73 83 24
lodas.fr
Le Jardin des Plumes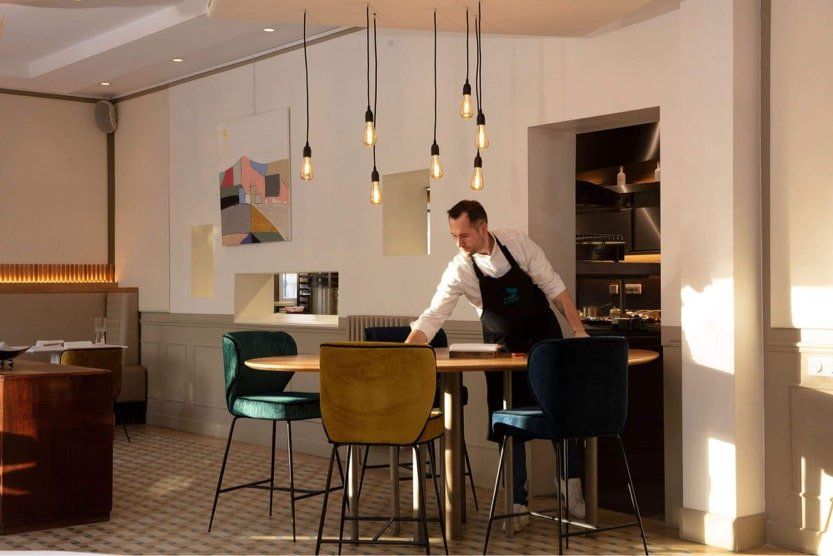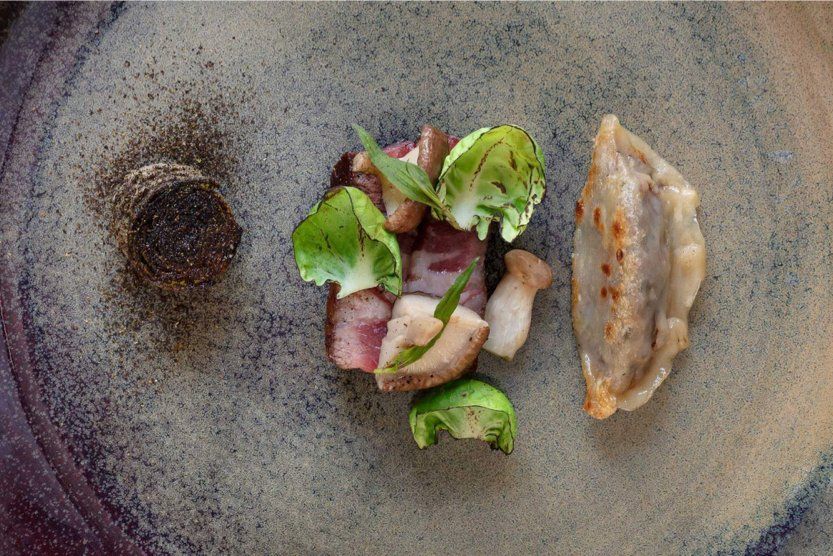 A stone's throw from the acclaimed artist Claude Monet's house in Giverny, Le Jardin des Plumes shares with it a bucolic beauty that makes restfulness come easily. It is one of our favourite settings on our list of the best Michelin restaurants in Normandy. Chef David Gallienne works closely with suppliers he is familiar with, ensuring that the quality is always superb. Gallienne has forged his reputation through artfully creating inventive plates with a picture-perfect finish.
Michelin recommends
Spider crab ravioli, kaffir lime bisque and squid tagliatelle

Pike perch with Jerusalem artichoke and clove caramel

Apple with vanilla butter, caramel and vanilla ice cream
Information
1 rue du Milieu, Giverny, 27620, France
+33 2 32 54 26 35
jardindesplumes.fr
A holiday to Normandy is a foodies dream, and with these 8 restaurants, you are free to explore one of our favourite luxury holiday destinations through a unique lens. Explore our luxury villas in Normandy to make your luxury holiday dreams come true.