We have done our research and compiled our favourite Pampelonne Beach clubs for your next visit to Saint Tropez. Pampelonne beach stretches for nearly 5 km of pristine sand with the lively restaurants and bars dotted along the coast. The beach clubs vary in style but what they all have in common is the guarantee of an incredible day out, with delicious food, free-flowing drinks in a beautiful setting! The untouched ambiance of the surrounding countryside coupled with the elegance of the beachside restaurants, this really is the top selection of clubs and restaurants on Pampelonne beach.
Club 55
The Original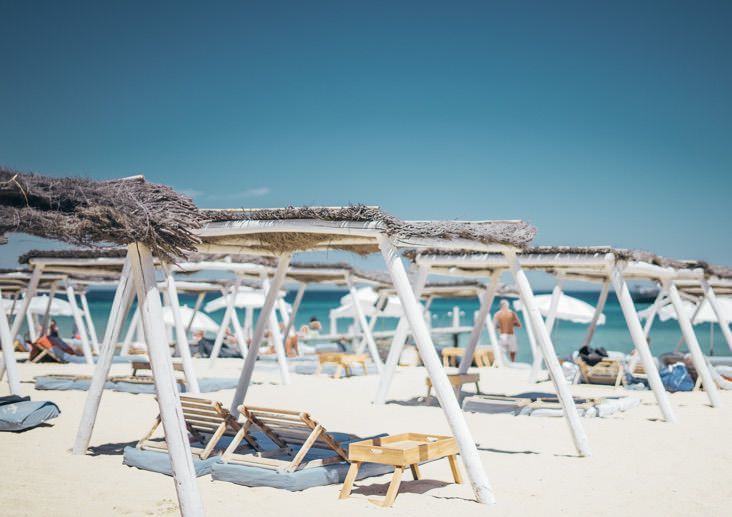 Club 55 is one of the most prestigious venues, not only in Saint Tropez, but in France, even the world! It sprung to fame in the 1950s when the infamous film And God Created Woman, put Saint Tropez on the map. Rumour has it that Roger Vadim and his crew found the small shack of a restaurant on their first day of filming on Pampelonne beach. After this fortuitous encounter, Club 55 has been a hotspot for the jet set and celebrities ever since. However, the charm has never rusted, it has remained rustic yet chic. Their motto hasn't changed since their conception in 1955, which is "The customer is not king…because here he is a friend." The service is always exceptional, and it is without a doubt the number one destination to call on when visiting the Côte d'Azur.
Address: 43 Boulevard Patch, Ramatuelle, 83350
Telephone: +33 (0)4 94 55 55 55
Nikki Beach
"Tell only your best friends"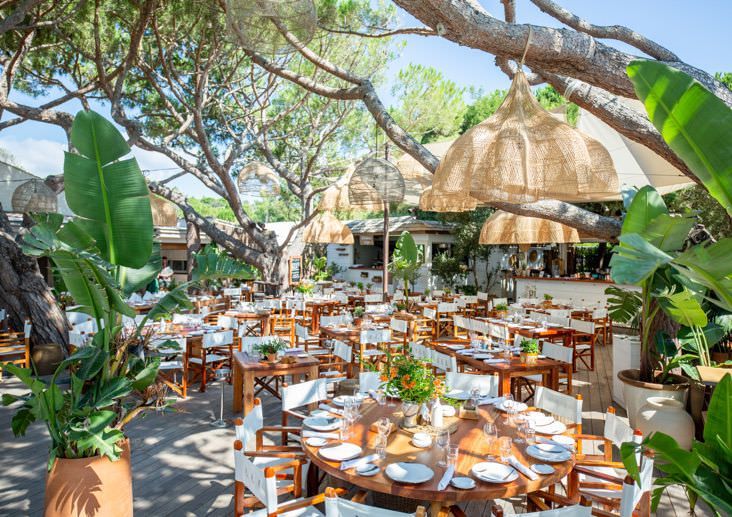 Utilizing ample and idyllic outdoor settings, Nikki Beach's France location, based in Ramatuelle, opened in 2002 and has become a guest's home away from home. It is the perfect spot for a delicious lunch paired with wide-open spaces, fresh air and sunshine. Guests are invited to indulge in delicious locally inspired dishes and international cuisine. Highlights include BBQ, sushi plates, pizzas, sweet treats and creative cocktails. The menu proudly features quality locally sourced ingredients in support of the region including but not limited to select bottles of rosé wine from neighboring vineyards and various farm-to-table fruit and vegetables.
Nikki Beach is the first and original luxury beach club concept that combines the elements of music, dining, entertainment, fashion, film and art into one. Today, as Nikki Beach marks over 20 years in business, the brand has grown into a global, multifaceted lifestyle hospitality brand with locations spanning locations including but not limited to Miami, USA; Saint Barth, Caribbean; Marbella, Spain; Mallorca, Spain; Costa Smeralda, Italy and a Hotels & Resorts division with properties in Porto Heli, Greece; Dubai, UAE and Santorini, Greece to name a few.
Opening Times: Two lunch reservation booking times are available at either 12pm or 3pm. The daily hours of operation are from 12pm to 8pm.
Address: 1093 Route de l'epi, Ramatuelle, 83350
Telephone: + 33 (0)4 94 79 82 04
1051
Eco-chic without compromise on style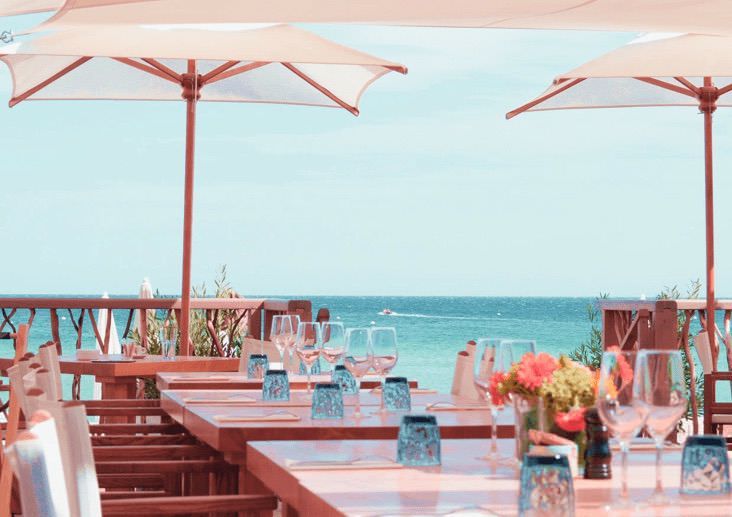 1051 is dubbed as the Green-Chic beach club of Pampelonne Beach. Priding itself on its family values and well-being, this eco-chic beach club was set up by a seventh-generation Saint Tropez local, Maxim Lamon. With his innovative approach to business, Maxim set up the beach club with a view to being 100% natural from the décor to the food and drinks. The menu boasts a selection of Mediterranean delights and the cocktails are a mixture of health and temptation (all containing a superfood or a blend of vitamins!) Spending the day, or even just the afternoon at 1051 will leave you feeling revived, refreshed and down to earth. Serenity and authenticity are the buzzwords of this special beach club.
Address: 1051 Chemin des Canniers, Ramatuelle, 83350
Telephone: +33 (0)4 94 45 36 97
Verde Beach
Rustic-chic glamour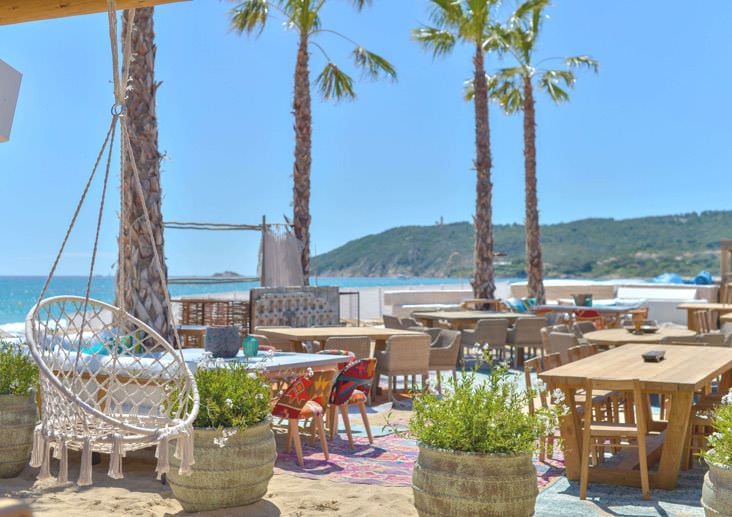 You can easily spot Verde club as you wander down Pampelonne beach, as their umbrellas are covered is long hessian tassels. The rustic-chic exterior permeates through the restaurant with driftwood combined with glossy white furniture. This juxtaposition is very on-brand for Verde, their style is a relaxing yet polished atmosphere. Owned by the Yeeels group who have successful restaurants from Paris to Dubai, their recent beach club venture has proven itself to be wildly popular and is now one of the most sought-after reservations on Pampelonne beach. You can swing gently on the hammock, listen to the sea rushing into the shore and allow the general peaceful ambiance relax you. That is, until you're ready to pop the champagne and dance the sunny afternoon away!
Address: Route de l'Épi, Ramatuelle, 83350
Telephone +33 (0)6 47 52 36 20 +33 (0)4 94 79 72 23
Byblos Beach
For rock'n'roll superfans
Byblos Beach Saint Tropez is an iconic institution – the hotel is one that will go down in the Rock hall of fame, having hosted the wedding reception of Mick and Bianca Jagger! The era of cult-celebrity was just beginning, and The Byblos hotel was part of the incarnation. Byblos beach club was soon to follow and has been an epochal establishment ever since. The club brands itself as having distinct Mediterranean accents and this is evident when walking through the tranquil restaurant and adjoining beach club. The executive chef has created a fresh menu that highlights all of the treasures of the Med, including grilled seafood and ceviche. If you want to feel as though you've been transported back to the 70s visit Byblos Beach club and you will instantly feel the transformation.
Address: Boulevard Patch, Ramatuelle, 83350
Telephone:+33 (0)4 94 43 15 00
Loulou Ramatuelle
To experience La Dolce Vita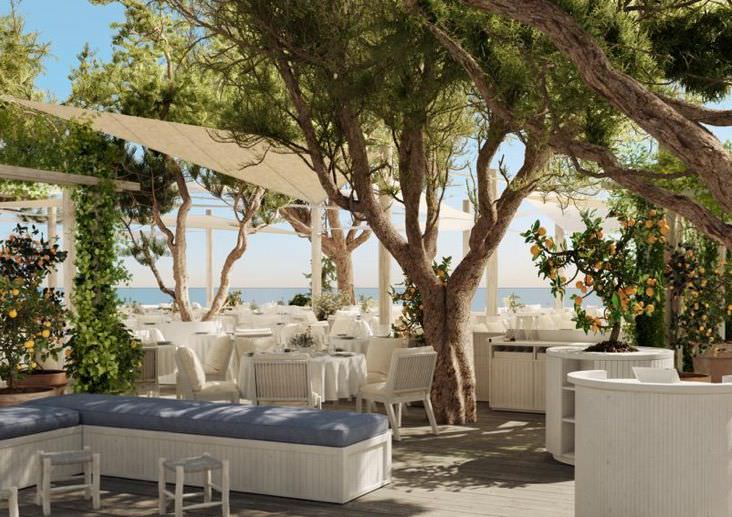 Loulou on Pampelonne beach is a relative newcomer, but they have solidified their position as one of the most in demand addresses in Saint Tropez. Their iconic style is based around La Dolce Vita. An ode to the emblematic French Riviera style of the 50s, mixed with British grace and the Italian Farniente mindset. The happy, familial atmosphere is warming and welcoming as soon as you walk into the white tableclothed restaurant. With sunny lemon trees dotted around the club, you will feel as if you've been transported to the Amalfi coast.
Address: Chemin des Tamaris, Ramatuelle, 83350
Telephone:+33 (0)4 94 79 80 04
Bagatelle
Classical & chic Saint Tropez style
The Bagatelle Group is a worldwide recognised bastion of indulgence and their beach club at Pampelonne is no exception. Not unlike the other clubs along the beach, Bagatelle has a world class chef, Nicolas Cantrel, at the helm of the restaurant. He serves up Mediterranean classic with a contemporary twist, like his speciality - Whole Roast Chicken with truffle. If that doesn't tempt you to visit this Pampelonne Beach institution, then nothing will! Their style is classic and timeless with big white tables and simple decor, but don't let this fool you, your experience of a day at Bagatelle will not be a basic one!
Address: Chemin de Matarane, Ramatuelle, 83350
Telephone: +33 (0)4 94 79 83 25
As well as these incredible beach clubs, Saint Tropez has a wealth of activities and exciting things to do. Check out our list of our favourite things to do in Saint Tropez.
With Le Collectionist, renting fantastic Saint Tropez villas has never been easier. Explore our collection to discover other luxury houses for rent in Saint Tropez