Ibiza, though small in size, offers a list of things to do as large as any destination. Set against a backdrop of fiery evening sunsets, rich and varied terrain, gleaming seas undulating against bright beaches, Ibiza holidays have something to satiate anyone's appetite.
One can hike the pine-scented landscape, traverse cliff edges down to sandy solitude, and feast on world-class food. By dark in some pockets of the island, the mellow atmosphere bursts with the vivaciousness of youth, while in others stillness ensues. Ibiza promises a pulsating nightlife with renowned DJs, as well as the simple pleasures of candlelit dinners and open-air dining under a canopy of stars.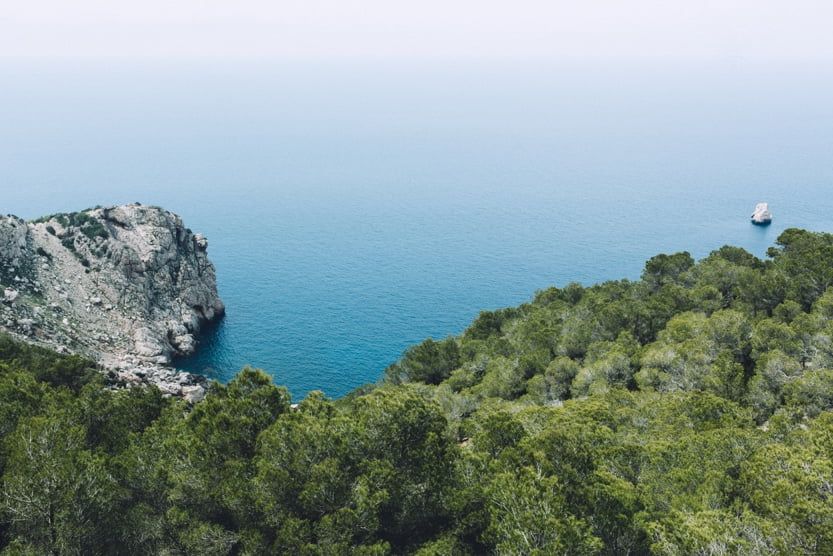 A weekend trip would only scrape the surface of Ibiza. However, with this luxury travel guide, you don't have to pack everything into a manic weekend away. These recommendations will help to narrow the choice, whilst giving you the freedom to design your own itinerary and go at your own pace.
Places to eat
No holiday is whole in the absence of indulgence. To immerse fully is to ingest wholeheartedly. Fortunately, of all the things to do in Ibiza, finding somewhere good to eat is probably the easiest. Each meal has its place on a holiday itinerary, and with this guide you can opt for the healthy brunch, boozy lunch, fancy dinner or any variation of the three.
morning indulgence
Start the day right by refuelling at one of these breakfast cafes. Alternatively, pad out of your villa room at your own leisure, probably donning a gown and slippers, and wearily start the day over breakfast by the pool.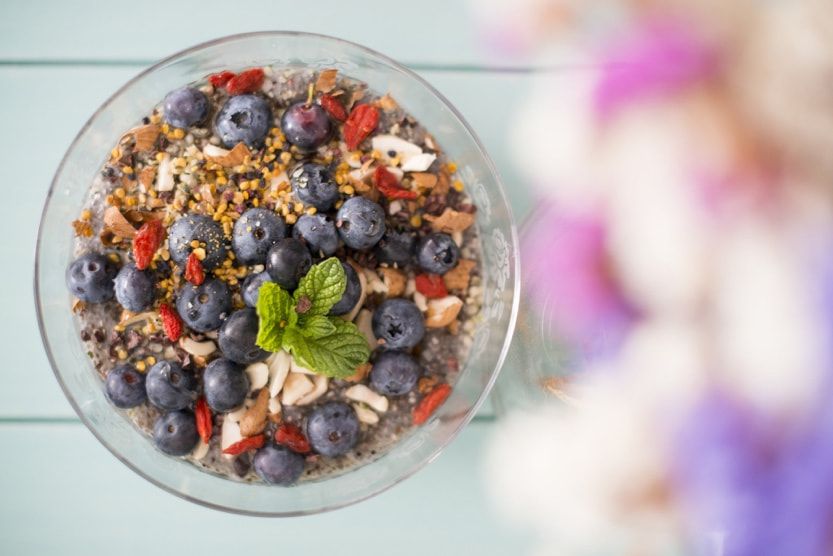 Cafe Bondi
People breakfast differently. Some go for a run before, arriving at the table bright and chirpy, a slight sheen of perspiration on their skin, to order an acai bowl or a smoothie. Others are slower to stir, craving coffee or a full english to ignite their fires.
Cafe Bondi's breakfasts cover all the bases, with a variety of smoothies and protein shakes, as well as serving english and vegetarian all-day breakfasts.
Information
Passeig de ses Fonts, 07820 Sant Antoni de Portmany, Illes Balears, Spain
+34 971 34 21 60
bondiibiza.com
Passion Cafe
Passion Cafe's popularity has seen it spread across the island, springing up in multiple locations over the years to cheerful reception. We recommend the cafe of provenance, the genesis of the chain's popularity across the island: Playa d'en Bossa.
The cafe is the quintessence of steady Ibizan summer mornings, the ideal location to experience the warmly waking buzz of the island. Eat healthily (or not) and drink some of the island's best coffee to set the machinations of the day in motion.
Information
Edificio Bossamar, Ctra. de Platja d'en Bossa, 07800 Ibiza, Balearic Islands, Spain
+34 971 30 51 30
Passion-ibiza.com
Gran Hotel Montesol
Gran Hotel Montesol is for the person who begins the day with caffeinated ponderings. The terrace overlooks Vara del Rey, where you can sip on silky coffees while watching passersby or reading the newspaper.
The elegant hotel is situated in the historic part of Ibiza town near the port. The rooftop has great views and is a wonderful place for an evening drink.
Information
Passeig de Vara de Rey, 2, 07800 Eivissa, Illes Balears, Spain
+34 871 51 50 49
Granhotelmontesolibiza.com
leisurely Lunches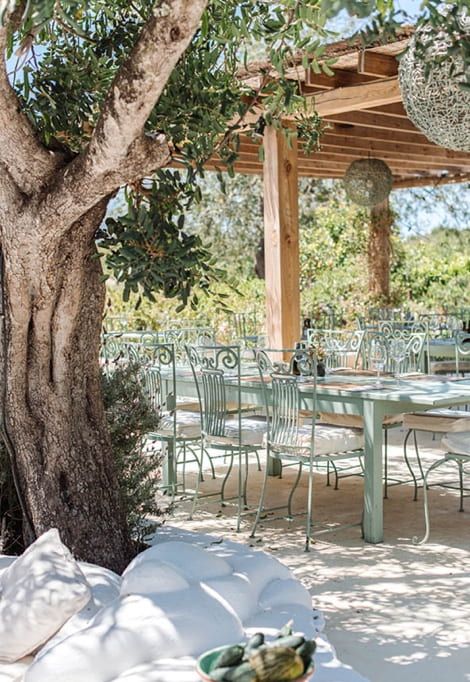 Beachouse Ibiza
This chic beach club on Playa d'en Bossa depicts the island's most famed qualities in blissful union. Gentle music played by world-class DJs in a relaxed atmosphere; a chic, yet unpretentious atmosphere; poised in a strikingly beautiful landscape.
It serves great Mediterranean food and the extensive wine list makes it an irresistible place to lean into an afternoon of laughter around a long table, interspersed with cooling dips in the blue waters.
Information
Carrer 34 de la Platja d'en Bossa, 07817 Sant Jordi de ses Salines, Illes Balears, Spain
+34 971 39 68 58
Beachouseibiza.com
Aubergine by Atzaró
A farm-to-table trailblazer on the island, Aubergine is a must-visit lunch spot on all luxury Ibiza holidays. There is a charming shabby-chic feel to the garden veranda that embodies the authenticity of the island's countryside. The Atzaró Garden provides the fresh, homegrown ingredients that make up the incredible menu at Aubergine.
Information
Ctra Sant Miguel Km 9.9, between Santa Gertrudis, 07815 Ibiza
+34 971 09 00 55
aubergineibiza.com
El Bigotes
El Bigotes is one of the most traditional of Ibiza's chiringuitos. Fresh fish is cooked on an open fire whilst an Ibizan fish stew bubbles its aromas across the unspoilt beauty of the setting.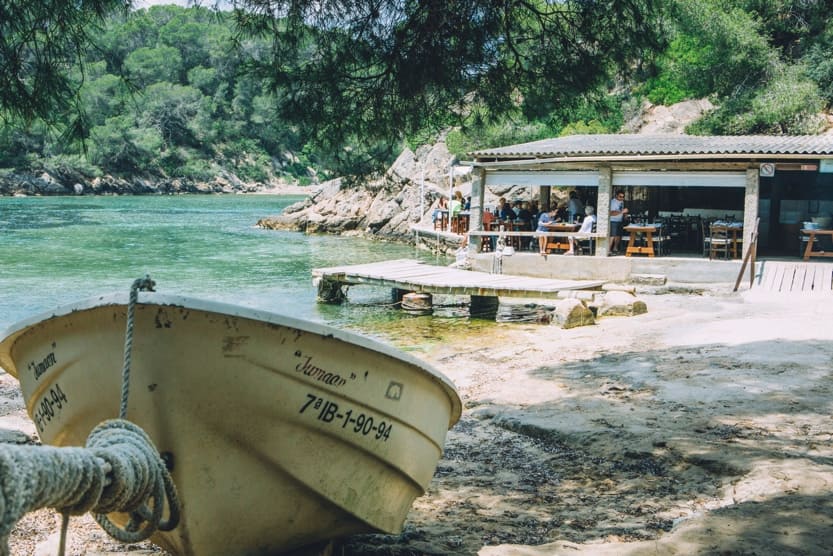 El Bigotes easily offers the most laid-back atmosphere, yet sits in the most divine of settings. The brilliant blue water laps quietly against the edges of the restaurant, which is nestled in a cove, clutched under the arm of a tree-topped outcrop. Don't forget to take cash to this venue.
Information
Camino Cala Boix a Cala Mastella, 138T, 07850 Cala Mastella, Illes Balears, Spain
+34 650 79 76 33
Dinner in paradise
La Paloma
La Paloma is an outright favourite among both locals and visitors. Whether you live a luxury lifestyle or you are travelling Ibiza on a budget, La Paloma's doors are open to all.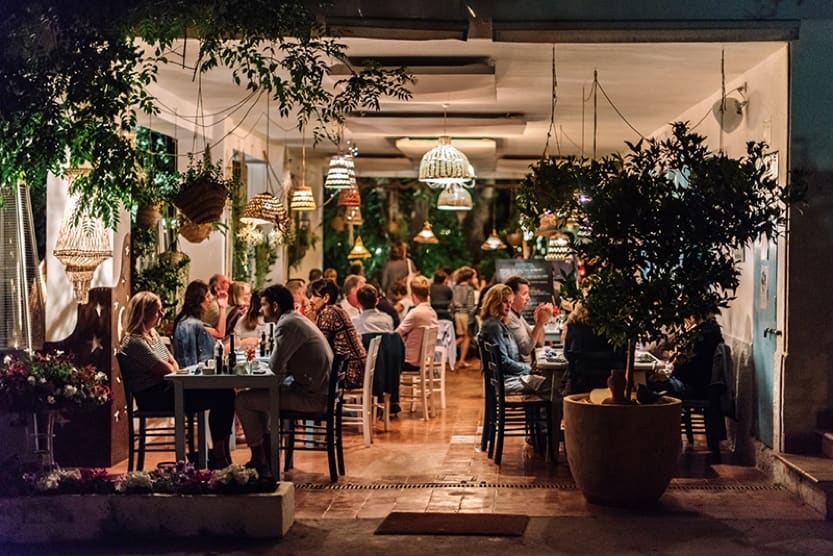 The menu brings together the best of Tuscan and Ibizan ingredients to give a wholesome menu of home-cooked food. The open-air dining experience is great for leisurely dinners, as well as lunches in the cooling breeze.
Information
Carrer Can Pou, 4, 07812 Sant Llorenç de Balàfia, Illes Balears, Spain
+34 971 32 55 43
palomaibiza.com
Bambuddha
Bambuddha boasts a broad menu of Asian cuisine with homegrown produce from their collaboration with the House of Herbs. But the main attraction is the atmosphere.
Transport yourself to South West Asia by dining in a bamboo forest, scattered with statues and splashed with colourfully alluring light. The restaurant holds the link between spirituality and sensuality as central to its theme, creating a dining experience like no other on the island.
Information
Carretera de, Carrer de Sant Joan, Km 8.5, 07814 Santa Eulària des Riu, Illes Balears, Spain
+34 971 19 75 10
bambuddha.com
Amante
Amante is placed in the centre of a dramatic landscape of cliffs and verdant vegetation, a viewpoint of the sea's vastness and Sol d'en Serra bay. With the sun setting, the sky comes alive in iridescent shades of pink and orange.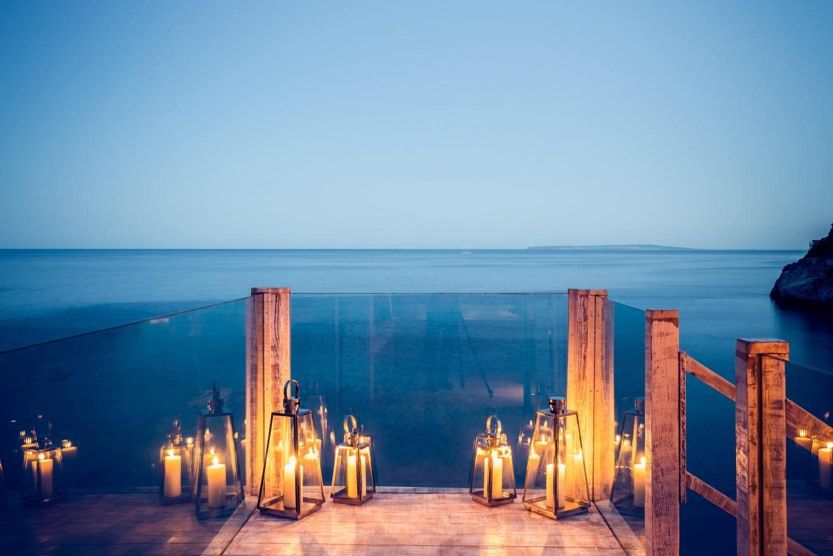 This restaurant serves a menu of modestly sophisticated Mediterranean dishes, which, in combination with the breathtaking evening ambience, makes for a fine-dining experience befitting of all luxury breaks to the island.
Information
Cala Sol d'en Serra Calle Afueras, s/n, 07849 Cala Llonga, Balearic Islands, Spain
+34 971 19 61 76
Amanteibiza.com
Things to do
Hit the seaside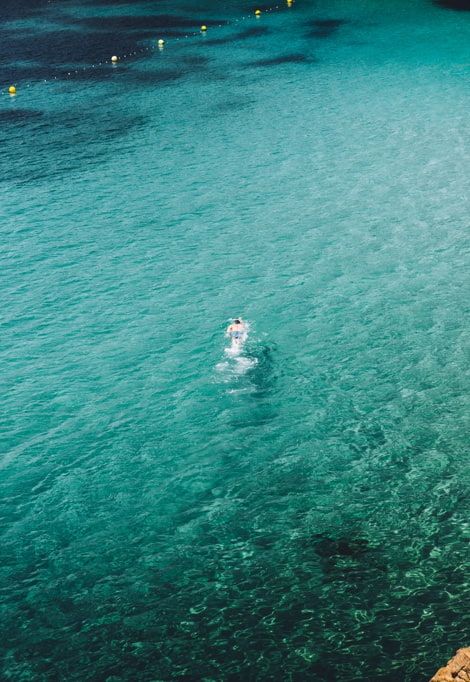 Talamanca
Although a holiday in Ibiza would be best experienced with a car, those travelling for the weekend might not want the hassle of collecting and dropping off a rental car. In this case, Talamanca is ideal. It is one of the more popular beaches with a fun atmosphere, conveniently located a short walk from Ibiza Town and near great restaurants and bars.
S'Estanyol Beach
Ibiza's picturesque coastline makes it a popular destination for luxury beach holidays. S'Estanyol is just one of Ibiza's many stunning beaches. This smaller, quieter beach just north of Ibiza town, surrounded by sun-baked rocks with a rosy hue, is a pocket perfect for discoverers. Underwater caves and rocky coves are waiting to be unearthed by adventurers armed with snorkels.
chase the sun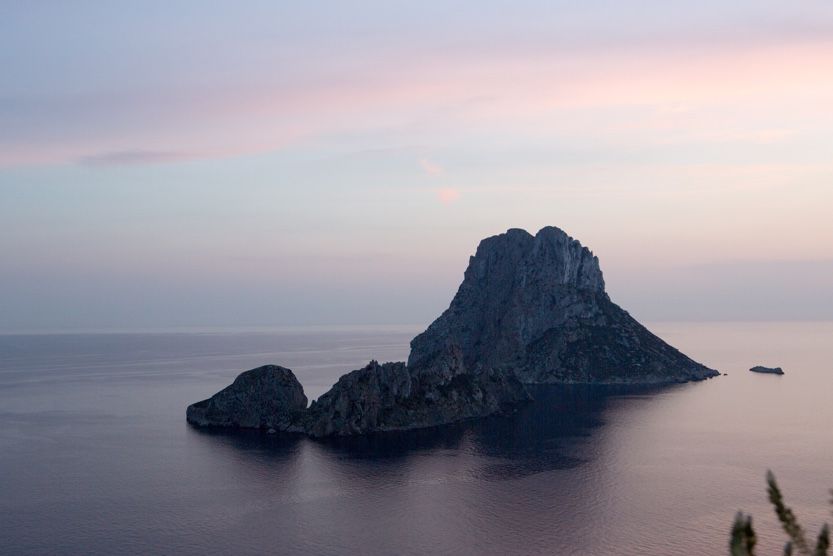 7 Pines at Kempinski
If you are in search of the best sunset restaurant Ibiza has to offer, look no further. The View restaurant on the sprawling 7 Pines at Kempinski resort is a great place to bask in the splendour of a sunset over Es Vedra. However, The Cone Club bar for the Sunset Ritual is where to head for a sundowner.
Sunset Ashram
For sunset viewers at Sunset Ashram, the daily sinking of the sun is not merely something to be watched. It is something to be enjoyed; a spiritual appreciation of the union between inner being and nature, encouraging introspection. The Bohemian bar ushers in the night with musical sunset sessions and sangrias.
dance the night away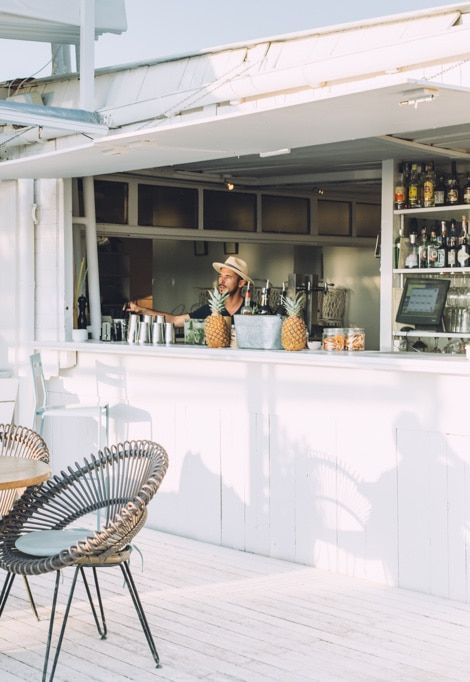 Cafe Mambo
Cafe Mambo is a groovy place to go for the early evening before moving elsewhere. World-famous DJs frequently perform at this thriving beach venue.
DC10
If your weekend trip to Ibiza is about the thriving nightlife on the island, then DC10 will tick the box. This famous Ibizan club is known for its raw commitment to music, bypassing a lot of the glitz and glamour of over-priced VIP areas that so many other clubs hold dear. It is a great night out, dancing in the open air to some of the hottest music of the year.
Where to stay
As one of Le Collectionist's preferred luxury holiday destinations, we have a wide-ranging collection of villas for any occasion. We have a number of 4-bed to 12-bed luxury villas for your stay in Ibiza, whether for a family holiday or a weekend away with friends. These are our three favourite villas on the island for you.
Villa Tawe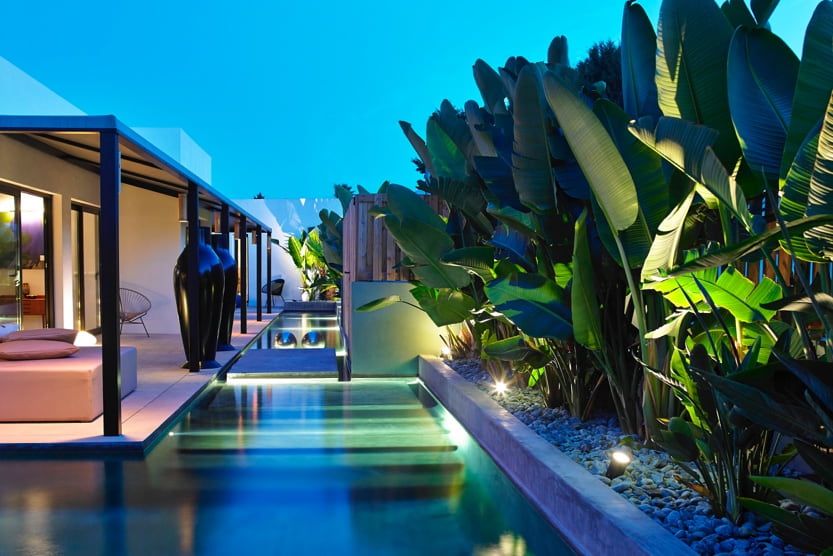 Villa Tawe is an oasis sanctuary situated just outside the town of Sant Antoni de Portmany on the west coast. This four-guest luxury villa has an almost encompassing pool and hot tub, with the main part of the contemporary villa placed, island-like, in the centre. Envision kids splashing in the pool, giving you time with your loved one, or go with another couple to share in the memories.
Villa Viola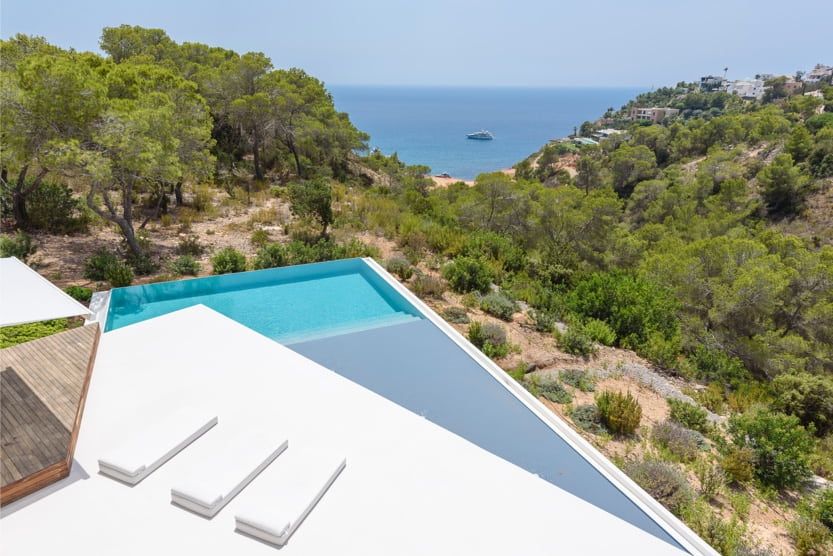 Feet up, looking out over the southern bays of the island, you feel suspended on what can only be described as a cloud of a white sofa next to the pool. Slivers of sun slip through the cane awning, sheltered from the heat of the day. Plunge into the embrace of the infinity pool's cool. Villa Viola has room for 8 guests, a haven from where to plan your weekend's adventures with friends or family.
Villa San Lorenzo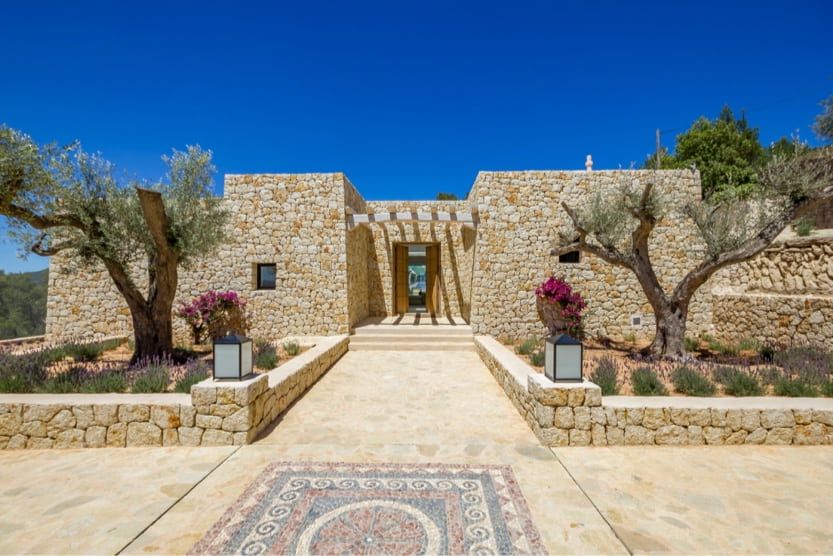 Perched just outside San Lorenzo in the north of the island, Villa San Lorenzo is surrounded by fields in peaceful seclusion. Spend the day by the pool, or speak to your personal holiday tailor, dedicated to perfecting your trip, to arrange outings, a personal chef or a babysitter. This villa's dreamscape views, lush grass and stone facade will be the memory-making setting for your luxury weekend escape to Ibiza.

Explore Le Collectionist to plan luxury holidays tailored to your needs. We value experiences, so you can value your time.