Dinner is the binding fibre of every holiday. It is the meal that brings each day to a close, the lasting flavour which lingers on the palate of everyone's memory of that day. Dining provides an environment where loved ones and the newly acquainted alike share stories and wishes. The dinner table is where plans are made and events recounted.
Here at Le Collectionist we know how important it is to get the dining experience right. Ibiza is one of our favourite luxury holiday destinations and there are countless high-quality restaurants. So, to narrow the choice we have created a guide to the best places for dinner in Ibiza. Plan an Ibiza holiday around this and all of our other Ibiza restaurant advice.
Fine Dining
Salvia at Ca Na Xica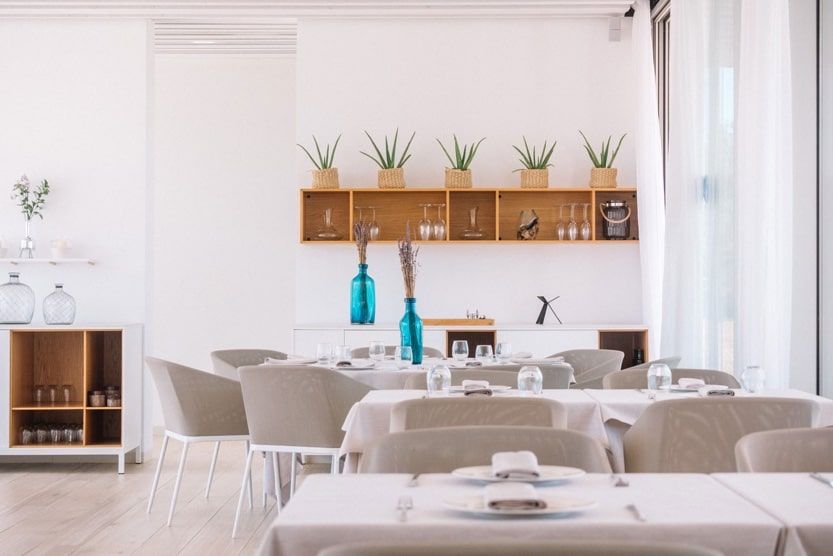 Situated within the plush grounds of Ca Na Xica Hotel and Spa lies Salvia. This restaurant, once the reserve of fortunate hotel guests, has opened its sleek doors to lovers of fine dining. The elegant interior is charmingly balanced by the ancient olive trees and earthy scents gliding off the rural landscape.
The restaurant is committed to serving dishes made from local Ibizan produce. Some of the produce is sourced directly from the land of Ca Na Xica. Diners can recline into the peace and quiet of Ca Na Xica's surrounding nature whilst indulging in the offerings that the island and its waters have provided. Salvia's luxury restaurant experience rivals any other on the island.
Information
Salvia Ibiza, Ca Na Xica Hotel & Spa, 07815 Sant Joan de Labritja, Balearic Islands, Spain
+34 629 67 67 81
salviaibiza.com
Nobu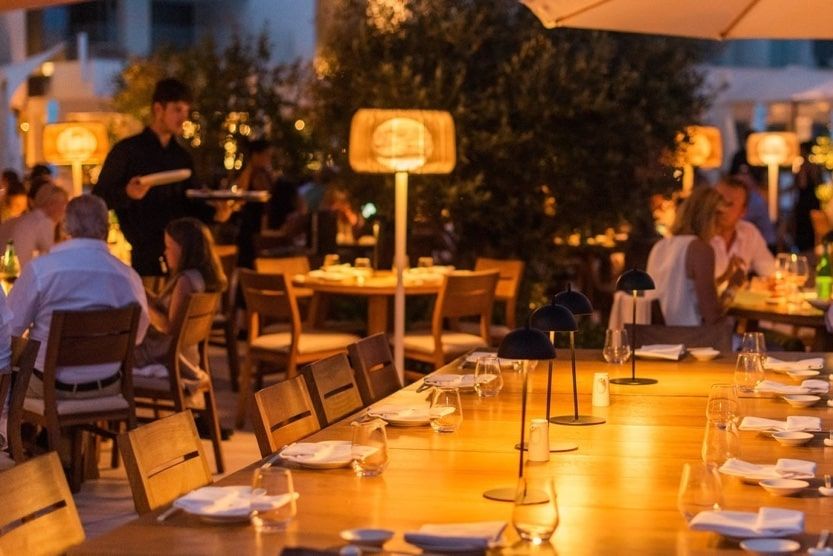 Nobu Matsuhisa's eponymous hotel, Nobu Hotel Ibiza Bay, opened its doors on the island in 2017. It is co-owned by actor Robert De Niro, with numerous other hotels and restaurants across the globe. Since opening in Ibiza, the Nobu Restaurant has become a central feature of the island's fine-dining scene. The contemporary Japanese-Peruvian cuisine is paired with an extensive drinks menu.
The restaurant's unpretentious atmosphere does nothing to compromise its excellence and innovative menu, which often incorporates a fusion of locally-inspired dishes. The lighting gives a warming atmosphere to the terrace that overlooks the soft sands of Talamanca Bay.
Information
Nobu Hotel Ibiza Bay, Cami Ses Feixes, 52, 07800 Ibiza, Spain
+34 971 877 720
www.noburestaurants.com/ibiza-bay/home/
Markus Chef's Kitchen
Tucked away in San Lorenzo, this fine-dining experience fashions the contemporary out of Ibiza's bounty. The cuisine mixes classic Mediterranean plates with chef Mark Gelman's Israeli training in fresh new ways. The restaurant cultivates an easy-going atmosphere, with an open-air dining area strewn with an organised abundance of foliage.
Markus Chef's Kitchen entices diners with its diverse menu of fresh local ingredients, often sourced by Gelman from markets that morning. Begin with tiger prawns from the local fishmonger served with asparagus and a lemon dressing. Move onto a Middle Eastern classic, with the carefully crafted Kebab Lebanese. Gelman urges guests to be at ease, with the stars as the ceiling and the kitchen the main performance.
Information
Lugar Venda de Safragell, 13, 07812 Sant Llorenc de Balafia, Balearic Islands, Spain
+34 649 78 22 23
markusibiza.com
Casual Dining
La Paloma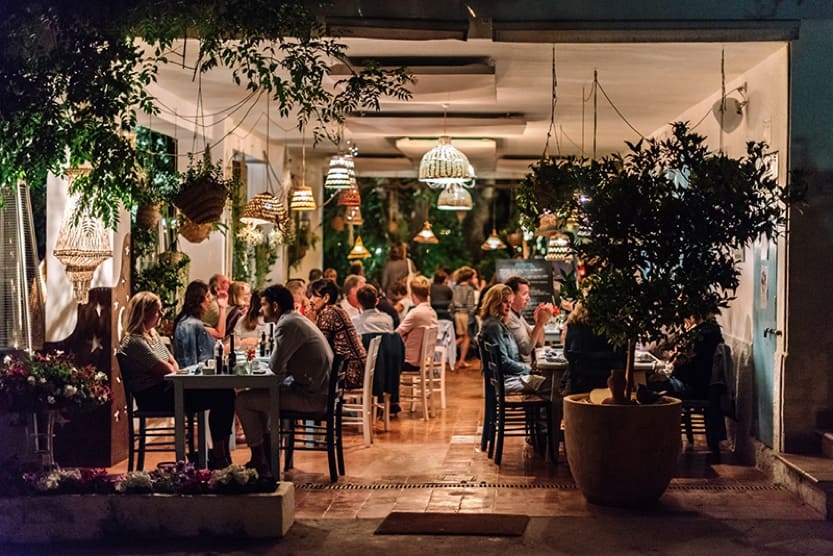 A restaurant guide to Ibiza wouldn't be complete without a doffed cap to the much-loved La Paloma. La Paloma's openness and bohemian charm has lulled locals and visitors into an easy sense of contentment. This family-run restaurant has been rustically pieced together over time with colourfully painted wooden furniture and lanterns dripping from trees.
The simplicity of the food and the laid-back ambience has got us itching to go back to simpler summer times in La Paloma's beautiful garden. The menu consists of Ibizan and Tuscan ingredients; fresh fish and charcuterie, pastas and light salads grown from their own veggie garden.
Immerse yourself in the scents of summer by dining amongst the blossoming trees in the languid evenings. Or, cosy up in the intimate embrace of the old finca house. This restaurant is a must on all fronts when visiting Ibiza.
Information
Carrer Can Pou, 4, 07812 Sant Llorenç de Balàfia, Illes Balears, Spain
+34 971 32 55 43
palomaibiza.com
El Chiringuito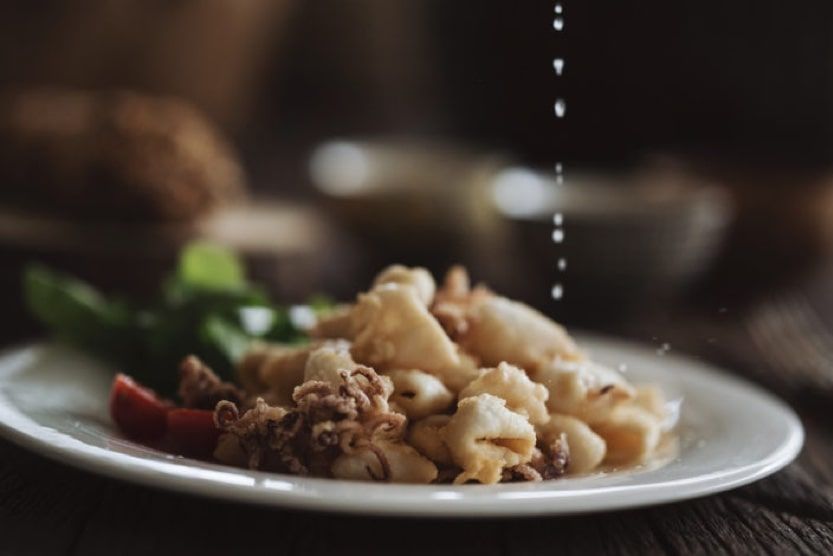 El Chiringuito is a great place to enjoy the glamorous delights of Ibiza without losing the earthiness and familial feel that so many people love about the island. Feel the sand between your toes whilst sipping on a crisp glass of rosé. El Chiringuito prides itself as a place open to all: bring your children, yet don't be surprised to be brushing shoulders with celebrities. It delicately balances the luxury lifestyle of the island its inherently laid-back ambience.
Enjoy pre-dinner cocktails, like the signature Coco & Chilli Mojito, from the comfort of a sofa before moving to the chic terrace for a dinner wrapped in the gentle sea breeze. El Chiringuito captures the essence of both modern and traditional Ibiza, making it a great feature on our restaurant guide. It is located on the southern tip just ten minutes from Ibiza town.
Information
Playa Es Cavallet
Ibiza,07818, Balearic Islands, Spain
+34 971 39 53 55
elchiringuitoibiza.com
La Oliva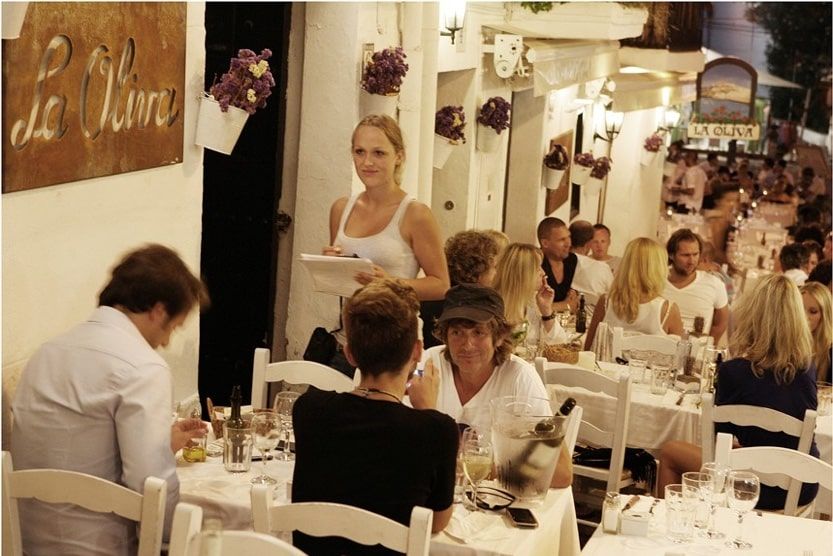 White chairs and crisp tablecloths spill onto the cobblestoned streets of Ibiza's old town. La Oliva has earned its reputation on the island through continued excellence and the allure of street dining that inexplicably triggers feelings of nostalgia. La Oliva is a great place to go for dinner with the family, host an event, or take your loved one.
The restaurant has been a stalwart of the Ibizan dining scene since 1986. The gentle hum of Dalt Vila Square and the extensive menu bursting with Mediterranean dishes with a gentle Asiatic influence make this venue one to visit.
Information
Carrer de la Santa Creu, 2, 07800 Eivissa, Illes Balears, Spain
+34 971 30 57 52
laolivaibiza.com
Atmospheric Dining
Bambuddha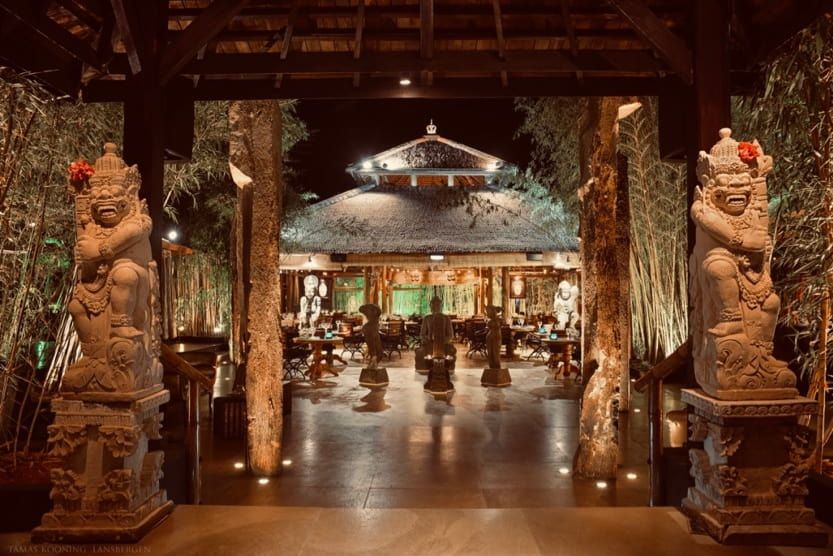 Bambuddha incorporates into its theme the Tantric philosophy that spirituality and sensuality are linked. Emerge through a bamboo forest, meandering among stone statues, into the forest-like restaurant that is Bambuddha.
Bambuddha's spiritual philosophy does not end at its theme. The restaurant uses organic, sustainable and local produce and opts for wild-caught fish where possible. In collaboration with the House of Herbs, a local ecological farm, Bambuddha is able to grow its own produce.
The splashes of colour from the lighting and the tropical Indonesian layout give an atmosphere like no other on the island. Bambuddha's appeal lies in its ability to put on a show without losing a feeling of authenticity. The menu offers a variety of delectable Asian food and the Tantra Cocktail Palace gives credence to the enchanting ambience at Bambuddha.
Information
Carretera de, Carrer de Sant Joan, Km 8.5, 07814 Santa Eulària des Riu, Illes Balears, Spain
+34 971 19 75 10
bambuddha.com
7Pines Kempinski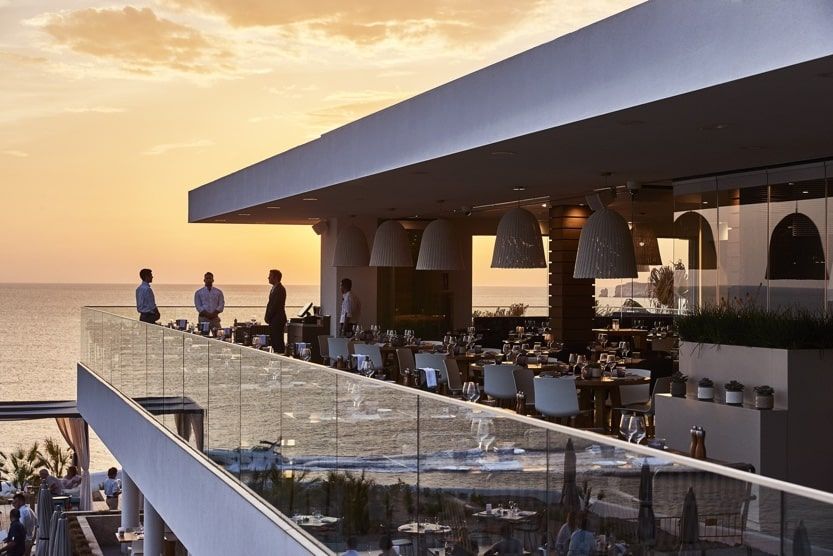 As one of the best sunset restaurants in Ibiza, it was difficult to keep 7Pines Kempinski off the list. Enjoy drinks at the Cone Club whilst watching the sky set ablaze. Then head to The View, where you can dine on a fusion of Mediterranean and Asian cuisine in a picturesque setting.
The panoramic views and the glass façade make it possible to enjoy the stunning views of Es Vedrà caught in the explosive evening light from inside and out. Discover the gastronomic depth of the refined cuisine through a three- or five-course tasting menu.
Information
Carrer Puig Delfín, s/n, 07830, Illes Balears, Spain
+34 971 19 52 00
https://www.kempinski.com/en/ibiza/7-pines-kempinski-ibiza/
Arrange your Ibizan gastronomic journey with Le Collectionist
To make these dining experiences possible, build a holiday around it by visiting Le Collectionist, getting in touch, and letting us take care of the rest. You can also view more of our luxury travel guides here.